Quick info
Tour name: South Coast
Duration: 10-11 hours. (back in Reykjavik about 19:30-20:00)
Pick up: Between 8:30 and 9:00, from all accommodations on the Reykjavik area.
Departures: Daily. All year around.
Region: South
We travel the South Coast of Iceland and see and experience so many and different sides of Icelandic nature and culture.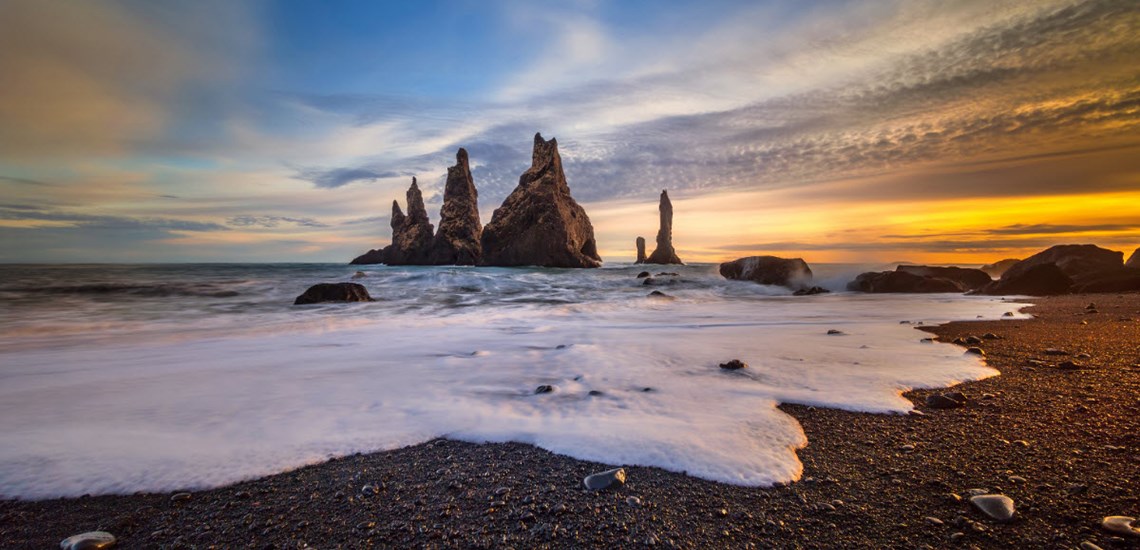 South Coast from Reykjavik is a beautiful day through a scenic landscape of black sand beaches, glacier views, picturesque waterfalls and small cozy villages. Skógafoss Waterfall, Reynisfjara Beach and view towards the Sólheimajökull Glacier are among the highlights, but the day is full of endless nature wonders that we enjoy driving by or walk around in. We visit the village of Vík which by many is considered one of Iceland's most beautiful location, right by the southern most point of the island and facing the Atlantic.
This is an genuine relaxing sightseeing day spent basking in Iceland's picturesque nature. The day provides endless photo opportunities where active geothermal areas, black sand and terrific cliffs will capture your eye.
Tour description
The tour starts with a pickup at port in a small group mini bus. The guide will then start the tour and drive towards the south coast of Iceland. The guide will inform you of the geology, history and nature of the area on the way, and answer all your questions, to his best knowledge. The first stop is at Hveragerði Village were you will have a change to get some snacks for the road. After about 2 hour drive we stop at Seljalandsfoss Waterfall, a picturesque waterfall with a path behind it. The path is usually open in summer, but often closed in winter due to icing. A short distance from Seljalandsfoss we will find Skógafoss Waterfall, a very popular destination in the south. Among other attractions visited in the day is Vík Village and Reynisfjara Black Sand Beach. We will enjoy a lunch break in either of these locations. The Glaciers and mountains surrounding the black beaches in the Vik area provide stunning views and unforgettable photo opportunities. The tour ends with a relaxing drive back to Reykjavik.
Included
Fully guided tour
Mini Bus Transport
What to bring
Warm and waterproof clothing
Hiking shoes
Water bottle and refreshments
Camera
Good to know
During the tour we break for refreshments at restaurant or café
Due to weather or road conditions we might have to alter the itinerary, have longer journey time or cancellation
Reservation is necessary
Meeting point
Free accommodation or bus stop pick up
The pickup starts at 08:30. It might take up to 30 minutes, but be ready from 08:30 to 09:00
Highlights
Seljalandsfoss Waterfall
Skógafoss Waterfall
Glacier and Ocean view
Reynisfjara Black Beach
Vík Village
For the more adventures travelers we especially offer three different versions
Groups and family´s can easily split up into different versions, because we travel in the same vehicle for the first half and you meet again after the activity but before the returning drive back to Reykjavik.
South Coast & Glacier Walk
It starts with the first half of South Coast From Reykjavík but upon arrival to Sólheimajökull Glacier you will get on an adventurous walk onto the beautiful glacier.
South Coast & Snowmobiling
It starts with the first half of South Coast From Reykjavík but converts to a 2 hour exiting snowmobiling adventure at Sólheimajökull Glacier.
South Coast & Quad Bike
It starts with the first half of South Coast From Reykjavík but upon arrival to Sólheimasandur coastal desert you take ATV Quad Bike drive around the black sand beach and among other places visit the well known plane wreck.
Those opting for Glacier Walk, Quad Bike or Snowmobiling will not visit Vík village or Reynisfjara Beach. They will also miss our specific lunch stop, but lunch is available at the location of the activities.
Book this tour
Loading...