The Landmannalaugar Buggy Experience (full day)
Quick info
Tour name: The Landmannalaugar Buggy Experience (full day)
Age limit: 6 Years
Duration: 10 hours
Physical rating: Easy
Meeting point: Hrauneyjar Highland center
Overload your senses on this whole day of new experiences, along the Holy Trail of Buggy touring. Immersing you into the coarse, surreal beauty of the southern central Highlands of Iceland. Drive seemingly endless, sinuous lava tracks with non-stop, heart-filling exposure to the natural jewels of Fjallabak Nature Reserve. Volcano explosion craters. Vicious glacial rivers. Pure, fish-filled mountain lakes. Lava fields, from old to fresh. Hot springs, with you in them. All packed into one, intense day at the wheel.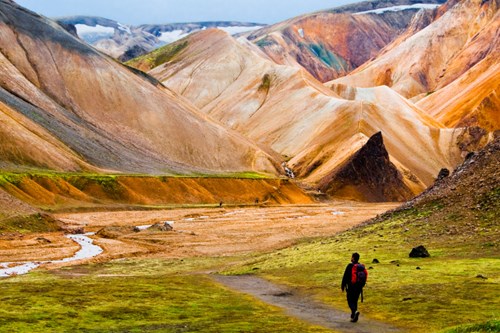 Today, you will meet us by Hrauneyjar Highland Centre. There the Buggy tour starts with a climb through one of the hydroelectric power plant facilities that ensure Iceland runs on pure, abundant, carbon-free power. Our Buggies are equipped with 4-point safety harnesses for safety, automatic transmission for driving ease. All you need is a spirit for adventure, and a valid driving license for the driver.
What's included?
6-7 hrs. Guided Buggy tour (2 in each Buggy)
Helmets, gloves, balaclavas and water resistant overalls
What to bring
Shoes for the outdoors, warm clothing under the overall, a camera, something to drink, a packed lunch, and don't forget your bathing suit and towel for the Landmannalaugar hot spring.
Good to know
We stop on the way, so both have the opportunity to drive.
Maximum weight per passenger/driver; 120 kg or 264 lbs. Maximum combined weight; 220 kg or 485 lbs.
Age limit for driver: 17 years + valid driving license. Age limit for passenger: 6 years.
Book this tour
Loading...