Þríhyrningur Hiking and Biking
Quick info
Tour name: Þríhyrningur Hike & Bike combo
Age limit: 12 years
Duration: 7-8 hours
Physical rating: 3/5
Pick up: Available from Reykjavik 
Departure from the Midgard Office
This day tour offers a combination of Hiking and Biking on Þríhyrningur mountain in South Iceland. The day is split up in two halves, one half hiking and the other half we ride the fat bikes. Hiking and biking pace provides opportunity to enjoy a small area of South Iceland, intimately. Usually the biking is about 3-4 hours and hiking 1½-2 hours but level of fitness, weather and participant's wishes are taken into account with flexible itineraries.  
Highights
Þríhyrningur mountain is located just about 10 km inland from the town Hvolsvöllur. There are usually not many tourists hiking in the area but locals sometimes go there to enjoy the outdoors. The area allows the peaceful and interesting nature of Iceland to be fully encountered and completely savoured.
We will ride the fat bikes on gravel roads and grassy tracks. On our way you will encounter the mountain landscape including the volcano Hekla and towards Tindafjöll mountains. There are also some waterfalls on the way including Fossabrekkur. From Keldur there is an extreme ride to Fljótshlíð valley where we will cross some glacial rivers.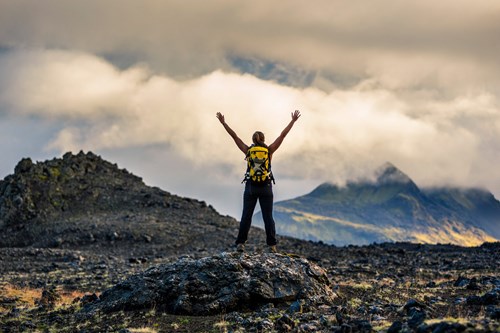 Included
Professional guidance
Pick-up and drop-off in Hvolsvöllur/Hella area
High quality fat bikes
Beautiful sights and scenery
What to bring
Comfortable clothing
Hiking shoes
Warm clothes according to this area's weather forecast!
Good to know
All our open day tours are also available as private day tours.
If you want to request for a change of activity levels or a private tour please contact us through info@funiceland.is or call us at +354 855 9080 from 09:00-17:00 on weekdays
DEPARTURE/RETURN LOCATION Midgard Base Camp – Dufþaksbraut 14 Hvolsvöllur and nearby hotels in the Hella / Hvolsvöllur area
DEPARTURE TIME 10:00 AM from the Midgard Office. Swing by a little earlier for a nice cup of coffee! – We pick you up at your accommodation in the area from 09:45- 10:15 depends on your location.
Up on request:
Fresh packed lunch from Midgard Base Camp
Private tour