Walk through Ice and Fire
Quick info
Tour name: Walk through Ice and Fire
Duration: 12 hours, 5 - 6 hours active
Age limit: 10 years
Physical rating: Moderate
Pick up: 8:30 - 8:50 AM from Reykjavik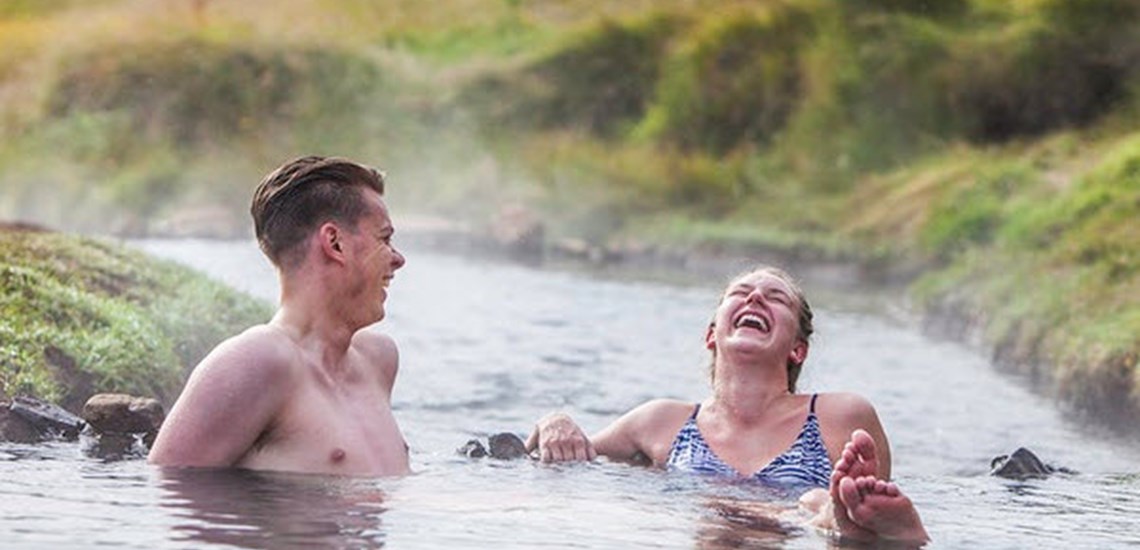 A tour that combines two of Iceland's natural highlights, hot springs and glaciers, along with the notorious Eyjafjallajökull volcano!
This day tour starts at Hengill geothermal area, located at the foot of an old volcanic cone. There you will take a 2 - 3 hour walk past a series of beautiful hot springs en route either to the Reykjadalur valley where you can enjoy a bath in a beautiful warm stream, or over the coldest winter months to the Grændalur valley, equally beautiful but without the bath.
The tour then continues by car right past the Eyjafjallajökull volcano towards the great Mýrdalsjökull glacier, one of the largest in Iceland. Driving through the region affected by the eruption and seeing how this outburst of nature's forces has changed the appearance of the landscape is a very unique experience. A glacier walk on the Sólheimajökull glacier tongue between ice sculptures, ridges and deep crevasses will complete your day. A tour that offers both magnificent nature and scenery.
Included
Transport
Guiding services
Glacier Equipment
All necessary safety equipment
What to bring
Warm clothing
Rain gear
Hiking shoes
Bathing suit
Towel
Lunch (can be bought during the tour)
Please note
Boots and rain gear can be rented (1500 ISK per item).
In case Reykjadalur Hot Spring Valley is inaccessible due to harsh weather conditions, you will be offered an upgrade to a Secret Lagoon geothermal pool and glacier walk tour.
Book this tour
Loading...