Whale Watching Express Dalvík
Quick info
Tour name: Whale Watching Express
Duration: 1,5 hours
Age limit: 10 years
Physical rating: Moderate 
Departure from Hafnarbraut, Dalvík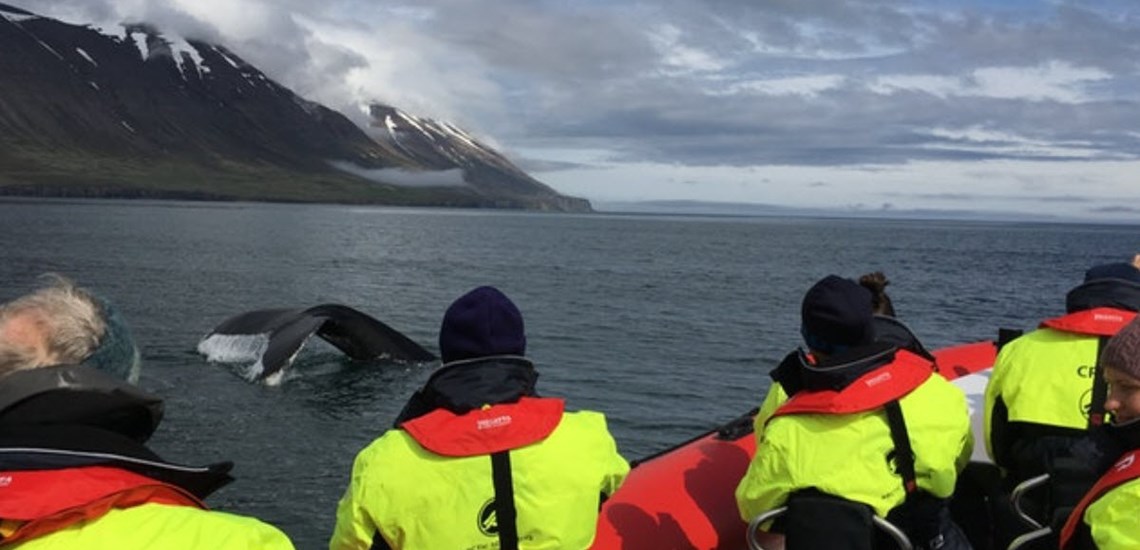 Whale Watching Express is fast and safe one and a half hour tour within the majestic mountains and in the picturesque landscape of Eyjafjordur north Iceland.
The speed gives us excellent opportunity to go further and sail through wider area. In one hour we could go from Dalvik to Akureyri or almost to Grimsey lying on the Arctic Circle. With Eyjafjordur whale watching area one of the best in the world for humpback whales one has 99% viewing success on these tours. The thrill of going fast on water is not to be ignored and you can expect great excitement and wonderful whale watching adventure.
Arctic Sea Tours offers all passengers suspension seats, which makes this tour more safe and in more comfort. They are scientifically proven to provide better Shock Mitigation than any other seats. Suspension seats reduce risk of injuries and physical fatigue. Are you ready for a rush hour? Lets get things started, book now!
Arctic Rhib Whale Watching Schedule 2018
09:00 1st April – 31st October
11:00 1st April – 31st October
13:30 1st June – 15th September
15:30 15th June – 31st August
included
1.5 hour Whale Watching Express tour
Suspension seats. More safe and more comfort
Excitement Adrenaline rush
Warm safety overalls and Life vests
What to bring
Warm clothes, hats & gloves recommended
Do not forget the smile
Book this tour
Loading...