Volcanic Trails 1: Explorer's Peak to the Canyon of Fire
Book online and get instant confirmation
Description
The Volcanic Trails
The Volcanic Trails is a trekking tour combining three distinct sections. The trail takes you through volcanic landscape which is one of the most various and complete to be found in the entire world. Each day varies from the one before and brings different colors and landscapes. You will see everything from volcanoes and glaciers, black lava covered with the unreal bright green moss, to colorful rhyolite mountains and geothermal hot springs. With these three separate sections you can enjoy the flexibility of choosing only one part of the trail, combine two of the three legs, or hike the entire Volcanic Trails all the way from Sveinstindur "Explorer´s Peak" to Landmannalaugar.
Volcanic landscapes and waterfalls
The first part of the trek takes you through one of the greatest volcanic regions of the southern Icelandic highlands, the area of Skaftá river and Eldgjá "Fire Canyon". Our journey begins in the Vatnajökull National Park at Sveinstindur mountain by the magical 25km (15M) long Langisjór lake located at the south western edge of Vatnajökull glacier. The trail leads on along the great Skaftá river through bright green moss covered lava formations, impressive waterfalls, canyons and amazing craters. We then continue to the Eldgjá volcanic fissure created in one of the greatest eruption in historical times, starting around 934 AD. Beautiful waterfalls, crystal clear streams and traditional mountain huts add to the experience and help make this one of the best trek you can find on the planet. On the last day, the bus back to Reykjavík goes via the highland oasis Landmannalaugar where you have a chance to dip into a natural pool.
Total distance: 40-42 kilometers (25-26 miles)
Altitude: 400 – 1050 meters (1300 - 3450 feet)
Maximum ascent: 450 meters (1480 feet)
Minimum age: 16 years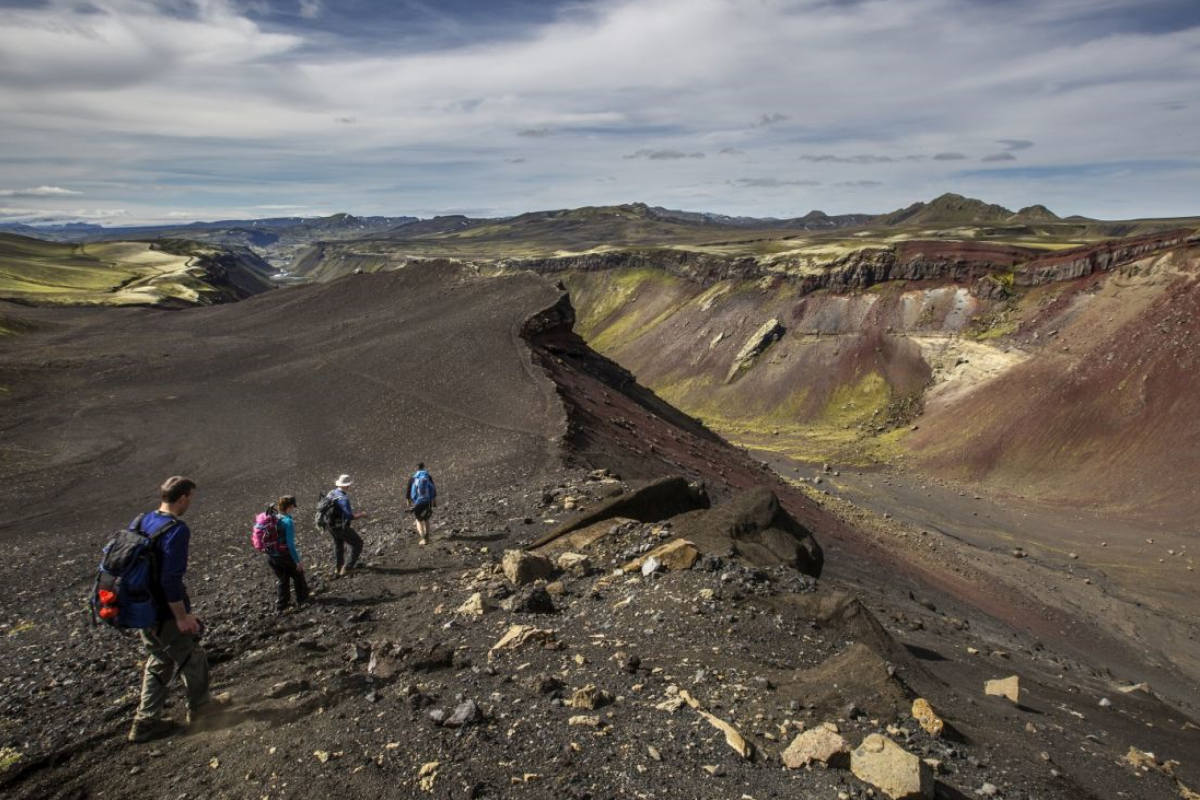 Language: We offer an English/French speaking guide on July 7th, 21st, August 4th, 16th and Sept. 1st. and English/German speaking guide on July28th and August 25th. Please let us know if you require French or German speaking guide on these dates.
As environmental stewards in Iceland, we take a proactive approach to preserve the trail and the surrounding nature by allocating 1% of the tour price for each passenger to our Environmental Fund. With us, you get to experience this amazing trail and minimize your environmental impact.
Itinerary
D1: Reykjavík - Sveinstindur
Meeting point at 07:15 at BSI central bus terminal at Vatnsmýrarvegur 10. You meet your guide and get onto the bus that will take you into the magical southern highlands, partly on highland tracks. You arrive at the foot of Mt Sveinstindur, named after one of Iceland´s first explorers and naturalists Sveinn Pálsson. You climb to the summit of this peak that is located at the western end of the magical lake Langisjór offering superb views over the lake and the massif of Fögrufjöll on its southern shores. Descent to a traditional mountain hut on the other side of the mountain where you spend the first night. Rustic hut, outhouse and no showers
Distance: 6 km (4mi) Ascent/descent: 480 m
D2: Sveinstindur - Skaftá - Skælingar
Today we hike along the shores of the glacial river Skaftá, draining from the nearby Vatnajökull icecap. The trail leads to the small and impressive canyon of Hvanngil before reaching the spectacular Uxatindar peaks and their nearby canyons. The landscape is truly volcanic, black volcanic sands, and old lava fields along with different rock formations of the canyons allow for an impressive hike. Past the Uxatindar the landscape becomes more green and at the end of the day you arrive in the magical Skælingar area, an ancient lava forest close to the riverbed of Skaftá. Here a traditional mountain hut awaits for the night. Rustic hut, outhouse and no showers
Distance: 16 -18 km (10-11 mi) Ascent/descent:250 m Walking time: 6 – 8 hrs
D3: Skælingar - Gjátindur - Eldgjá - Hólaskjól
After packing up we start the day´s hike leading to the Canyon of Fire - Eldgjá. We climb the soft hills up to the peak of Gjátindur, located at the eastern end of the canyon. From the peak amazing views give us an idea of the immensity of the canyon that reaches far beyond to the Mýrdalsjökull glacier. A slow descent into the canyon and we have time to enjoy this remarkable place and its many wonders before concluding the day with a hike to huts at nearby Hólaskjól where we spend the night after having completed the first section of the Volcanic Trail. Comfortable hut, WC and showers available
Distance: 18 km (11mi) Ascent/descent: 350 m Walking time:6 – 8 hrs
D4: Hólaskjól - Landmannalaugar - Reykjavík
Today you return to Reykjavík on the scheduled bus, taking leave of your guide that will continue along the Volcanic Trails. The bus leaves Hólaskjól for the 2,5 hour drive to Landmannalaugar. At Landmannalaugar you have a 2 hours stop and can dip into the natural pool on the premises or simply admire the beauty of this amazing rhyolite area. The bus to Reykjavík leaves Landmannalaugar at 15:30 and arrives at the Reykjavík Bus Terminal at 19:35 where the tour ends.
What to bring
For your own wellbeing and safety we strongly suggest following the advice of our equipment list, this includes having good quality rain-gear, tops and bottoms! Also respect that cotton clothing is not appropriate for any strenuous outdoor activity – this includes jeans and t-shirts. Modern outdoor clothing is by far more comfortable and will greatly improve your experience.
Boots and Clothing:
Sturdy Hiking Boots – waterproof with good ankle support.
Long sleeve shirt (thermal underwear) – Wool or synthetic.
T-shirt (thermal underwear) – Wool or synthetic.
Light wool or fleece sweater (2nd layer).
Trousers – Strong and light material that dries quickly e.g. soft-shell.
Jacket with a good hood – windproof, waterproof and breathable.
Rain trousers – windproof, waterproof and breathable. Please note that full raingear is mandatory in Iceland.
Gloves
Socks – Wool or synthetic. Two or three pairs.
Warm hat.
Other gear:
A duffel bag for the transport of your overnight gear between huts. Please avoid bringing a suitcase! 
Backpack for extra clothes and food during the day. 25 – 40L (1500 – 2500 cu in) 
River shoes – Walking sandals or old running shoes with a good grip are a good choice, along with a pair of warm socks or neoprene socks. Open sandals or flip-flops will not do the job. 
Light Sleeping bag.
Towel – light weight and packable.
Sunglasses & sun protection.
Water container – thermos flask or water bottle 0,5 – 1L.
Headlamp for reading and getting around the hut.
Casual clothes / change of clothes for wearing in the hut.
Personal first aid kit – including blister care.
Prescription medication and other personal health items.
Toiletries; Toothbrush, toothpaste etc.
Optional gear:
Walking pole(s).
Gaiters
Neoprene socks – highly recommended for river crossings.
Pen knife.
Earplugs
Sun/rain Hat or a Cap. Shorts
Thermal mat (for lunch breaks).
Puffy jacket (e.g. Primaloft or down)
Camera, spare batteries.
Dry-bags for electronics and extra clothing.
Slippers for indoor use.
Aperitif or other heart-warming spirits.
Should you have any questions regarding this equipment list or the equipment on our tours feel free to contact info@funiceland.is
What is included
Experienced and qualified guide during the trek (until morning day 4)
Food from lunch day 1 to lunch day 4
Sleeping bag accommodation in dormitories for 3 nights (sleeping bags not included)
Public transport from Reykjavík to Sveinstindur and from Hólaskjól to Reykjavík via Landmannalaugar and transfer of luggage.
Good to know
Duration: 4 days, 3 nights
Accommodation: Mountain huts
Meeting point: BSI bus terminal at 07:15
Group size: 5 to 14 participants
Language: English (French and German on some departures, see below)
Walking per day: 5 - 8 hours
Note: This tour can be booked for private groups upon request

Accommodation in Reykjavik and pick up and drop off at accommodation can be added.




Sleeping bag can be rented for 7000 ISK
Highlights
The stunning view from mount Sveinstindur
The remote areas
The moss covered lava fields
The impressive volcanic fissure
Video
Book this tour
Loading...