Námaskarð is a powerful geothermal area about 5 km east of Reykjahlíð nearby lake Mývatn. The area has enormously powerful hot springs and geothermal activity. There you can find a lot of clay and sulfur geothermal sites that have boiled the area and literally transformed the rock in the area and make it uniquely colorful, the sulfat acid transforms the rock composition. In the old days the owners of the land were mining the sulfat from the area at Námaskarð (Mining-pass) and exporting it.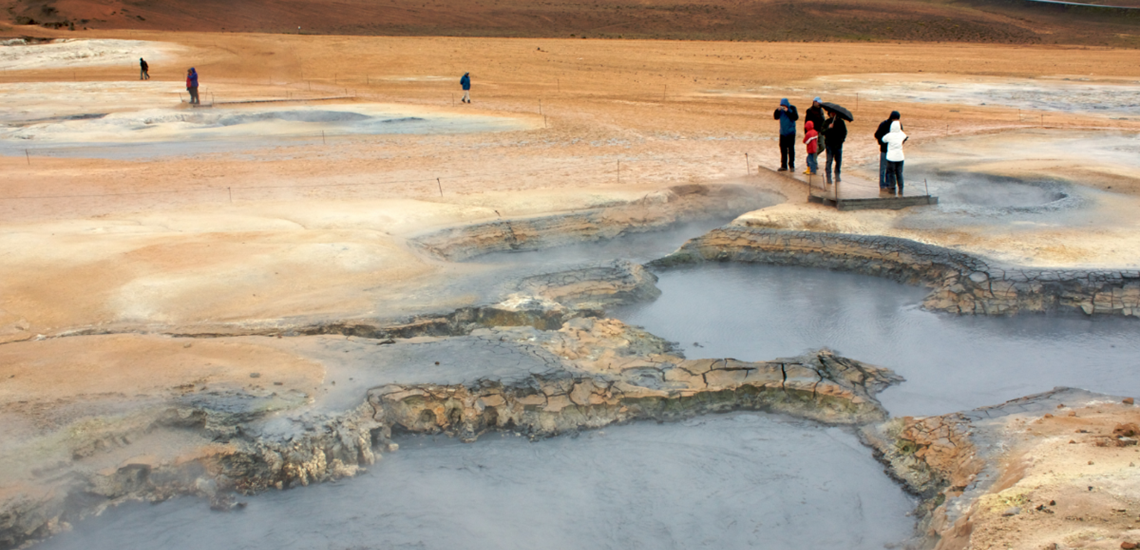 Photo from Wikipedia
In the year 1563 the King of Denmark acquired the area that had previously been owned by brothers living in Reykjahlíð and made them great income. The area is popular among tourists who want to learn about geothermal energy and geothermal activity. The area can unsafe with hot springs that can be very dangerous and it is important to stay within the marked trails in the area. North of Námaskarð pass is mountain Námafjall 432 meters high.
Between Mývatn and Námaskarð is another powerful geothermal area called Bjarnarflag. There you can find the populare silica mixed geothermal water, a bathing place called Jarðböðin by Mývatn, which is ideal for bathing in natural geothermal water.
Directions:
Road directions: Drive on a Ring Road nr. 1 through Námaskarð towards east and turn onto road number 885 (Námaskarð road).