Located only about 15 minute drive from Grindavík and close to Reykjanes Lighthouse is an active geothermal area called Gunnuhver. The area is located within the Reykjanes UNESCO Geopark and there you can find mud pools, boiling hot springs and steam coming up from the ground.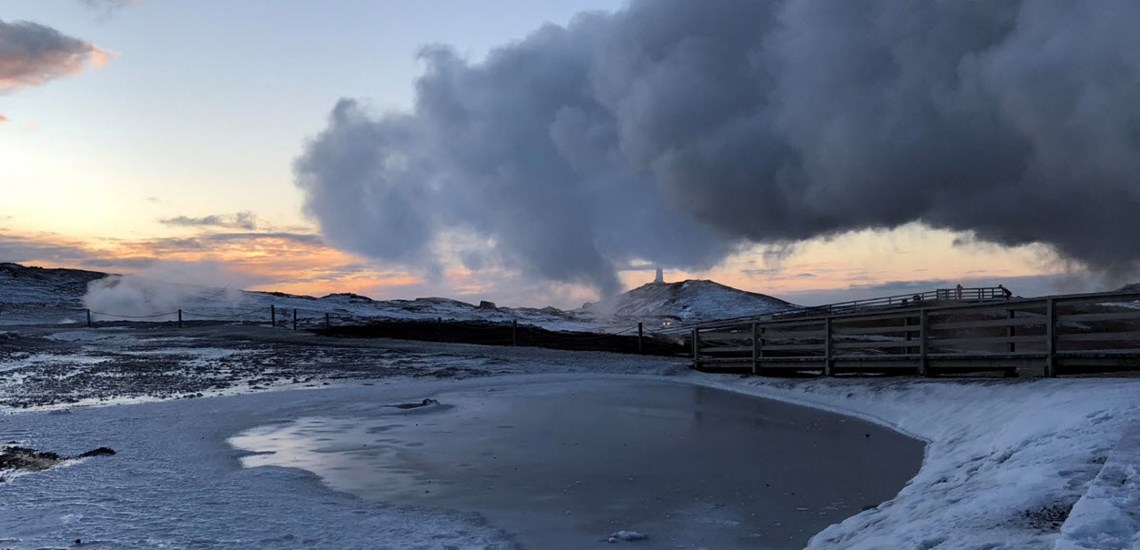 Gunnuhver is the largest mud pool in Iceland and is named after a Woman called Guðrún Önundardóttir or Gunna. Icelanders are big fans of nicknames and Gunna is a common nickname for the name Guðrún. Apparently some controversy had arisen between Gunna and Vilhjálmur, a rich farmer from the nearby farm of Kirkjuból. After Gunna died their problem had not been solved and after her funeral Vilhjálmur was found dead. After that Gunna caused a great disturbance in the area and attacked both people and animals. It was unbearable to live in the area until a priest finally made a trap and Gunna was thrown into the hot spring that is now named after her.
Take good caution when walking around the area and stay on the trails as the temperature of the hot springs is over 300°.
Directions:
The drive from Reykjavík to the bridge is about 60 minutes (70km). Take the Reykjanesbraut road (41) and then turn on road nr. 44. On road nr. 425 turn where the sign says Gunnuhver. Park the car at the car park and follow the trails around the area.