Grímsey island is the northernmost inhabited island off Iceland with a population of around 80 people. The island gets its name from the settler Grímur, who settled the island. The island is about 65 kilometers north of Dalvik town by Eyjafjörður fjord.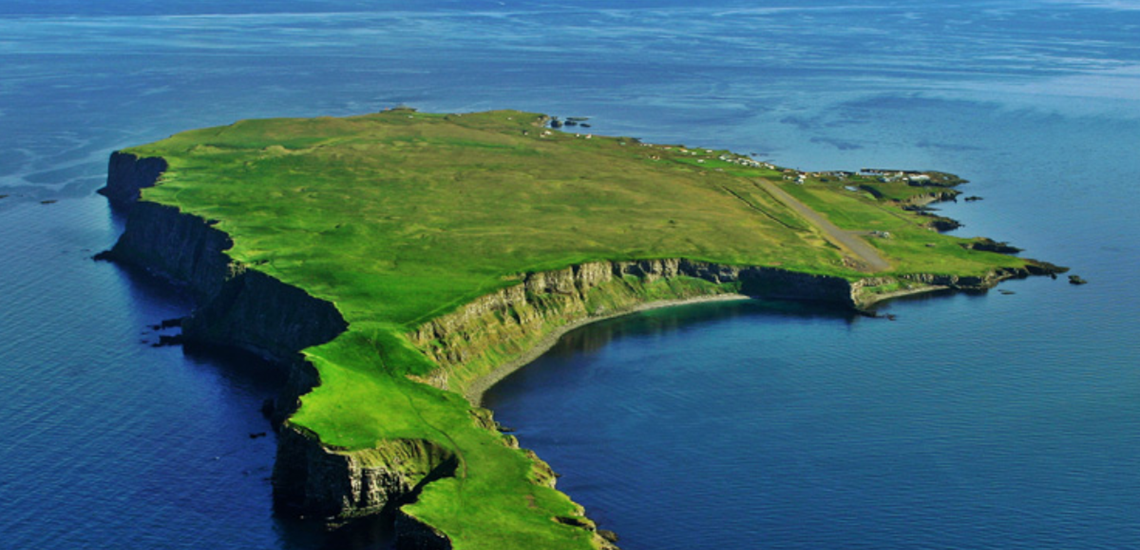 Photo from www.akureyri.is
Grímsey island is unique in terms of nature and birdlife and the perfect place for bird-watching in Iceland. The best time is from June to August when the seabirds are nesting and raising the chicks. You should be able to see a lot of Puffins and other seabirds like, Razorbills, Black-Legged Kittiwake, Auks, Northern Fulmar, Thick-billed Murre and many others, so the island Grímsey is a paradise for bird watchers and bird photographer.
In Grímsey it is possible to get north of the Arctic Circle as it runs through the island. A large stone bubble was put up on the island in 2017, where the arctic circle goes through Grímsey. The artwork is called Orbis et Globus and the artist is Kristján E. Hrafnsson. In winter and spring ice from Greenland may come close to Grímsey. Polar bears sometimes visit Grímsey with the drifting ice from Greenland, the last one came in 1969.
The island is verdant with a lot of grass, and about 5.3 square kilometers, with highest altitude of 105 meters. It is a unique experience to visit Grímsey during the summer when the sun is out for 24 hours and see how the sun touches the horizon on a bright summer nights before rising again.
Fishing is the main employment, mainly small fishing boats owned by families living there. The island is like a big source of food, with plenty of fish, birds, eggs and young. In the old days people used these resources to survive and it maid the island an attractive place to live in.
You can find a restaurant and a guesthouse in Grímsey
How to get there:
The main transportation to Grímsey is sailing with the ferry Sæfari. The ferry sails from Dalvík town to Grimsey and it takes about three and a half hours to get there with the ferry, depending on the weather. You can also fly from Akureyri to Grimsey, the flight takes about 30 minutes.