Can US citizens travel to Iceland?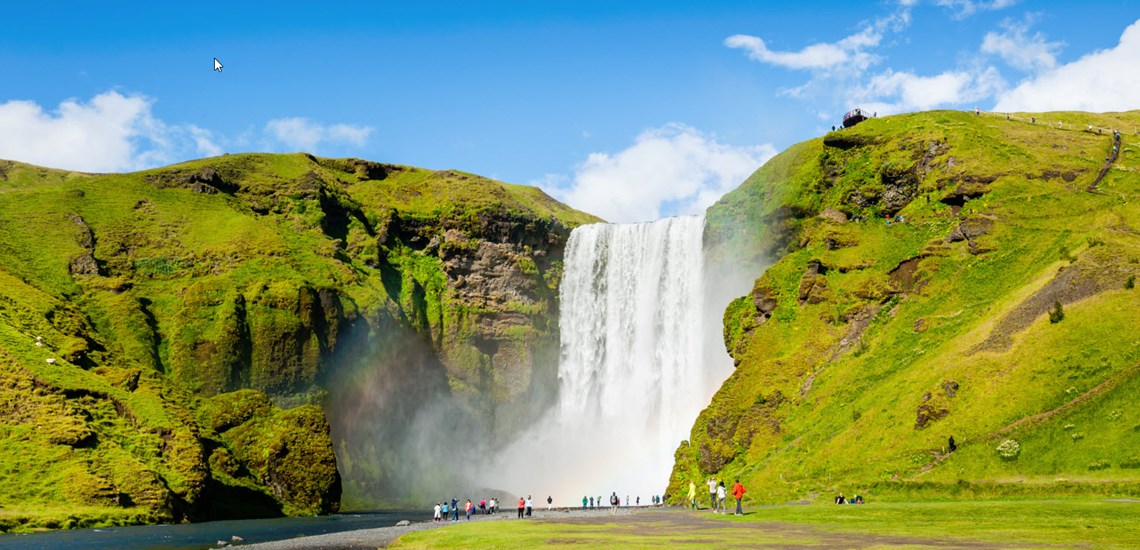 Iceland welcomes tourists from the United States. Due to the rapid progress of vaccination in the United States and its good infection figures, the American tourist has the possibility of visiting Iceland with ease, fulfilling certain requirements, being able to enjoy safe tourism within the country.
Iceland travel restrictions
Currently unnecessary travel from high-risk countries is banned, fortunately, the United States is not on this list now, nor is it expected to be in the short term as the infection trend is down. This makes things easy for American citizens who want to travel to Iceland.
 Which are the high-risk countries? (Please: note that changes occur on short notice).
Covid vaccination certificate
Travelers who can present a valid vaccination certificate or previous infection certificate can enter Iceland without quarantine. Here you can find information about the type of certificates and the information they must contain.
Below are the rules and policies at the border:
The border policies
All travelers must follow the following rules:
-Pre-register before arriving to Iceland. Pre-registration here
-A COVID-19 negative PCR test certificate is required (rapid antigen tests are not valid). The PCR test must be performed within 72 hours prior to the departure of the first leg of the trip. EXCEPTION: Travelers with an approved vaccination certificate or a previous infection certificate do not need to present a PCR test.
-Upon arrival at Keflavík airport, everyone must undergo for a PCR test, no exceptions.
-Travelers must quarantine for 5 days upon arrival and perform another PCR test at the end of the 5-day quarantine. EXCEPTION: passengers who present a valid certificate of vaccination or previous infection only need to quarantine until obtaining the result of the first PCR test (it is less than 24 hours).
-Those who must do 5 days of quarantine and do not come from a high-risk area, can choose to quarantine in an accommodation of their choice if they meet the necessary conditions to the rules dictated by the Chief Epidemiologist, or they can choose to quarantine at the quarantine hotel designated by the authorities (free of charge)
-All travelers are recommended to download the app Rakning C-19, is used to communicate negative testing results and helps to trace possible infection outbreaks.
-For detailed and updated information visit the official website of Covid in Iceland available in different languages: www.covid.is
Covid in Iceland today
Iceland is managing to keep national infection figures below the average for most countries. Due to its low number of infections, the current trend in Iceland is to loosen restrictions little by little. These standards, determined by the authorities, change often and are subject to changes in infection numbers.
Due to its constant change, we ask that to check the official website of Iceland with updated information on Covid-19: Effective restrictions
PCR test before departure
Some countries require negative PCR certificates to enter their borders, if this is the case, travelers can have a PCR test in Iceland before returning home. To request an appointment for the test, you must register on this page: travel.covid.is
After registration, the traveler will be assigned a barcode for the test and a time and address to attend.
The results will arrive via SMS in 24 hours, but keep in mind that not all countries accept SMS certificates, if you need a paper certificate you must contact the health center and you can get the certificate in English or Icelandic.
Is it safe to travel to Iceland during Covid?
Iceland is open to travel and is one of the safest destinations today. There are several factors that make Iceland an ideal travel destination.
Tracking and testing policy
Iceland has put its efforts into a powerful tracking system with great professional teams with very clear protocols, thanks to this it is possible to control and contain any source of infection in the community very quickly.
It is also worth highlighting the ease for the population and the clear organization to access the testing resources, obtaining the results of the samples very quickly.
Geographical advantages
Being an island, it is easier to control the entry of people to the country, since there are only 2 access points to the country, and this advantage makes border controls very efficient.
The low population density is also a key factor for the low spread of the virus. With a total population of about 360,000 inhabitants and a population density of 3.5 / km2, it is easy to contain possible outbreaks of infection, and at the same time allows tourists to move around without the need to interact with large crowds of people.
Nature tourism
Iceland is characterized by its wonderful nature and its wide spaces, which means that people is almost constantly in open and natural spaces, making their trip a safe experience and without worrying about crowds. Iceland offers nature tourism, hikes, outdoor activities... in short, safe and exciting tourism.