South Coast & Snowmobiling
Quick info
Tour name: South Coast and Snowmobiling
Minimum age 5 years old as a passenger
Duration: 10 hours. Back to Reykjavik at about 19:00 - 19:30
Pickup: The pickup starts at 08:30. It might take up to 30 minutes, but be ready from 08:30 to 09:00
Departures: Daily All year round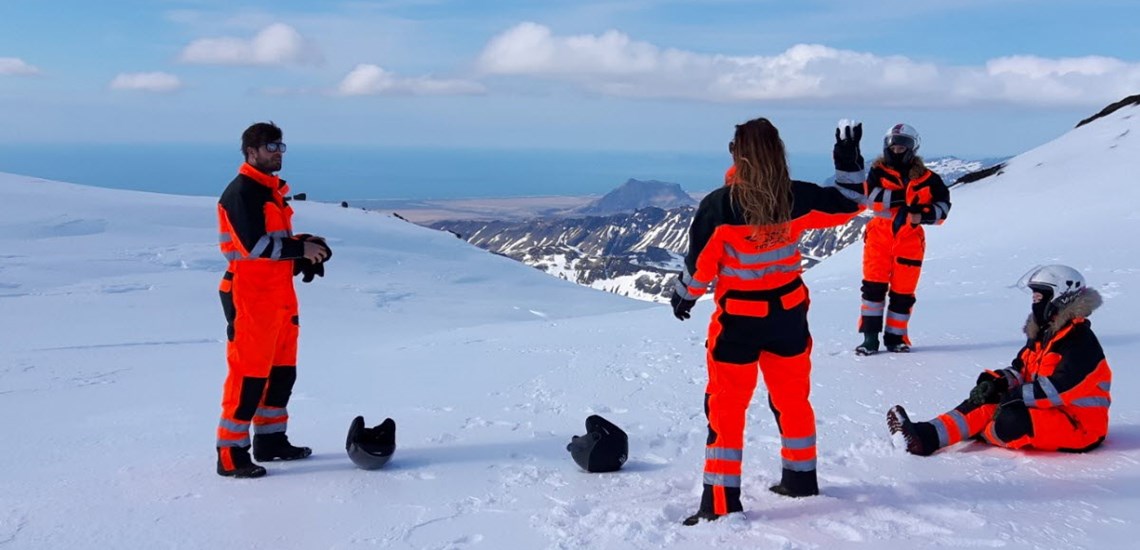 The South Coast & Snowmobiling tour is full day tour from Reykjavik. In this tour we will take you to the fourth largest glacier in Iceland, Myrdalsjokull. It is only about 2 hours drive from Reykjavik, and on the way to the glacier we will visit the magnificent waterfalls of Seljalandsfoss and Skógafoss. The snowmobile tour is the perfect length of time for first-time riders and individuals looking for a scenic, fun ride, exploring and experiencing the wilderness, glacier and the breathtaking views over South Iceland in good weather.
The tour starts from our base, after a short briefing and dressing up in a snow suit we step into a real glacier truck and drive up the mountain to the glacier where we pick up the snowmobiles and ride to the glacier Myrdalsjökull. Our guides will take you through safety procedures and equip you in special clothing and helmets. We provide you with everything you need for a safe and comfortable ride. The snowmobiles will not be a problem – it is just a matter of squeezing the accelerator or the brake.
A valid driver's license is required.
The passengers on this tour will travel with our regular South Coast Tour. If a part of your family or group does not want to join the tour it is no problem to divide the group between activities.
Included
Seljalandsfoss Waterfall
Skogafoss waterfall
About one hour snowmobiling ride on Myrdalsjökull Glacier with all safety equipment needed
What to bring
Warm and waterproof clothing
Walking-hiking shoes
Lunch
Good to know
This tour operates combined with our scheduled South Coast tour, and with the South Coast and Glacier Walk. If you have chosen to book Snowmobiling, then you won´t be visiting Vik and the Reynisfjara beach.
You will not be at the lunch stop so you should bring something to have for a lunch (in the morning we stop at a fuel station where you can also buy some food).
During the winter, we may find icy conditions on the areas we visit, and the weather may be extremely windy and cold. Ice walkers can be useful, and warm clothing recommended.
Book this tour
Loading...