South Coast & Snowmobiling
Quick info
Tour name: South Coast and Snowmobiling
Minimum age 5 years old as a passenger
Duration: 10 hours
Departures: Daily All year round
Region: South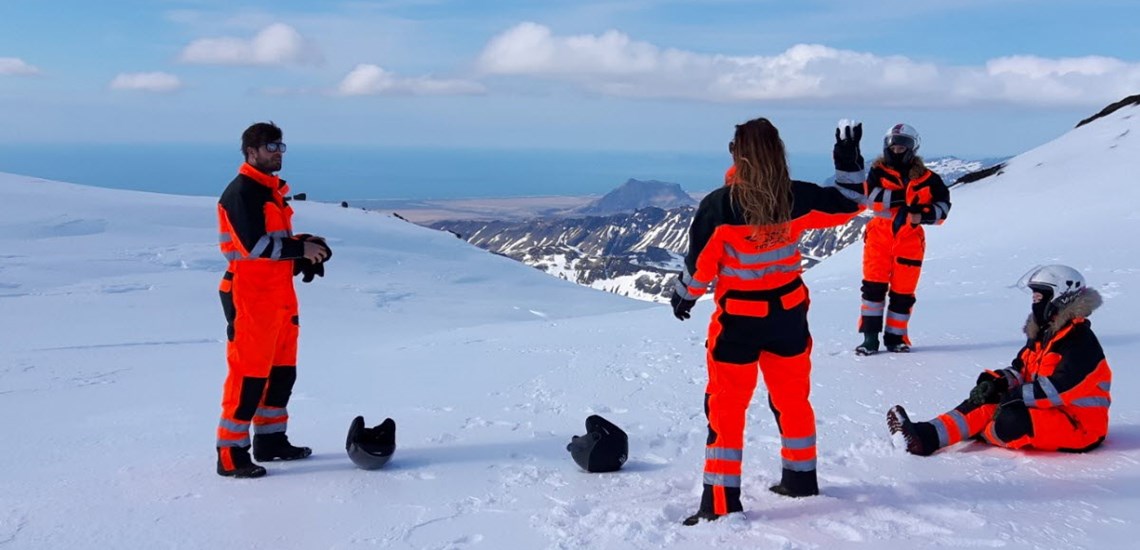 This super-exciting snowmobile adventure takes you to the top of the spectacular Mýrdalsjökull glacier. We pick you up from your accommodation in Reykjavík. From there we head along the South coast to the Arcanum base.
At the base we gear you up, go over the safety issues and get you ready for the snowmobiling. The transfer from the base, in a super-truck, takes you up the mountain, to the where the snowmobiles are located.
Weather permitting, the ride will give you a breathtaking view of South Iceland, one of the most scenic areas in the country. Everything you need is provided for on this journey and snowmobiling experience is not required.
Mýrdalsjökull is the southernmost glacier in Iceland and underneath the 250 m thick ice lies the caldera of the volcano Katla.
On the return drive to Reykjavík we make a stop by the picturesque waterfalls Skógafoss and Seljalandsfoss.
Duration: Total two hours. One-hour guided snowmobile tour. Super-truck return transportation from main base up to the snowmobile location, about one hour.
This tour is not recommended for children under the age of 5. One child only per paying adult.
Additional 10.000 ISK charge for a single ride, when odd numbers are booked (1, 3, 5, 7 ...)
PLEASE NOTE: ON THIS TOUR YOU WILL EXPLORE THE SOUTH COAST, EXPERIENCE ONE GLACIER ACTIVITY AND VIEW TWO WATERFALLS.
A valid driver's license is required.
Included
English speaking guide
Snowmobile per two persons
Insulated cover-all
Helmet
Snowmobile balaclava face mask
Bus fare
Pick up in Reykjavík
Skógafoss waterfall
Seljandsfoss waterfall
What to bring
Warm and waterproof clothing
Hiking shoes
Water bottle and refreshments
Camera
Good to know
Due to weather and/or road conditions we might have to alter the itinerary, have longer journey time or cancellation of the tour
Reservation is necessary
Meeting point
Free hotel pick up
The pickup starts at 08:30. It might take up to 30 minutes, but be ready from 08:30 to 09:00
Highlights
Seljalandsfoss and Skogafoss Waterfalls
One hour snowmobiling ride on Mýrdalsjökull with all safety equipment needed included.
Book this tour
Loading...