5-Day Laugavegur Trek in Huts
Book online and get instant confirmation
Description
The rumors are true! Trekking in the southern highlands, from the geothermal hotspots in Landmannalaugar to the lush green landscape in Þórsmörk valley, is even more beautiful in person. You will traverse in between vibrant yellow rhyolite mountains, over black sand deserts and past majestic canyons during this adventure. It is not a coincidence that this trail is a favorite among locals and travelers from the around the world.
Total walking distance: 56 km. (35 miles)
Maximum Ascent: 600 m. (1900 feet)
Minimum age: 14 years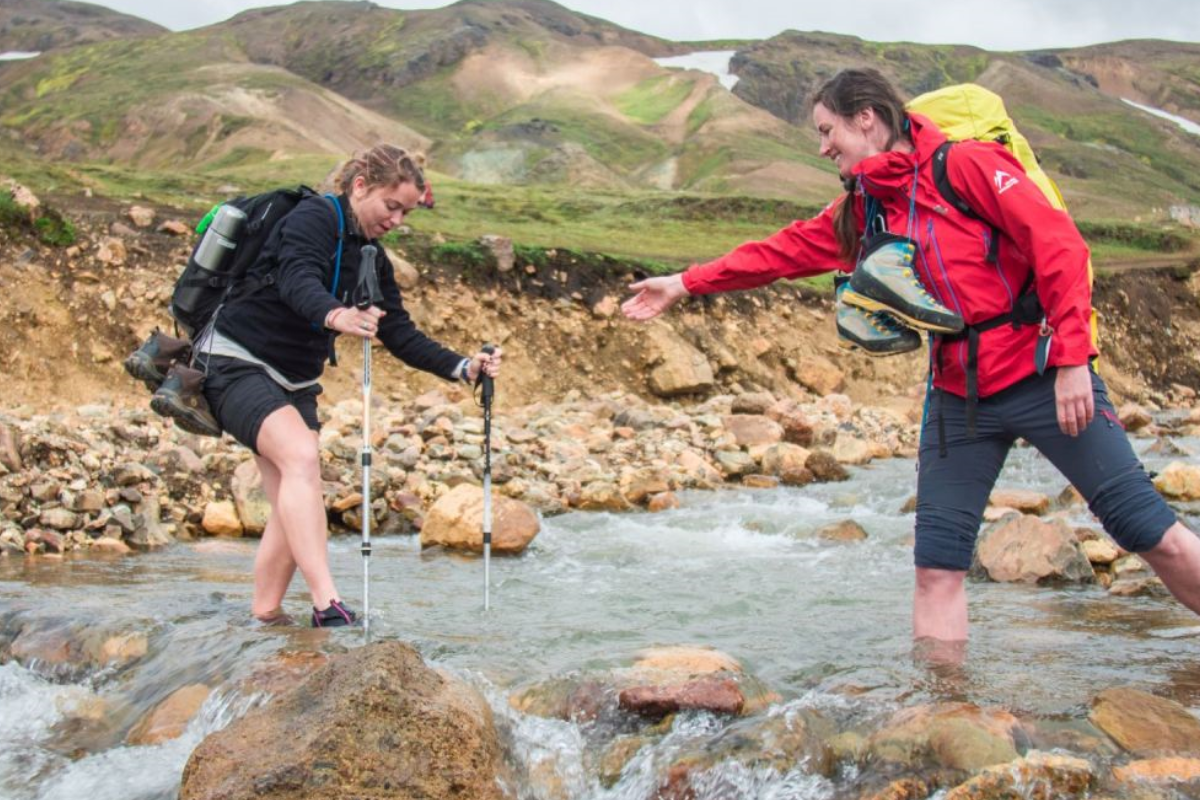 Included:
Experienced and qualified guide for 5 days
Public transport to and from Reykjavík
Mountain hut fees
Food from lunch on day 1 to lunch on day 5
Transfer of luggage.
All the mountain huts are heated, some have electricity and some have hot water. They have dormitories with single and twin bunkbeds and/or mattresses and participants must be prepared to share a bunk with other travelers from the group.
Accommodation in Reykjavik and pick up and drop off at accommodation can be added.
Sleeping bag can be rented for 7000 ISK
Note: Worried about your environmental footprint? Through our Environmental Fund, you are helping to preserve the beautiful Icelandic nature along this trail.
Language: We offer English and French speaking guide on Mondays. On July 13th, we offer English/German speaking guide. Please let us know if you require a French or German speaking guide on these dates.
Itinerary
Day 1: Reykjavík-Landmannalaugar-Hrafntinnusker
We take the public bus from BSI bus terminal at 08:00, that during the summer months drives the mountain tracks that lead to Landmannalaugar, passing by the Hekla volcano and other volcanoes in the Dómadalur area. Arriving in Landmannalaugar at noon, we have a lunch and then head south into the mountains. The trail takes us past small gorges, steaming hot springs and yellow mountain ridges. Arrival at Hrafntinnusker mountain hut, were we will stay the night, in the late afternoon.
Distance: 12km (7.5 mi) Walking time: 4-5 hrs Ascent: 470 m (1540 ')
Day 2: Hrafntinnusker-Álftavatn
From Hrafntinnusker we descend down in the gullies of Jökultungur with hundreds of steaming hot springs and mud pools. Up there we enjoy fascinating views to the south to the Álftavatn area (Swan Lake), and the Mýrdalsjökull and Eyjafjallajökull glaciers. In the afternoon we arrive at Álftavatn hut where we stay the night.
Distance: 12km (7.5 mi) Walking time: 4-5 hrs Descent: 490 m (1610 ')
Day 3: Álftavatn-Emstrur
We pass at the foot of the green conic volcano of Stórasúla before entering the black deserts of Mælifellssandur. Heading towards another ancient and verdurous volcano, the Hattfell, we enter the Emstrur region where farmers used to graze their sheep in summer. Before arriving at the Botnar hut where we stay the night, we visit the magnificent Markarfljót canyon cut almost 200 m down into the rocks south of Hattfell.
Distance: 16km (10 mi) Walking time: 6-7 hrs Descent: 40 m (130 ')
Day 4: Emstrur-Þórsmörk
We continue up and down through the small valleys and gullies of Emstrur, where the great Mýrdalsjökull glacier rises only a couple of kilometers away. As our hike is coming to an end for the day, we descend into Þórsmörk's (the woods of Thor) green valleys filled with arctic birch forests and colorful flowers. After arriving at the huts in Þórsmörk, we top off this amazing adventure with a barbecue!
Distance: 17km (10.5 mi) Walking time: 6-7 hrs Descent: 300 m (985 ')
Day 5: Þórsmörk-Reykjavík
We spend the morning in Þórsmörk where we walk along one of numerous paths. For example, we can visit to the Sönghellir cave ("Song cave"), climb up the small mountain of Valahnúkur from where magnificent view can be enjoyed, before taking the afternoon bus to Reykjavík. Arrival at Reykjavik BSI bus terminal where the trip ends.at 19:20
What to bring
For your own wellbeing and safety we strongly suggest following the advice of our equipment list, this includes having good quality rain-gear, tops and bottoms! Also respect that cotton clothing is not appropriate for any strenuous outdoor activity – this includes jeans and t-shirts. Modern outdoor clothing is by far more comfortable and will greatly improve your experience.
Boots and Clothing:
Sturdy Hiking Boots – waterproof with good ankle support.
Long sleeve shirt (thermal underwear) – Wool or synthetic.
T-shirt (thermal underwear) – Wool or synthetic.
Light wool or fleece sweater (2nd layer).
Trousers – Strong and light material that dries quickly e.g. soft-shell.
Jacket with a good hood – windproof, waterproof and breathable.
Rain trousers – windproof, waterproof and breathable. Please note that full raingear is mandatory in Iceland.
Gloves
Socks – Wool or synthetic. Two or three pairs.
Warm hat.
Other gear:
A duffel bag for the transport of your overnight gear between huts. Please avoid bringing a suitcase! 
Backpack for extra clothes and food during the day. 25 – 40L (1500 – 2500 cu in) 
River shoes – Walking sandals or old running shoes with a good grip are a good choice, along with a pair of warm socks or neoprene socks. Open sandals or flip-flops will not do the job. 
Light Sleeping bag.
Towel – light weight and packable.
Sunglasses & sun protection.
Water container – thermos flask or water bottle 0,5 – 1L.
Headlamp for reading and getting around the hut.
Casual clothes / change of clothes for wearing in the hut.
Personal first aid kit – including blister care.
Prescription medication and other personal health items.
Toiletries; Toothbrush, toothpaste etc.
Optional gear:
Walking pole(s).
Gaiters
Neoprene socks – highly recommended for river crossings.
Pen knife.
Earplugs
Sun/rain Hat or a Cap. Shorts
Thermal mat (for lunch breaks).
Puffy jacket (e.g. Primaloft or down)
Camera, spare batteries.
Dry-bags for electronics and extra clothing.
Slippers for indoor use.
Aperitif or other heart-warming spirits.
Should you have any questions regarding this equipment list or the equipment on our tours feel free to contact info@funiceland.is
What is included
Experienced and qualified guide for 5 days
Public transport to and from Reykjavík
Mountain hut fees
Food from lunch on day 1 to lunch on day 5
Transfer of luggage.
Good to know
Departures: Mondays and Fridays from June - September
Duration: 5 days, 4 nights
Accommodation: Mountain huts
Meeting point: BSI bus terminal at 07:15
Group size: 6 to 16 participants
Language: English (French or German on some departures, see below)
Walking per day: 4 - 7 hours
Note: This tour can be booked for private groups upon request
Highlights
Stunning scenery
Knowledgeable guides
Great food
The extra day in the magnificent valley of Þórsmörk
Video
Book this tour
Loading...