7 Day Akureyri & Local Highlights
This tour cannot be booked on Fun Iceland website.
Description
7 Day Akureyri & Local Highlights focuses on the Local Highlights of the Northern part of Iceland with the town of Akureyri as a base. The town is centrally located in North Iceland and therefore perfect for all day trips. We make sure that each day is an adventure that you will be able to share with friends for the rest of your life.

In this 7 Day Short Break you are joining in on our scheduled day tours, Lake Mývatn Classic including admission fee for the Mývatn Nature Baths, Dettifoss Waterfall Tour, Northern Lights Mini Bus Tour (during Northern Lights Season from September 1st to April 15th) and Whale Watching (from April 16th to August 31st). Also included are 6 nights accommodation with breakfast, according to the accommodation level of your choosing. You can easily add day tours, activities, extras, additional nights and more to this Short Break. 
Accommodation
You can select between Budget, Comfort or Superior accommodation options when booking this break. 
Domestic round flight
You can add a domestic round flight between KEF International Airport or Reykjavík domestic airport and Akureyri when finalizing your booking. It is a scenic 45 minute domestic flight across Iceland. Simply add it as an extra when finalising your booking here below.
Airport Pick-up & Drop-off
If you would like to be picked up at the Akureyri airport upon your arrival we offer a pick-up that brings you directly to your drop-off location. We also offer a drop-off to the Airport at the end of your journey.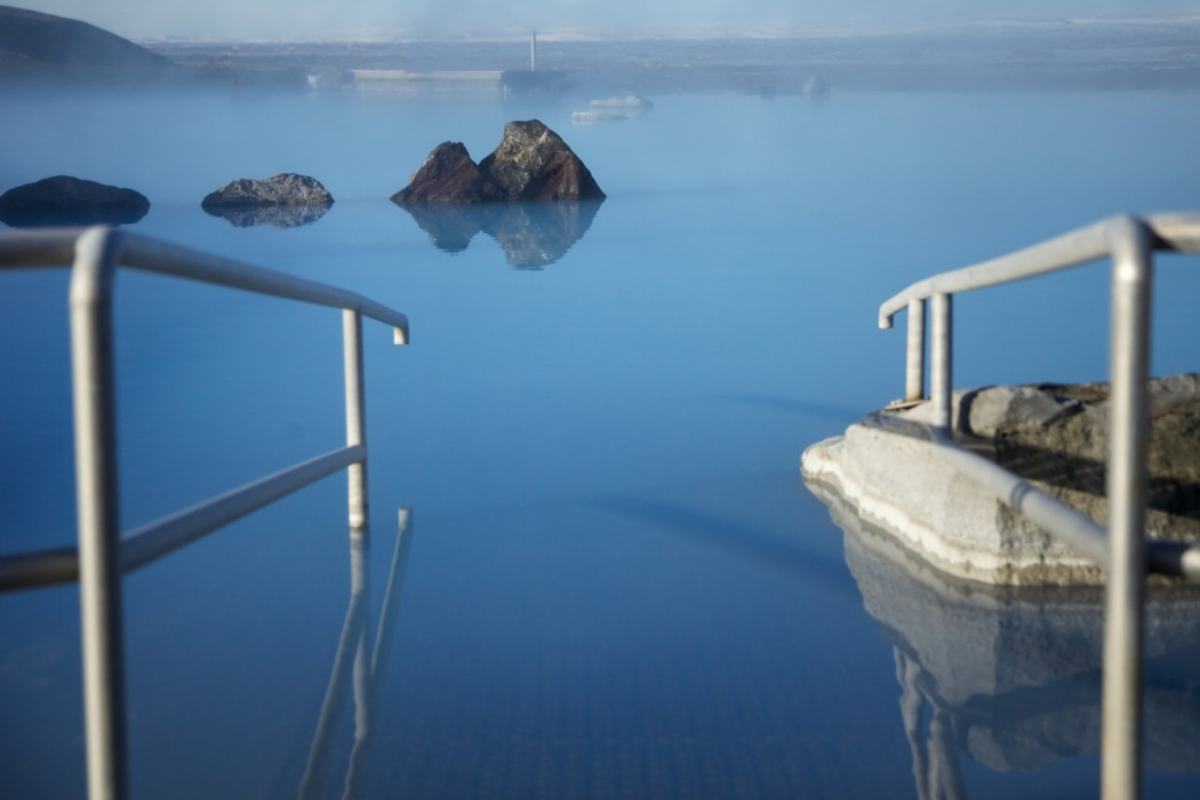 Itinerary
Day 1 Northern Lights Tour (only winter)
The first day of your short break and arrival to Akureyri. Enjoy a comfortable check in at your accommodation in Akureyri and take the day off to get ready for your relaxing break.
During the Northern Lights season (September 1st – April 15th) you will join in on our scheduled Northern Lights Mini Bus Tour in the evening.
Overnight: Akureyri
Day 2 Lake Mývatn with Nature Baths
Lake Mývatn Classic tour
Enjoy an amazing journey through the Lake Mývatn area, full of extreme contrasts, bird life, flora, geothermal activity, geology and saga. We begin our day by stopping at Goðafoss Waterfall in Skjálfandafljót River. From there we go to Lake Mývatn area and visit all the highlights of the area, such as Hverir Mud Pools, Grjótagjá Rift, Dimmuborgir Lava Fields and many more. Our last stop by Lake Mývatn are the Mývatn Nature Baths based in the middle of lava fields with great view over the area.
Overnight: Akureyri
Day 3 Whale Watching Tour (only summer)
Whale Watching Tour (from April 16th to August 31st)
From April 16th to August 31st you will join a Whale Watching tour on this day. During the Northern Lights season you will enjoy a free time in the City. 
Day 4 Free Time in Akureyri
Enjoy a free day in Akureyri. You can also use the opportunity and add a day tour to your break, for example a whale watching tour (during winter) or an ice cave adventure to Lofthellir.
We recommend:
Whale Watching tour (winter), Cave Exploration Lofthellir (summer) or Akureyri Food Walk.
Overnight: Akureyri
Day 5 Dettifoss Waterfall
A visit to Dettifoss Waterfall is a unique experience. We travel from Akureyri towards Lake Mývatn and then onwards to the Icelandic Highland where we arrive at Jökulsá á Fjöllum glacier river, where a mass of water, mud and sand rumbles into Iceland's most impressive canyon from Vatnajökull Glacier. Dettifoss is the most powerful waterfall in Europe, 100m wide and with fall of 44m. There is a short walk from the parking lot to the best viewpoints of the waterfall, and adjacent waterfalls of Hafragilsfoss and Selfoss.
From 16th June to 30th October we travel down the Jökulsárgljúfur canyon alongside a rural route, visiting iconic locations such as Dettifoss Waterfall, Hljóðaklettar Echo Cliffs, Ásbyrgi Canyon, the Arctic Coastline and Húsavík Village.
From 1st of November to 15th June we travel in a 4×4 Truck to Dettifoss and then back to Lake Mývatn. If the ground is covered in snow (which it is usually in winter), we use snowshoes to make the hike to Dettifoss more fun.
Overnight: Akureyri
Day 6 Free Time in Akureyri
Enjoy a free time in Akureyri City. The city offers a variety of options, whether you want adventures such as a Horseback Riding tour or relaxing day in the city center.
We recommend:
Horseback Riding Tour
Overnight: Akureyri
Day 7 Departure
We hope you have enjoyed your time here and wish you a very pleasant rest of your stay in Iceland.
What is included
6x Nights Accommodation
6x Breakfast (D2-D7)
Lake Mývatn Classic Tour (D2)
Dettifoss Waterfall Tour (D5)
Entrance fee for Mývatn Nature Baths
Northern Lights tour (Sept 1 – Apr 15)
Whale Watching tour (Apr 16 – Aug 31)
What do I need to bring
Warm clothing
Good Shoes
Camera
Bathing suit
Good to know
Departure: Mondays and Thursdays

Reservation is necessary.

Due to weather and/or road conditions we might have to alter the itinerary, have longer journey time or cancel the tour.