Dimmuborgir by lake Mývatn is an area east and south of mountain Hverfjall (Hverfell). The area has a lot of specific lava formation, like small lava caves, high lava pyramids and lava rocks. The area is very graphical, and a very mystery place as the name suggests meaning black or dark forts.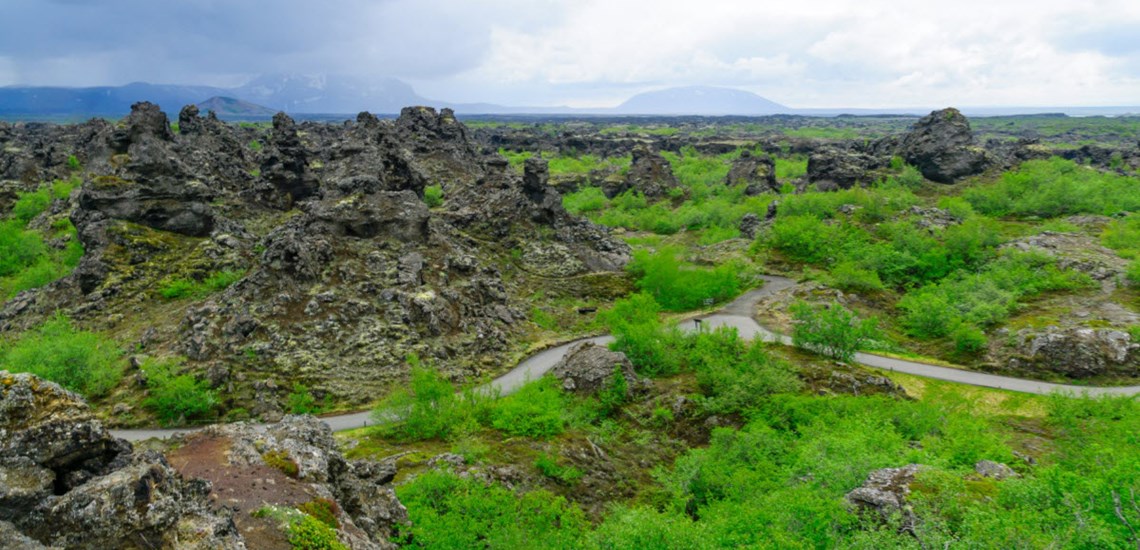 Dimmuborgir are believed to have formed in volcanic activity in Þrengslaborgir and Lúdentsborgir volcanoes for about 2300 years ago. Thick lava flowed over a large lake, it is believed that the lava was up to 10 meters thick. The water in the lake steamed up as the burning lava flowed over it, creating high pressure steam blowing through the lava. The top layer of the lava cooled while the lower layers were still hot and flowing underneath, when the lower layers had flowed through there was an empty space so the top layer did not have any support any more, it fell down and left a landscape as we know it today.
Dimmuborgir are becoming one of the most popular attractions in Iceland, just magical in terms of natural beauty, unique a great place to take some nice pictures where you can find endless possibilities of angles.
Directions:
Dimmuborgir are located in the area of Mývatn lake. The drive from Reykjavík is about 6 hours (480 km) and about 1,5 hours (100 km) from Akureyri. From Ring Road nr. 1 take road nr. 848 and then turn where the sign says Dimmuborgir.