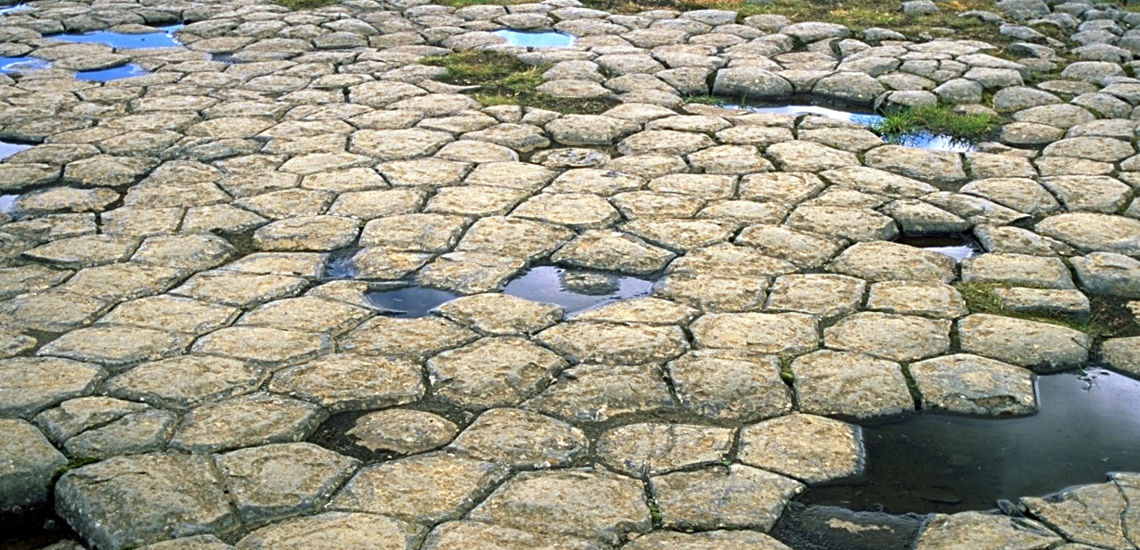 Photo from Wikipedia
Kirkjugólfið (the church floor) is a basalt columns rock formation located in Kirkjubæjarklaustur town in South Iceland, on the left hand side on the way to Stjórnarfoss waterfall. It was believed to be an old church floor but after investigation they found out there had never been any building there. The formation of the rocks is quite amazing and they look like someone did put them there, like an work of art. The Church floor is about 80 m2 in size.
The name is probably related to many of the other names in the area that have relation to Christianity like Systrafoss and Systravatn meaning the Nun waterfall and the Nun lake. There was a nun convent in the old days.
There is a parking on the way to Stjóranarfoss waterfall and it takes you only about 5 min to walk from the parking to the Church floor (Kirkjugólfið).
On the way from the parking to the Church floor there is a small hill or rock called Hildishaugur. The village Kirkjubæjarklaustur was during and before the settlement time in Iceland a place where Christian people lived. It's believed that there were Christian people from Ireland called Papar living there before the Vikings came to Iceland, and the Viking Ketill that settled Kirkjubær was Christian. It was also believed that there was a spell on the place that only Christian people could live there. Hildir Eysteinsson was heathen and he did not believe the spell exist and when he was on his way to Kirkjubær and he was almost at the farm he dropped down dead by the rock Hildishaugur.