Hengifoss waterfall is located in Hengifossá river in East Iceland, nearby Lagarfljót lake and Hallormstaðaskógur forest. Hengifoss is one of the highest waterfall in Iceland about 128 meters high.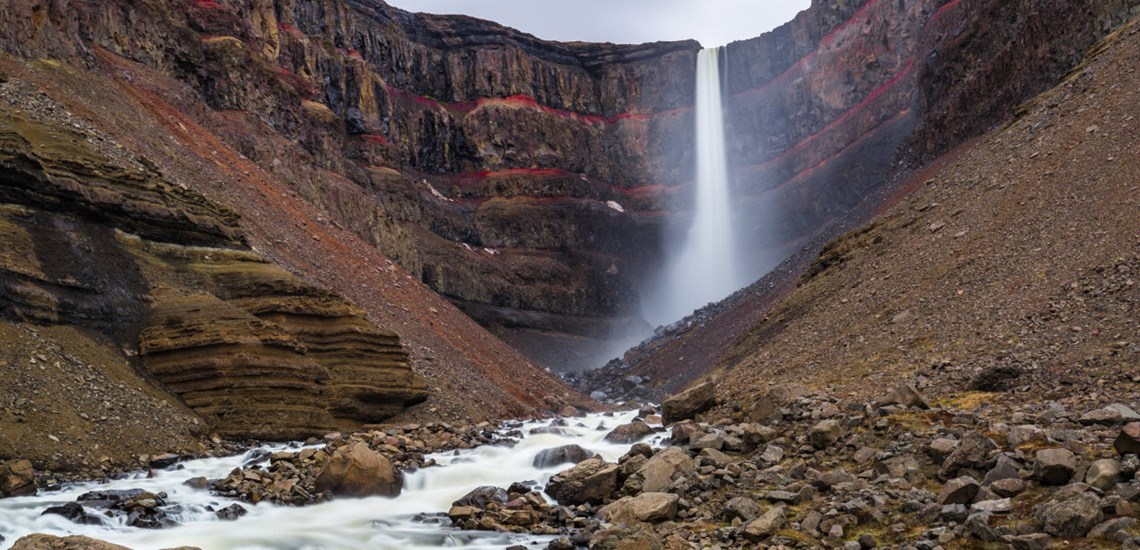 The waterfall falls down a high canyon that is decorated with red stripes in the cliffs, those stripes are actually red layers of clay between the basaltic layers. The stripes in the cliffs are good sign of different layers of volcanic eruptions there from the tertiary period when Iceland was being formed. The basaltic layers are about 5-6 million years old.
The hike to the falls begins by the carpark and it takes about 40-60 minutes to hike from there to the waterfall. Before Hengifoss falls, there is a smaller waterfall below in the canyon, called Litlanesfoss. The landscape around the waterfall is amazing, it is surrounded by basalt columns sometimes seem like they have red color when the sun shines on them.
Directions:
From Reykjavík the drive to Hengifoss is about 8 hours (670 km) and about 30 minutes (35 km) from Egilsstaðir. From Egilsstaðir take Ring Road nr. 1 and then road nr. 931 from either the west side or the east side of the lake Lagarfljót, the distance is the same. If you take the east side you can also stop in Hallormstaðaskógur on the way.