Quick info
Type: Self-Drive 
Season: All year round
Duration: 10 Days / 9 Nights
Areas: Around Iceland
Experience the best of Iceland on this 10 days self drive tour around the scenic Ring Road. The possibilities are endless as you will be driving around with total freedom on where you want to go. Visit some of Iceland's most spectacular natural attractions, including the picturesque south coast, magical mountains and fjords in the east, relax in Mývatn nature baths and explore the beautiful waterfalls around the island.
Since this is a self-drive trip you can decide where to stop and what attractions to explore, giving you a better insight into the charm of the Icelandic nature and culture. You will not miss out on anything as we have put together this great itinerary with well located camping sites/accommodation, suggestions of interesting places to visit and optional activity available on the way.
Included
Camper and camping gear/ accommodation and rental car for 10 days
GPS and extra driver
Detailed itinerary for each day
Map with practical information on interesting sites, things to do and more
Fun Iceland Travel Guide
Travel agent to oversee your itinerary and answer all your questions
Meeting with travel agent when you arrive (optional)
Taxes, service fee and VAT
Not included
Flights to and from Iceland
Optional activities (can be added)
Fuel
Personal insurance
Any arrangements not specifically stated as included
Itinerary
Day 1 - Arrival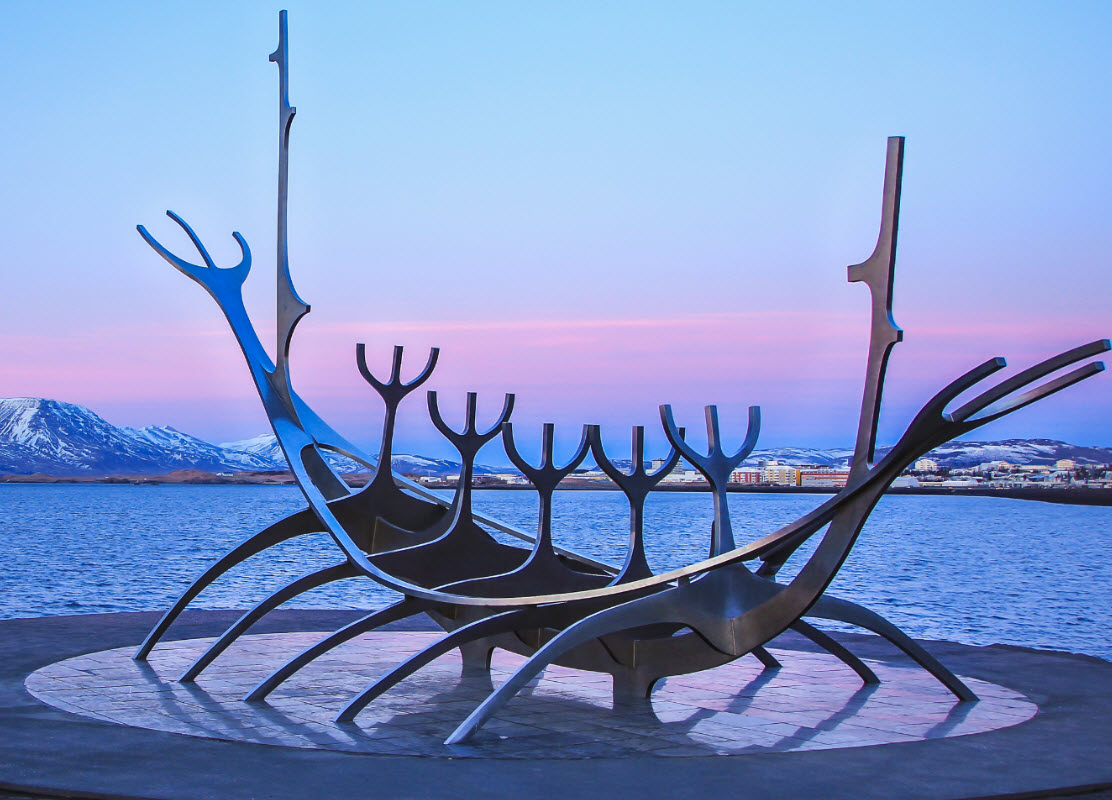 Depending on your arrival to Iceland either spend one night in Reykjavik after your flight or begin our journey when you arrive. We will transfer you from the airport to your accommodation in Reykjavik with the Flybus airport transfer or you can pick up your rental car at the airport. We recommend that you spend at least one day in Reykjavik, you can do it before or after your travels to the south.
Accommodation: Reykjavik (Optional and not included in the price)
Day 2 - Golden Circle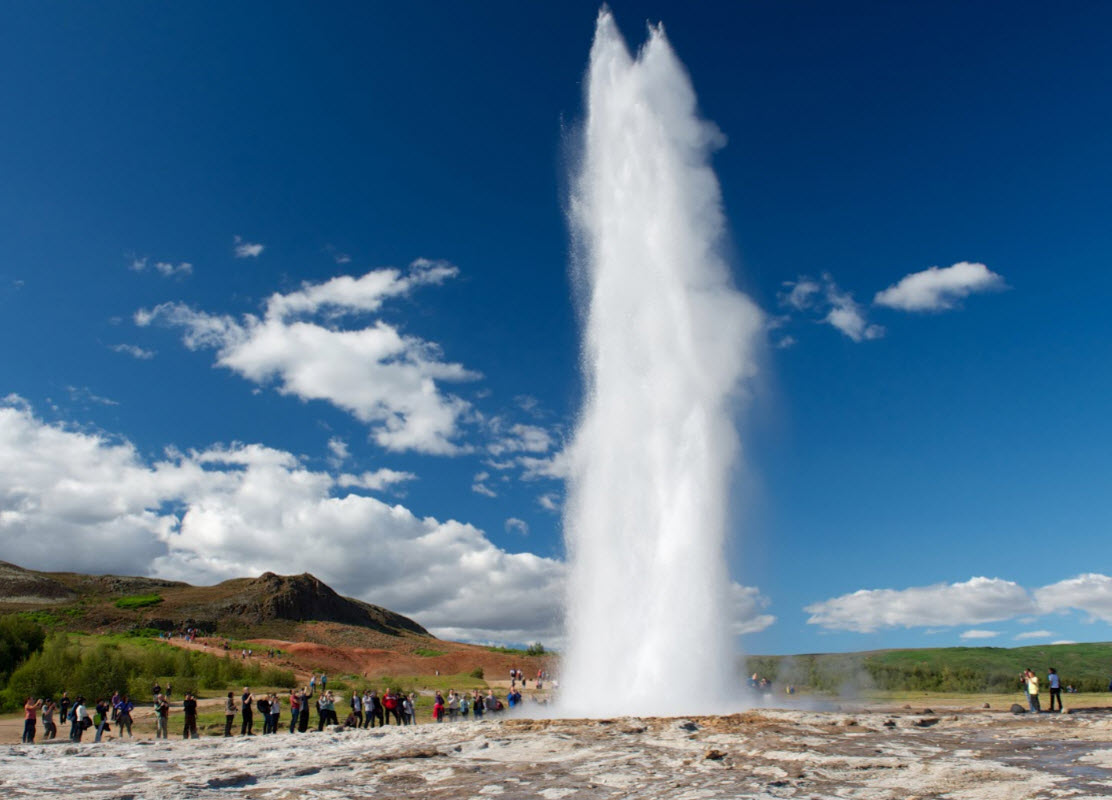 Pick up the car in the morning at the airport/Reykjavik and begin your journey to the famous Golden Circle route where you will visit some of the best known attractions in Iceland. First stop of the day is Þingvellir, Iceland's greatest historical site and a natural wonder. The national park is listed on UNESCO's World Heritage List and there you can see where the tectonic plates are drifting apart.
Next visit the famous Geysir Hot Spring located in the geothermal area, Haukadalur valley. Even though Geysir himself is less active today the thermal area offers other amazing hot springs and one of them is called Strokkur. Strokkur erupts every 10 minutes and spouts water about 30 meters high in the air. A short drive from Geysir you will find one of Iceland's most iconic and spectacular waterfall, Gullfoss or the Golden Waterfall. The rest of the day you can further explore some amazing sites in the area, like Kerið Crater, Brárfoss waterfall or the Secret Lagoon.
Highlights: Þingvellir National Park, Geysir Hot Spring, Gullfoss Waterfall and Kerið Crater.
Optional activity:  Diving Silfra or Snorkeling Silfra.
Accommodation: Flúðir/Selfoss
Day 3 - The South Coast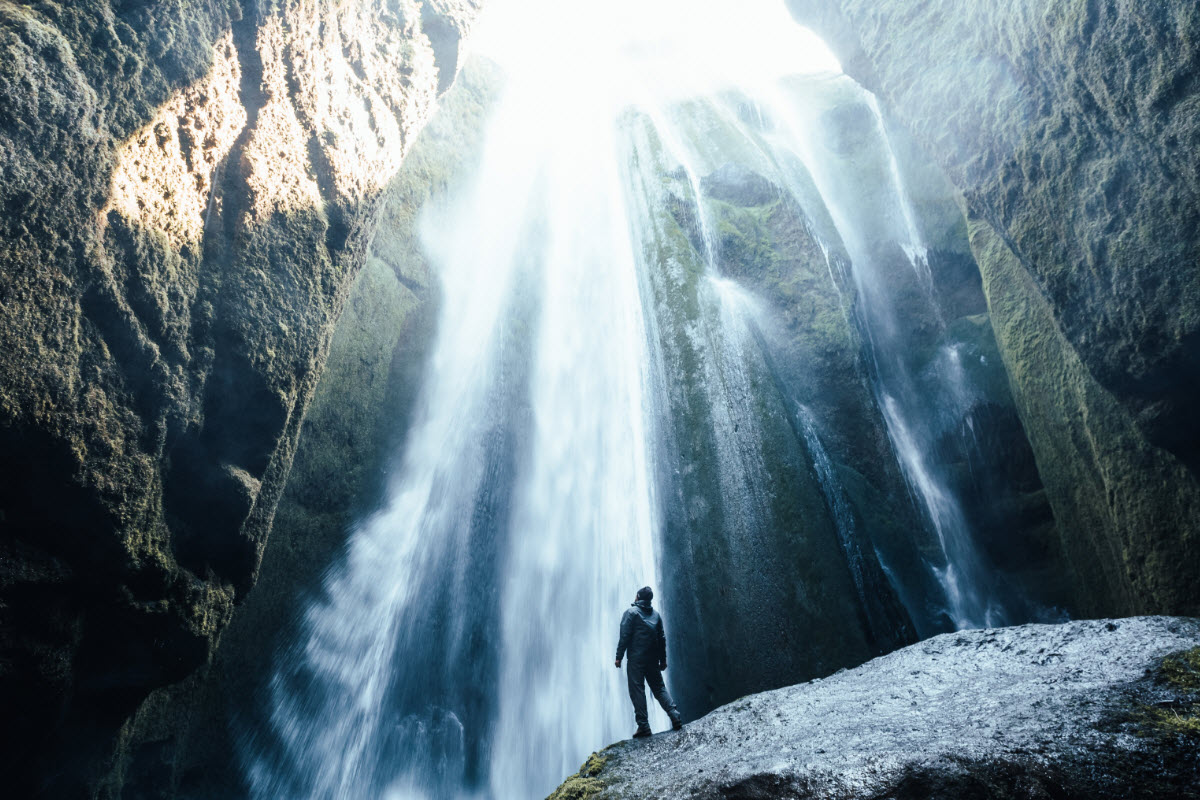 Experience the stunning south coast your way, you have a whole day of freedom to explore as you wish. The south coast is known for its beauty, diverse nature with waterfalls, glaciers, volcanoes, black sand beaches and much more. You can also add an exciting activity to the day like, glacier hike on Sólheimajökull glacier, Snowmobiling on Mýrdalsjökull glacier or ATV to Sólheimasandur black sand beach.
Highlights: Eyjafjallajökull Volcano, Seljalandsfoss Waterfall, Skógafoss Waterfall, Reynisfjara Black Sand Beach, Dyrhólaey Peninsula and Vík.
Optional activity:  Glacier Hike Sólheimajökull, Snowmobile Mýrdalsjökull, ATV Sólheimasandur, Horseback Riding or Skógasafn Museum.
Accommodation: Vík area
Day 4 - Vatnajokull National Park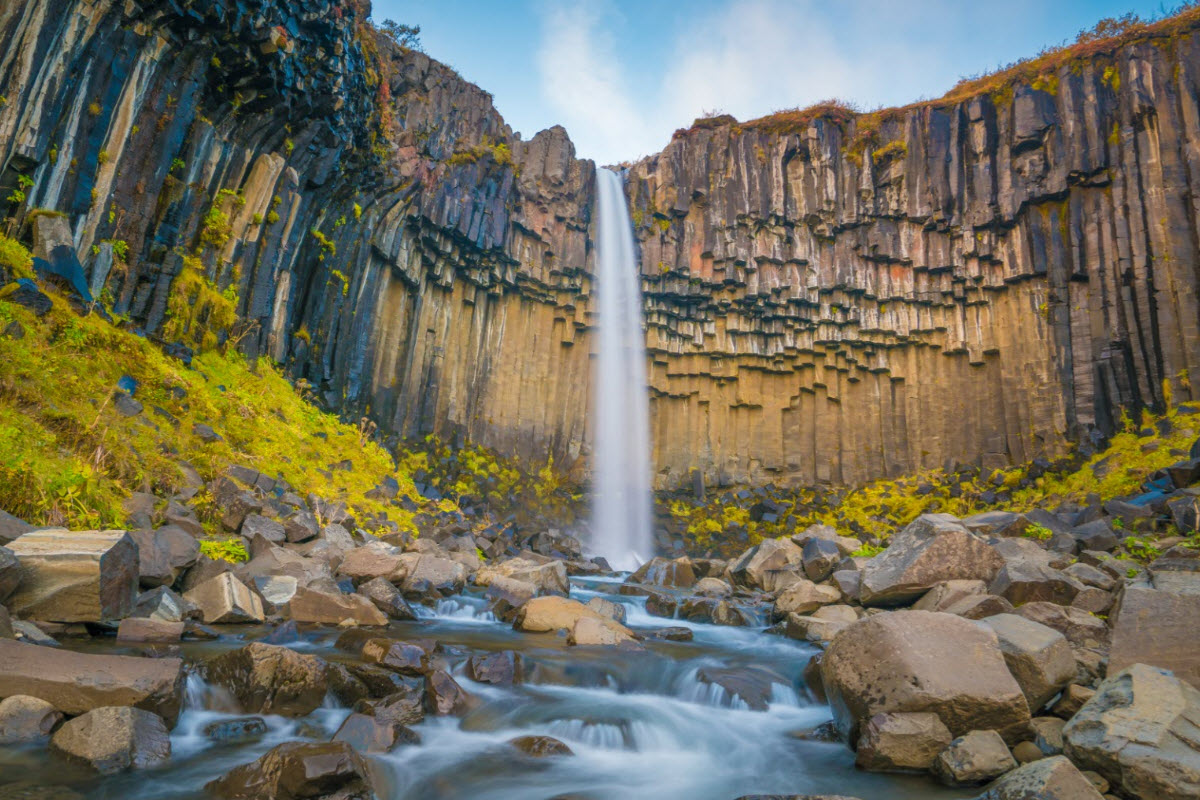 The journey continues to Vatnajökull National Park. The unique qualities of the national park are first and foremost how the combined forces of volcanoes, glaciers, rivers and geothermal activity have created a great variety of landscapes throughout history. Skaftafell is an area part of the national park and a natural paradise, where some of the most beautiful natural pearls of Iceland can be found. In Skaftafell you also have the opportunity to do some exciting activity, including glacier hike or ice climbing. Also found in Vatnajökull National Park is the spectacular Jökulsárlón Glacier Lagoon where the icebergs float around in the crystalline blue glacial waters.
Highlights: Skaftafell Area, Svartifoss Waterfall, Jökulsárlón Glacier Lagoon and Diamond Beach.
Optional activity:  Glacier Walk Skaftafell, Ice Climbing Skaftafell, Ice Caves Vatnajökull (season) or Glacial Lagoon Boat Ride.
Accommodation: Höfn area
Day 5 - The East Fjords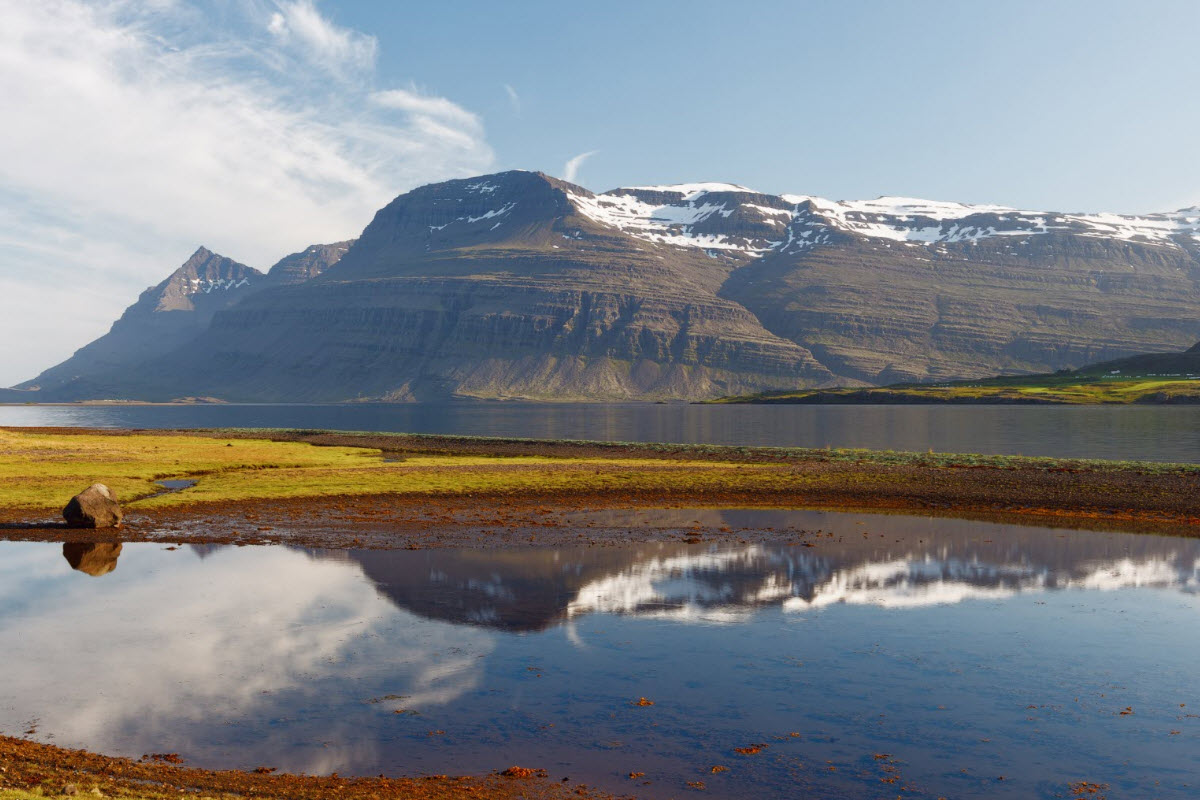 Spend the day driving the spectacular East fjords, along breathtaking fjords, friendly fishing villages, incredible nature and interesting history and culture. Make a stop for example in Djúpivogur village where you will find Búlandstindur mountain, in Stöðvarfjörður and check out Petra's Stone Collection. This region is full of opportunities for adventure, including guided super jeeps tours from Breiðdalsvík around the area. Head to the largest town in East Iceland, Egilsstaðir. The town is located on the river banks of the big river Lagarfljót, one of the biggest river in Iceland. There are many stories of a monster living in the lagoon, called Lagarfljótsormurinn, (the worm of the river Lagarfljót) there are sources back to the year 1345 about the Lagarfljótsormurinn. Explore the many interesting places around the river, including Hallormsstaðarskógur forest, the largest wooded area in Iceland and Hengifoss waterfall.
Highlights: The fjords of the East, Djúpivogur, Búlandstindur, Stöðvarfjörður and Fáskrúðsfjörður.
Optional activity:  Super Jeep Tours and Petra's Stone Collection
Accommodation: Fáskrúðsfjörður area
Day 6 - Lake Mývatn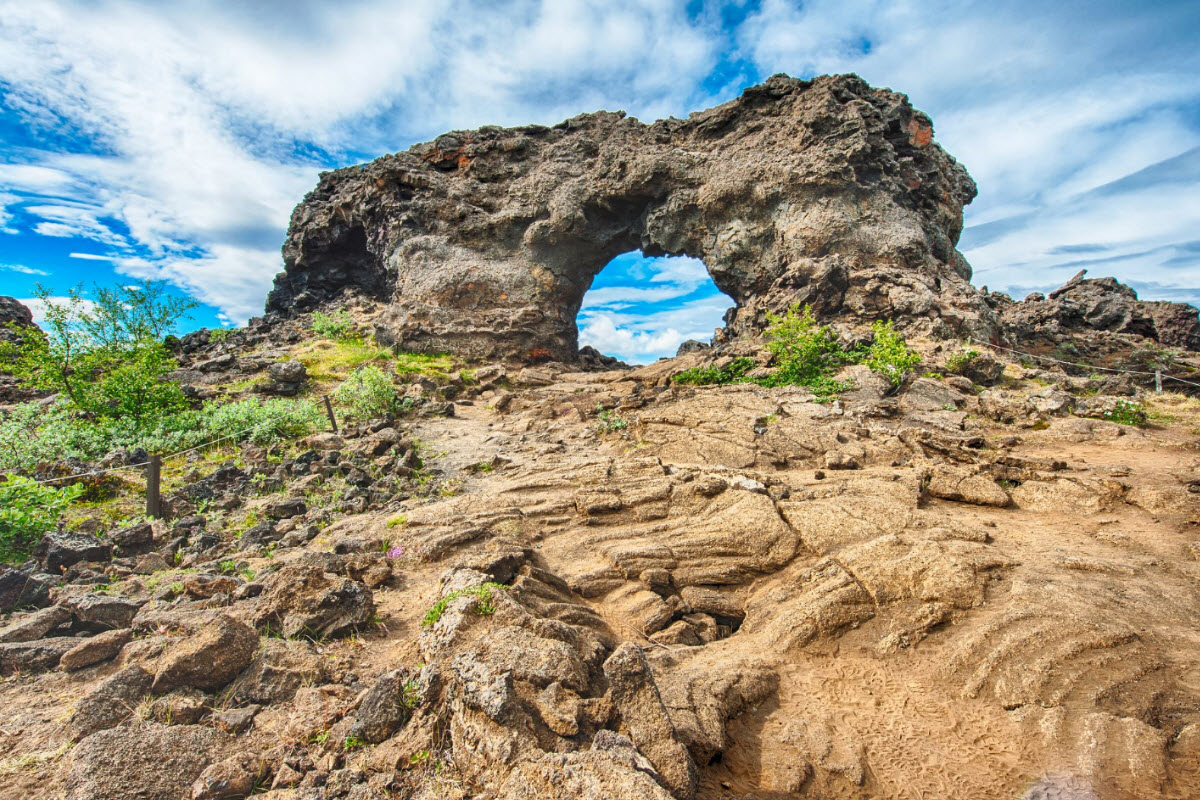 Drive to the North and start the day by exploring the natural wonders Krafla volcano and the geothermal area at Námaskarð. Use the rest of the day to explore the surroundings of Lake Mývatn, including Dimmuborgir lava fields, Grjótagjá cave where parts of the series Game of Thrones was filmed, Höfði cape, Hverir geothermal area and relax at the famous Mývatn nature baths. This region is full of opportunities for adventure, including guided super jeeps tours, Buggy tours around Mývatn and lava cave tour to Lofthellir cave.
Highlights: Námaskarð geothermal area, Krafla volcano, Lake Mývatn, Dimmuborgir lava fields, Grjótagjá cave, Höfði cape, Hverir geothermal area and Mývatn nature baths.
Optional activity:  Super Jeep Tours, Buggy Mývatn tour and Lofthellir lava cave tour.
Accommodation: Lake Mývatn
Day 7 - The Diamond Circle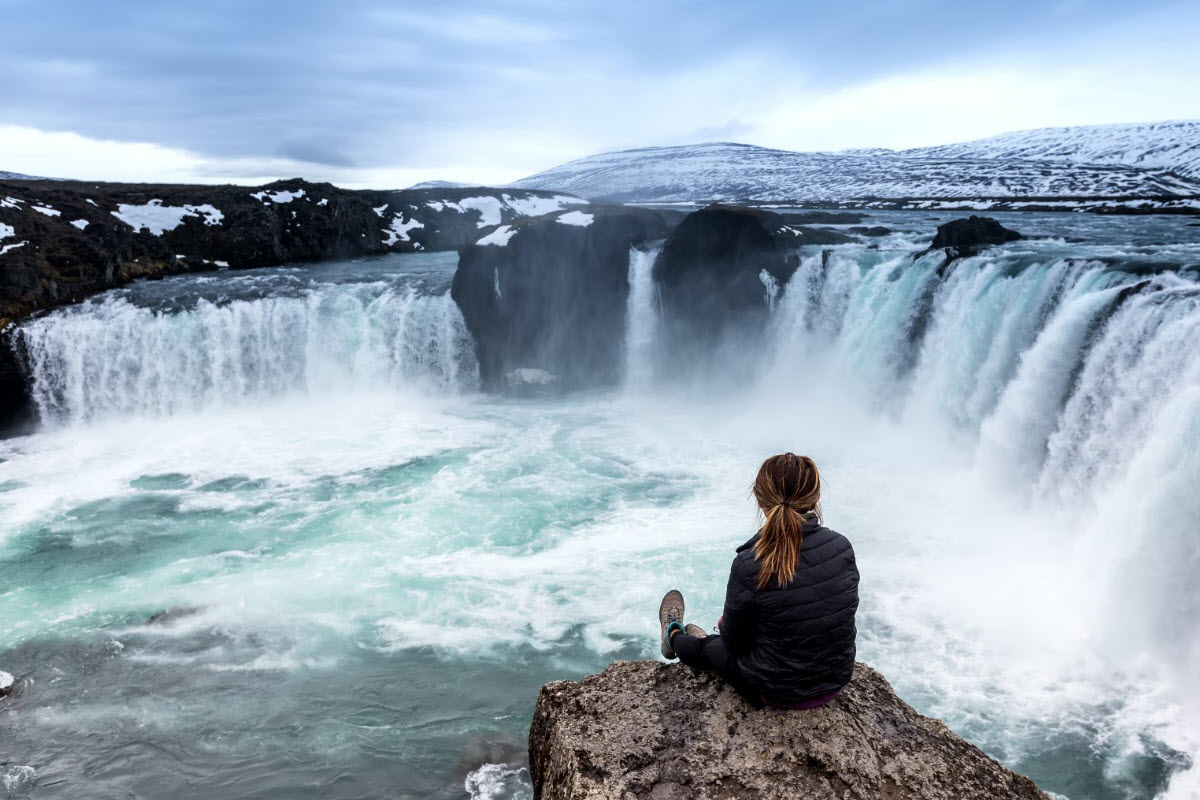 It's time to explore Iceland's most catastrophic area, the Diamond Circle. You will visit the highlights of North Iceland, including Dettifoss waterfall, Ásbyrgi canyon, Hljóðklettar rock formations, Tjörnes peninsula, Húsavík town and Goðafoss waterfall. Húsavík is the center of whale watching in Iceland with very good opportunity to see many different kinds of whales. You will also visit Goðafoss, the waterfall of the Gods, one of Iceland's most stunning waterfalls. It's also possible to book a super jeep for this day where you will have complete and direct access to a local expert guide and geta unique glimpse of the Diamond Circle area.
Highlights: Dettifoss waterfall, Ásbyrgi canyon, Hljóðklettar rock formations, Tjörnes peninsula, Húsavík town and Goðafoss waterfall.
Optional activity: Diamond Circle Super Jeep Tour and Whale Watching in Húsavík
Accommodation: Akureyri area
Day 8 - Akureyri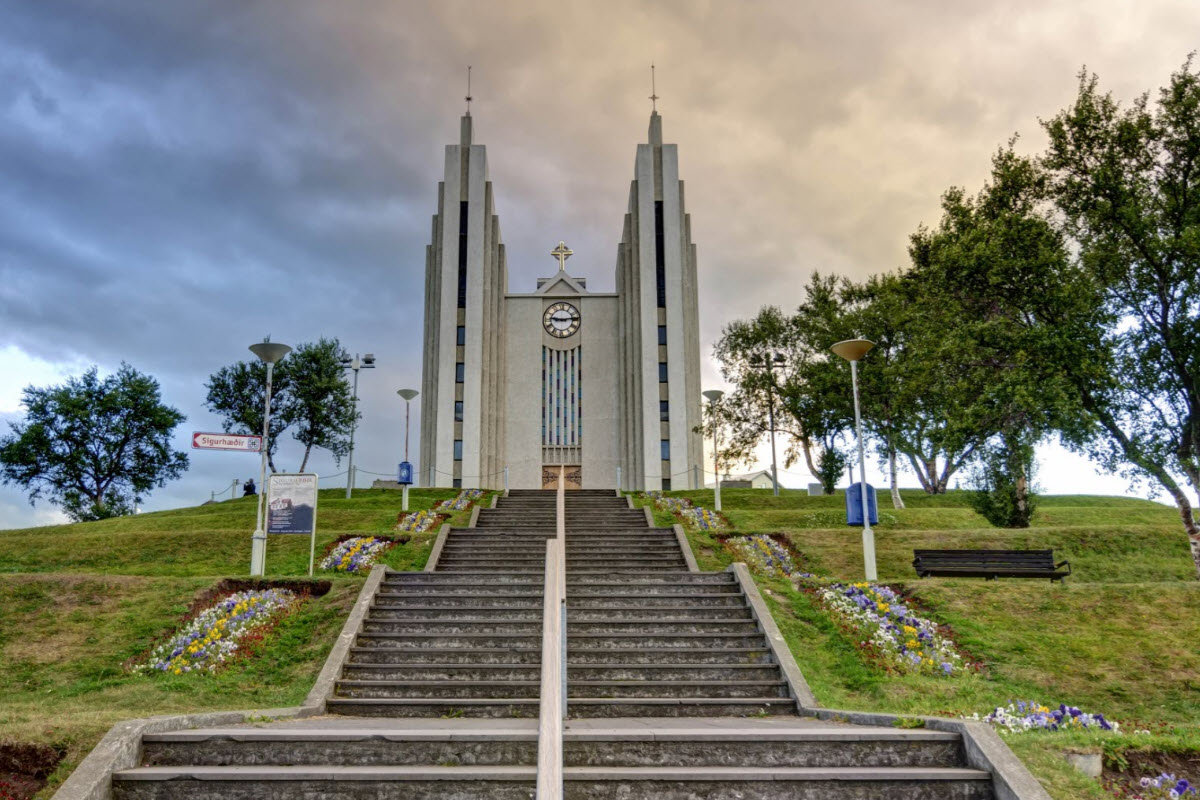 Akureyri is the capital of North Iceland and the biggest town outside the Reykjavik area. Spend the day exploring Akureyri, down by the ocean is the Old Town with small old colorful houses. Further up in the hills is the newer part of the town, and further Kjarnaskógur forest that is a great area for hiking and enjoying the outdoors. Akureyri has a great swimming pool, good selection of restaurants, several museums, the Botanical Garden, shopping street. You also have to try the ice cream at Brynjuís ice cream store and visit the Christmas house.
Highlights: Akureyri town
Optional activity:  Akureyri food walk, Akureyri Whale Watching, Northern Lights (Winter)
Accommodation: Akureyri area
Day 9 - The North West and Stykkishólmur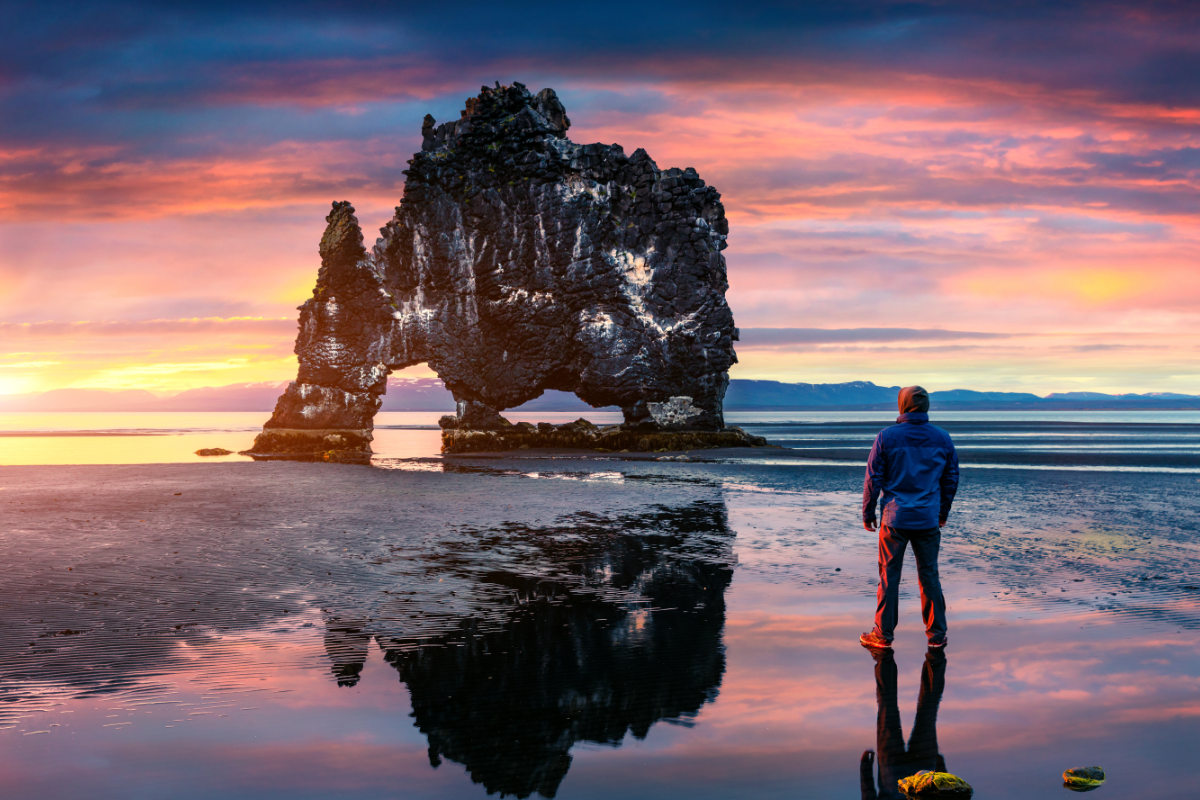 Drive from Akureyri to Stykkishólmur in west Iceland. On the way don't miss Grettislaug hot geothermal pool located at Reykir in Skagafjordur North Iceland and Hvítserkur basaltic rock formation located on Vatnsnes peninsula. From Varmahlíð in Skagafjörður it's also possible to do a horse riding tour or river rafting tour in the Glacial river. Continue the journey to Stykkishólmur on the Snæfellsnes peninsula, where you can find some interesting museums, restaurants and a swimming pool.
Highlights: Grettislaug geothermal pool, Hvítserkur basaltic rock and Stykkishólmur.
Optional activity: Horse Riding Tour or River Rafting Tour
Accommodation: Snæfellsnes peninsula.
Day 10 - Snæfellsnes Peninsula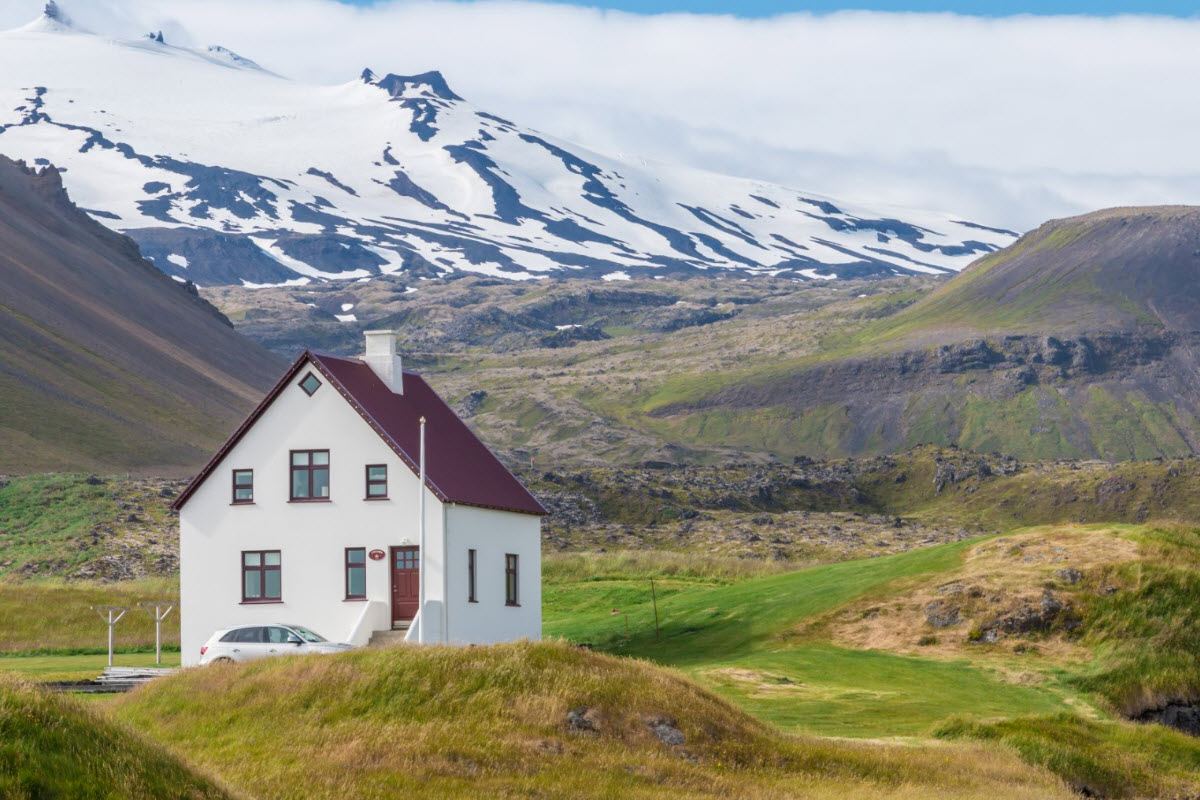 The Snæfellsnes peninsula is an area characterized by diverse landscape, unique natural wonders and friendly villages. Enjoy the rest of the day exploring Snæfellsnes peninsula, including Snæfellsnes National Park, Arnarstapi, Djúpalónssandur beach, Lóndrangar basalt cliffs and Kirkjufell mountain.
Highlights: Gilsfjörður fjord, Guðrúnarlaug geothermal pool, Eiríkstaðir museum, Stykkishólmur, Grundarfjörður, Ólafsvík, hellissandur, Rif, Kirkjufell mountain, Snæfellsnes National Park, Djúpalónssandur beach, Dritvík, Lóndrangar basalt cliffs, Hellnar, Arnarstapi and Sönghellir cave.  
Optional activity: Vatnshellir cave
Drive back to Reykjavik