Best Hot Dog Stands in Iceland
Have you heard of the Icelandic Hot Dog? It's definitely something you should try if you are visiting Iceland.
You can buy Hot Dogs all over the country, it's the national fast food in Iceland. The Hot Dog is different from what you might be used to because it's made mostly from Icelandic lamb, as well as pork and beef.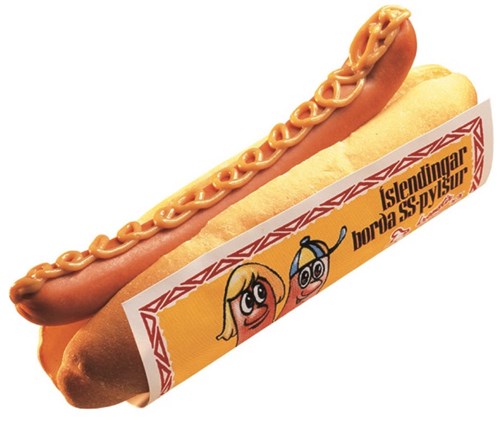 Photo from SS
When you order the Hot Dog you say; "Ein með öllu, Takk". It means one with everything, thanks. If you are not comfortable speaking Icelandic don't worry Icelanders speak good English. When you ask for one with everything, it will be served in a warm bun with white raw onion, crispy fried onion, sweet brown mustard, ketchup and remulaði, a yellow sauce made with mayo, capers, mustard and herbs. I know it sounds weird but give it a chance.
The best Hot Dog stands around Iceland
As mentioned above you can find Hot Dogs everywhere in Iceland, including gas stations, convenience stores and of course at supermarkets to make them at home. But if you are traveling around the country we recommend that you try these Hot Dog stands:
The most famous Hot Dog stand in Iceland is called Bæjarins Beztu (The best hot dogs in town), located in downtown Reykjavík. The stand has been open since 1937 and it is always a long queue of people waiting, but you don't have to wait long it only takes a minute to serve the Hot Dogs.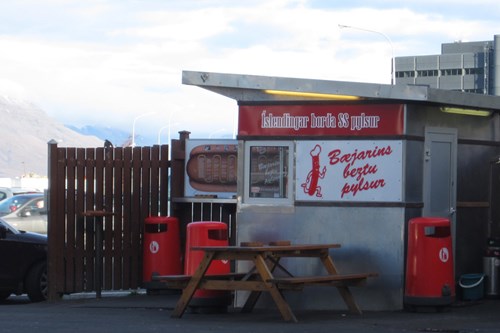 Photo from Wikimedia Commons
Located in Selfoss by the Ölfusá river bridge is the famous Pylsuvagninn. The Hot Dog stand has been open since 1984 and is very popular among locals. It's actually a drive-thru where you can also have hamburgers, sandwiches and much more.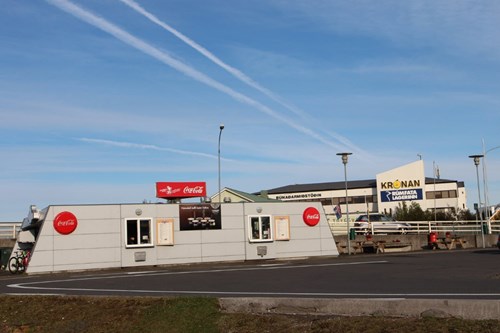 Meistarinn Hot Dog stand is located in Stykkishólmur in West Iceland. The stand is only open during the summer months, but rumor has it they serve the best Hot Dogs in Iceland.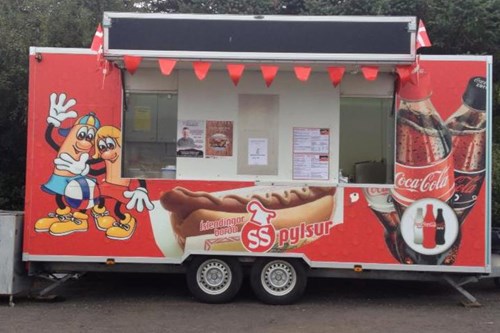 Photo from Facebook: Meistarinn stykkisholmi
Pylsuvagninn Akureyri in North Iceland is a place where you can get all kinds of Hot Dogs, including Hod Dog with sweet and sour pickled cucumber, potato salad, vegetables and spices, bacon, the traditional Icelandic Hot Dog of course and the traditional Akureyri Hot Dog. Yes the people in the North have their own traditional Hot Dog, it's served with red cabbage, fried and raw onion, ketchup, cocktail sauce, remoulade sauce and mustard.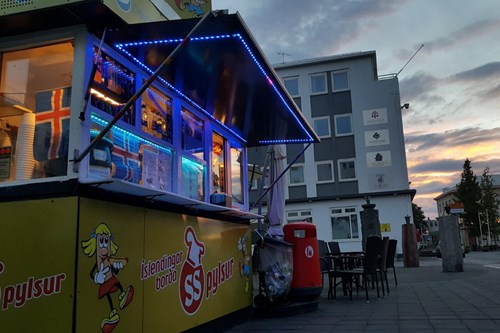 Photo from Facebook: Pylsuvagninn Akureyri
Bon appétit