Skógafoss Waterfall - Filming location of the TV Show Vikings and the Marvel Movie: Thor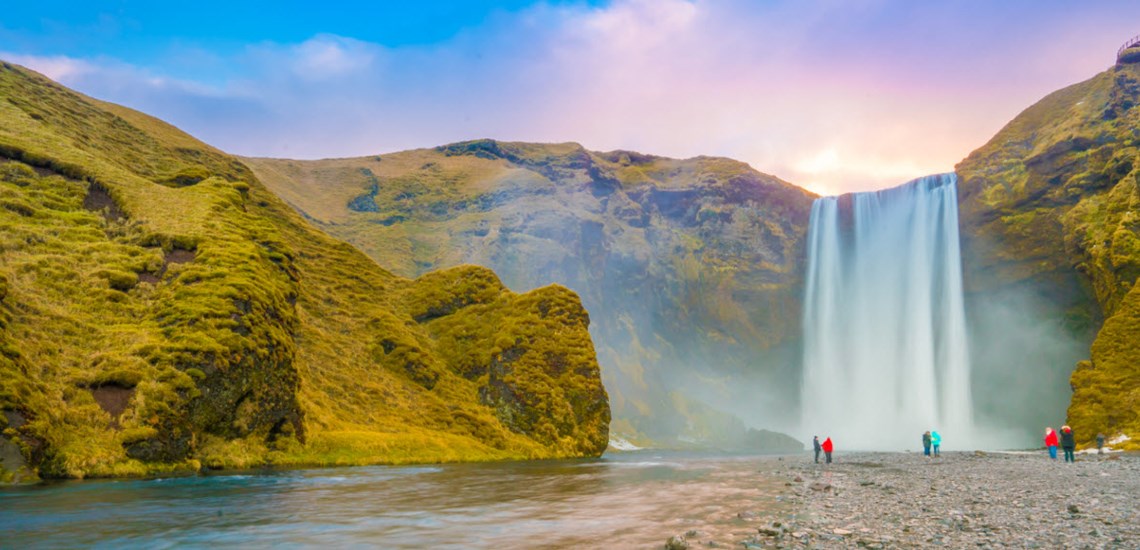 Many big Hollywood movies and popular TV shows have been shot in Iceland, including The Secret Life of Walter Mitty, James Bond, Interstellar and Game of Thrones. The main reason that filmmakers and producers choose Iceland is because of the incredibly varied nature and good infrastructure.
Most of the filming locations are easily accessible for visitors of Iceland, including the famous Skógafoss Waterfall in South Iceland where the famous TV shows Vikings and the Marvel movie Thor was filmed.
Skógafoss is one of the most famous and beautiful waterfalls in Iceland. The Skógá river flows from springs below the Eyjafjöll mountains and the west of Mýrdalsjökull glacier before cascading 62 meters off the cliffs by Skógar. Skógafoss is located about 2 hour drive from Reykjavík and is easily accessible from the Ring road nr 1.
Vikings
The popular Irish-Canadian TV show Vikings features Iceland in the fifth season, where Skógafoss plays a big role in the Viking drama hit TV series. The TV show is inspired by the sagas of the Danish/Swedish Viking Ragnar Lodbrok or Lothbrok, who was a legendary Viking and a king of Denmark and Sweden in the 9th century. Ragnar is played by the Australian actor Travis Fimmel.

Floki is also one of the main characters of Vikings, his character is partly based on Hrafna Flóki Vilgerðarson or Ravens-Floki. In the fifth season there is a scene with Floki filmed by Skógafoss waterfall. Only 10 episodes have aired from the fifth season so hopefully there is more to come where viewers can follow the Vikings around Iceland.
Flóki reaches land in by Skógafoss Waterfall in Iceland
Thor: The dark world
The Marvel movie "Thor: The dark world" was partly filmed at Skógafoss as well as in the highlands. Thor is an American superhero movie based on the Marvel Comics character Thor. The movie stars Chris Hemsworth and Natalie Portman among others.