Best swimming pools around Iceland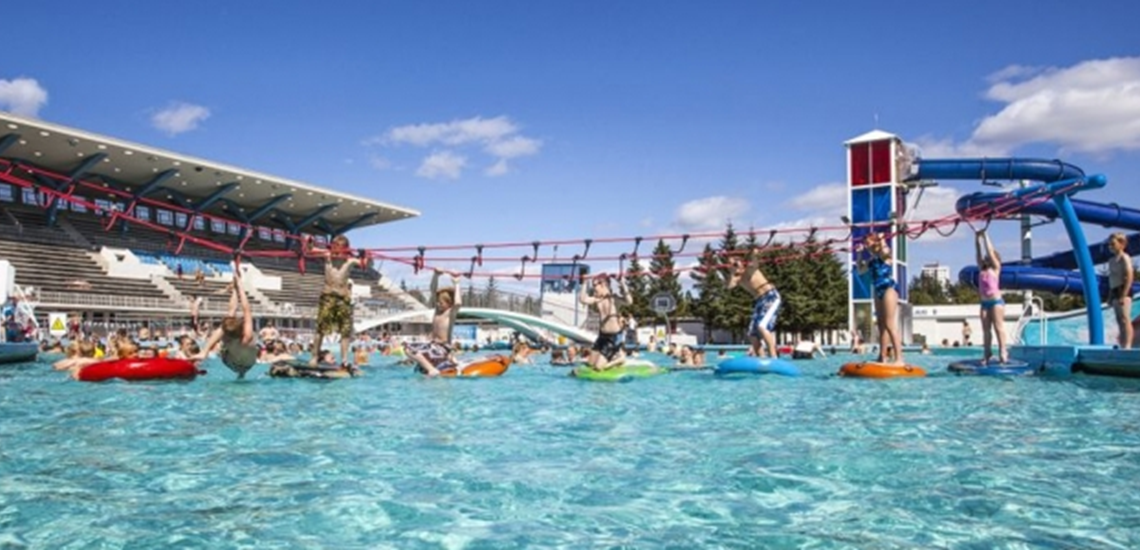 If you are planning on visiting Iceland don't forget to bring your bathing suit! Iceland is filled with natural geothermal water and you can find a swimming pool almost in every town and village in Iceland. Bathing in a natural hot spring or geothermally heated pool has been a part of Icelandic culture for centuries.
It's not just a summer thing in Iceland, relaxing in the warm water on a cold winter night is actually something you must try! Icelanders visit the swimming pool all year round to get some exercise by swimming, enjoy some family time or just to socialise and relax tired muscles after a long day. Most of the swimming pools in Iceland are geothermally heated outdoor pools, usually there is at least one or two hot tubs by the pool and sometimes a steam bath or a water slide.
There are few simple but important rules of all swimming pools in Iceland that you must follow. There is usually a shower guard to make sure that everyone follows these rules so don't try to get away with anything else, also if you don't follow the rules you can expect bad look from locals.
Rules of the swimming pools in Iceland
When you arrive you have to pay an entrance fee. The public swimming pools in Iceland are relatively cheap, the entrance fee for one adult is around 900 ISK and you can usually borrow bathing suit and towel for a small fee.
Next you have to undress fully, Icelandic swimming pools have gender-segregated changing rooms and showers, usually the dressing rooms have lockers so you can store your clothes and valuables. Make sure you bring the bathing suit, towel and shampoo to the showers. There is a special area by the showers to store your towel and shampoo while you're in the pool.
Now it's the most important part: You have to shower naked and you have to wash your whole body! There is a free soap in the shower area for you to use. After you have washed you put on your bathing suit and enjoy the pool.
While you're in the pool:
If there is a steam bath at the pool and you decide to use it make sure to shower after, there are usually showers just outside the steam bath.
Make sure that you are not disturbing people who are swimming, there is a rule to keep to the right in the lanes and no playing around in the swimming area. There is usually a special area to play around in.
One last thing: When you leave the pool make sure to dry off after the showers in the shower area. Locals won't be happy if you bring the pool with you to the locker area.
So now you know everything about how to visit the swimming pools in Iceland and the only thing left is to choose which pool to visit.
We have made a list of our favorite swimming pools around Iceland to make the decision process easier for you. Enjoy!
Capital area (Reykjavik)
Laugardalur Swimming Pool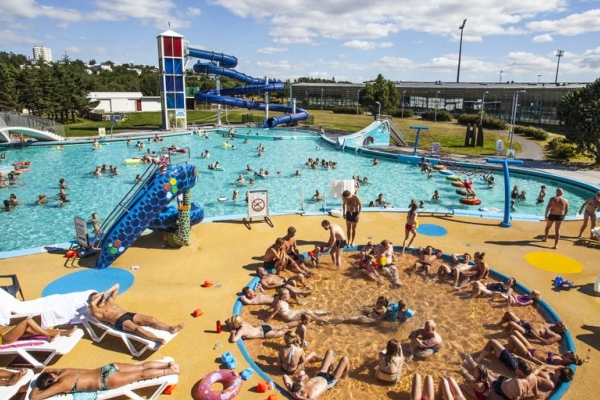 Photo from Reykjavik.is
Located in Laugardalur Valley (Hot Spring Valley), a recreational area located east of Reykjavik city center. Today the area offers various recreational facilities including heated swimming pool, large sporting complex, botanical garden and family park. Reykjavik's main sport stadium is located in Laugardalur and is mostly used for the Icelandic national teams in football. Laugardalsholl arena is close to the stadium and is used for many events like concerts and Icelandic national teams in Handball.
Laugardalslaug swimming pool is the largest outdoor thermal pool in Reykjavik and is open all year round. The swimming pool has a water slide, children pool, hot tubs and steam bath. Next to the swimming pool is a Gym and a Spa.
Reykjavik Swimming Hall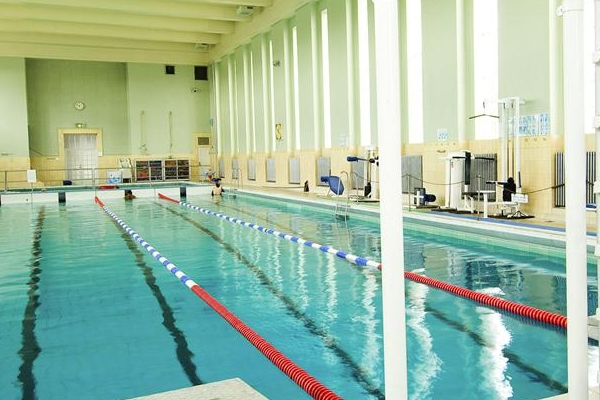 Photo from Reykjavik.is
Reykjavik Swimming Hall (Sundhöllin) is the oldest pool in in Reykjavik, it was built between 1929 - 1937 and the architect is Guðjón Samúelsson. The pool is located in downtown Reykjavik a short walk from Laugavegur, the main shopping street in Reykjavik. The swimming pool is an indoor pool but there are two outdoor hot tubs. There are are also two diving boards inside.
Vesturbæjarlaug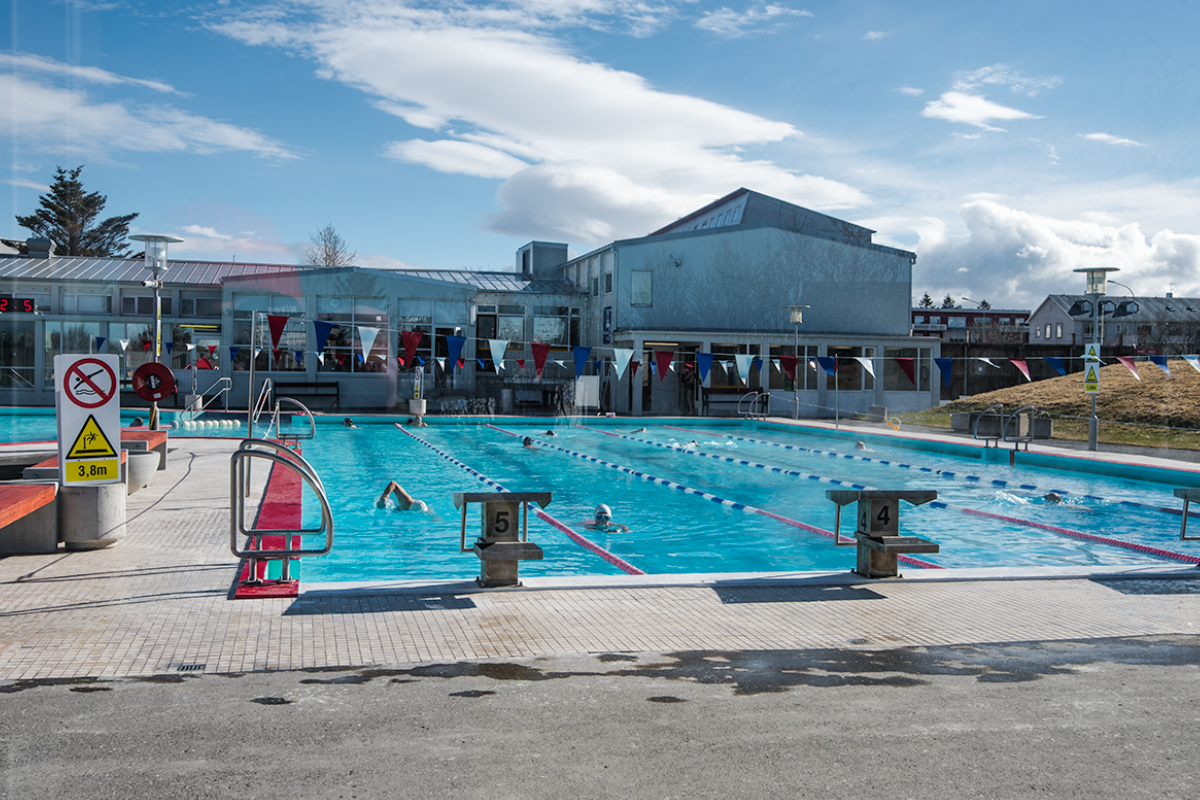 Photo from Wikipedia
Vesturbæjarlaug is located in downtown Reykjavik, about 20 minute walk from Laugavegur, the main shopping street in Reykjavik. There are two outdoor pools, one for swimming and one for children. There are also five hot tubs, sauna and steam bath.
South
Vestmannaeyjar (Westman Islands) Swimming Pool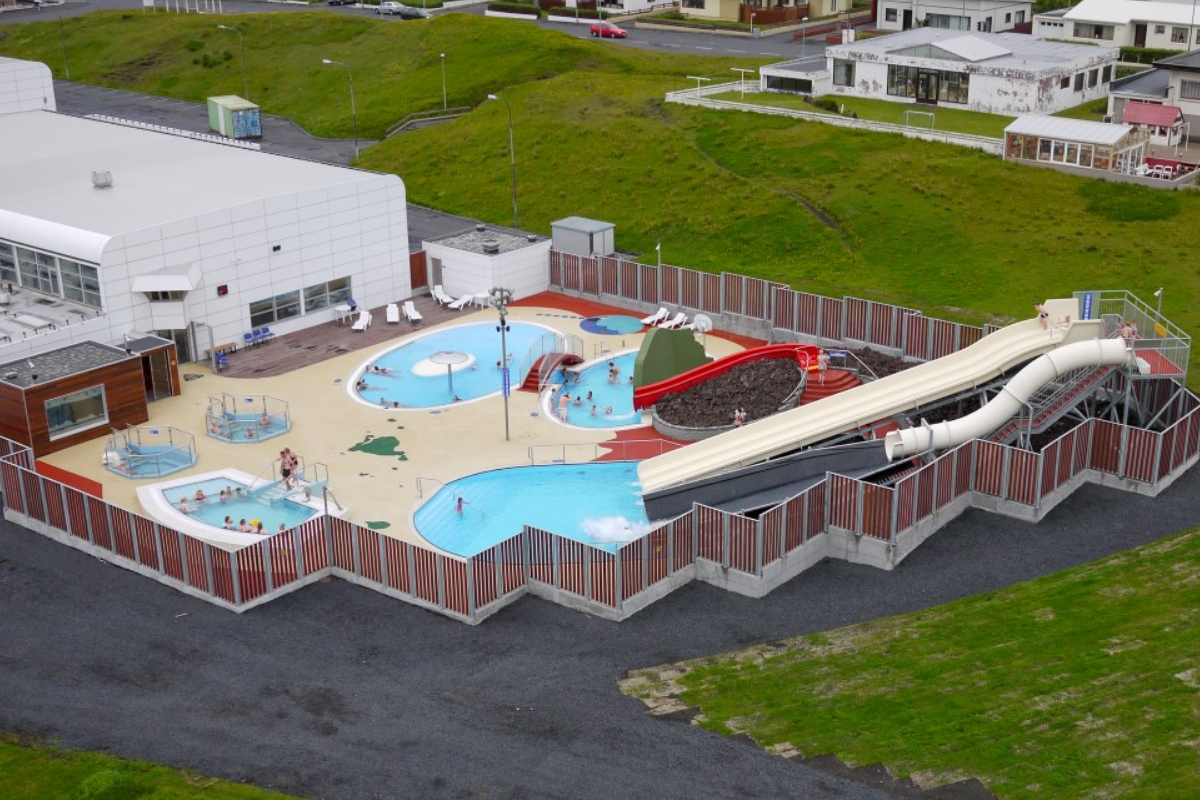 Photo from Sundlaugar.is
The islands of Vestmannaeyjar or the Westman Island, are the biggest islands around Iceland and the biggest one of them is called Heimaey (17 km2) as well as being one of the biggest fishing towns of Iceland. The Islands are located only about seven kilometers off the south coast of Iceland.
The swimming pool in Westman Islands is the perfect place for children, as well as adults who like to have fun. The swimming pool was first built in 1976 but in 2010 a new pool was opened and is considered one of the best in Iceland. There is an indoor pool with 0,9% salted water, outside there are three hot tubs, a large children's pool with a climbing wall and water slide, two bigger water slides and one with a trampoline!
Laugaskard Swimming Pool in Hveragerði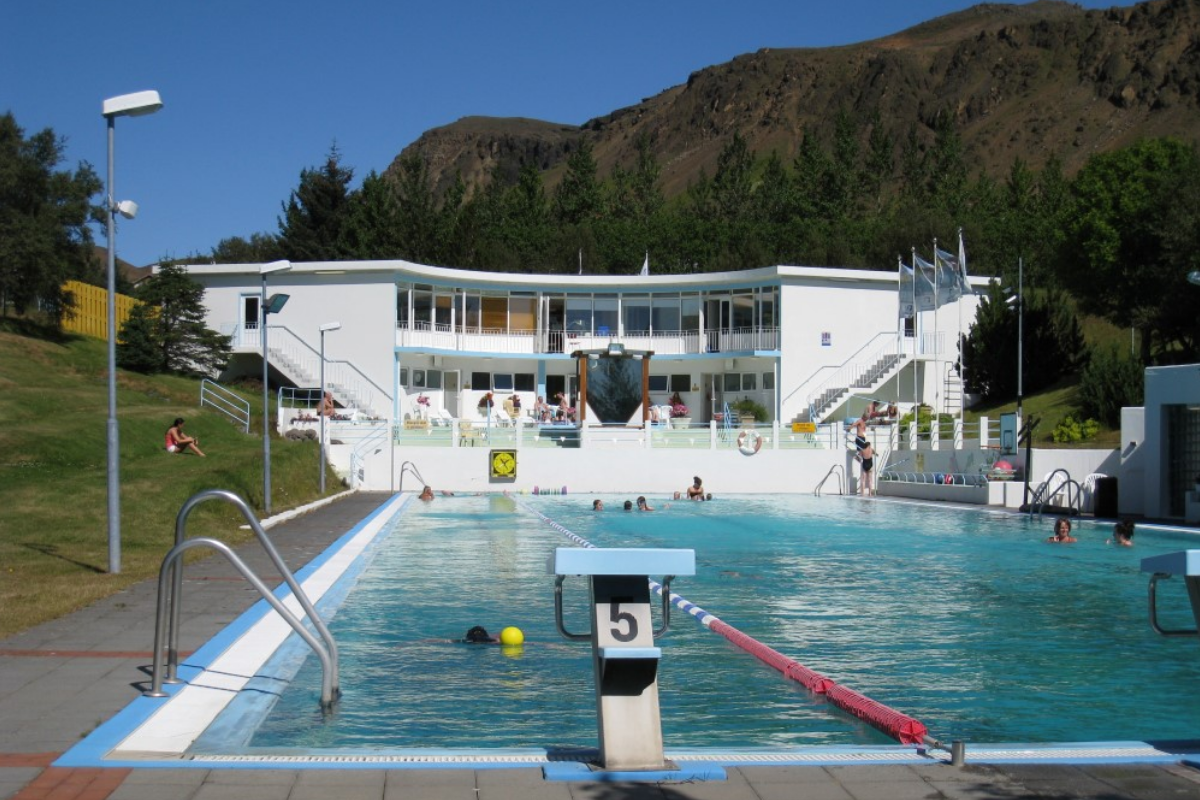 Photo from Sundlaugar.is
Hveragerði is a town in South Iceland located only 45 km away from the capital city Reykjavík. The town is probably best known for its greenhouses, flowers and hot springs. Laugaskard swimming pool used to be the biggest swimming pool in Iceland and is still a very popular pool. There is a 50 meters long outdoor pool that is heated with natural geothermal heat from the ground. There is also a children's pool, hot tub and a steam bath.
Sundhöll Selfoss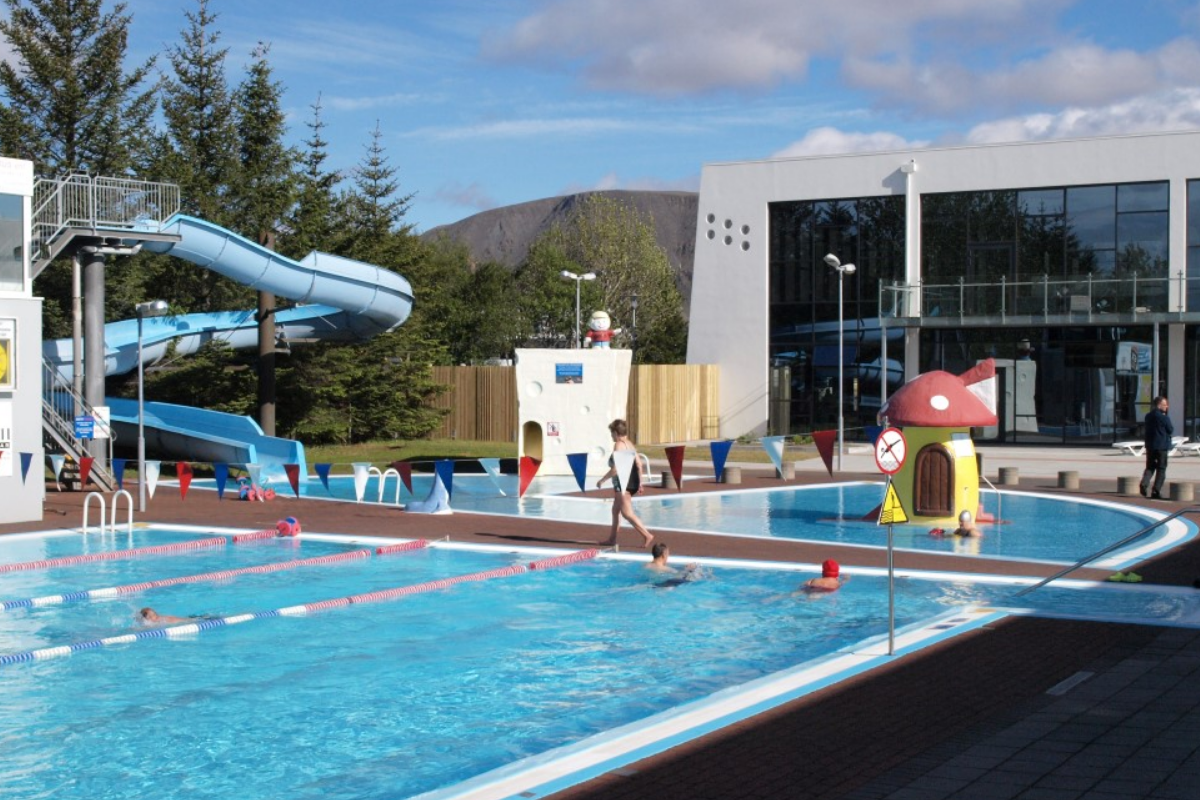 Photo from Sundlaugar.is
Selfoss is the largest town and the main service center in South Iceland located close to the Golden Circle route. The swimming pool is located a short walking distance from Austurvegur road, the heart of the town.
There is a indoor and outdoor swimming pool, children's pool, three water slides, hot tubs and steam bath. The facilities where renovated in 2015 and now offer first class dressing rooms, service and a gym on the second floor.
North
Akureyri Swimming Pool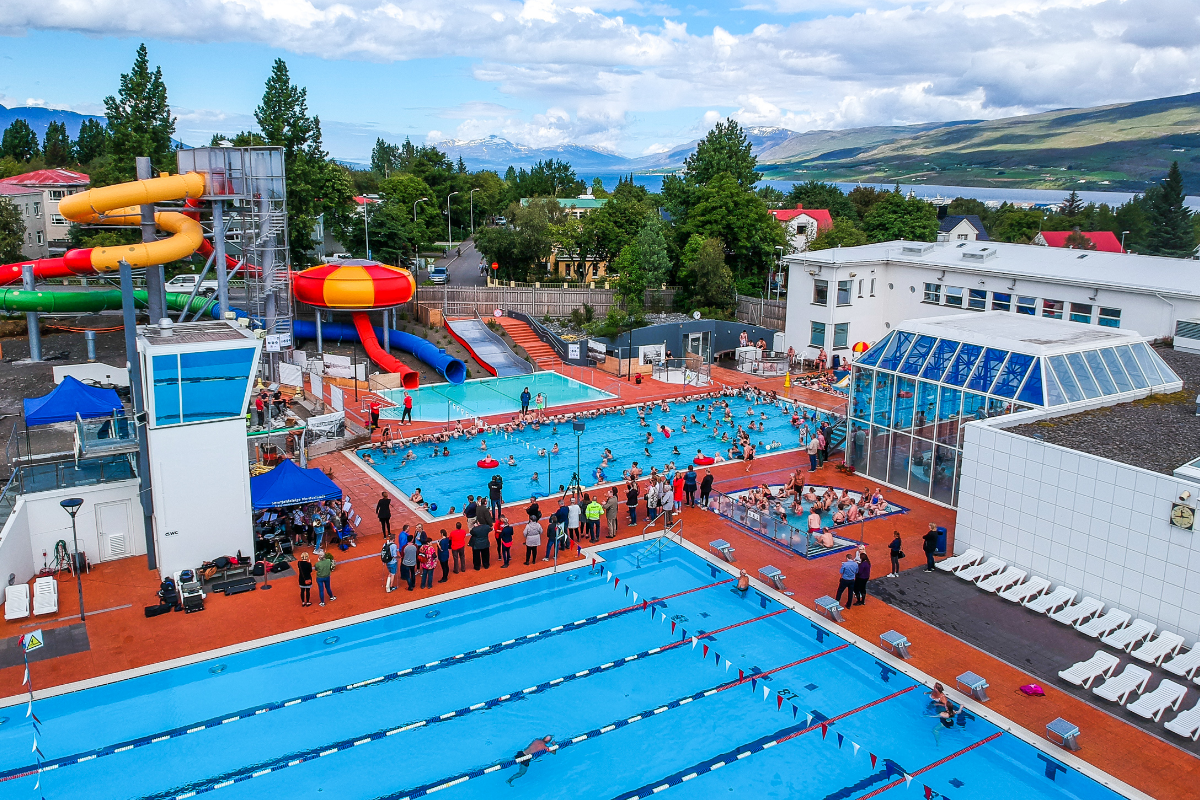 Photo from Sundlaugar.is
Akureyri is the capital of North Iceland and the biggest town outside the Reykjavik area with about 18.500 inhabitants. It is a great location if you like to explore the North of Iceland for couple of days. The swimming pool in Akureyri is perfect for the whole family or if you just want to relax after a long day of travelling. There are two outdoor swimming pools, four hot tubs, sauna and three water slides.
Blöndós Swimming Pool
Photo from Sundlaugar.is
Blönduós is a small town with a population of around 850 people. It is located in the north west part of Iceland by Húnaflói bay. The swimming pool in Blondos is great for everyone, especially families with children. There is an outdoor swimming pool, children's pool, two hot tubs, steam bath and water slides.
Hofsós Swimming Pool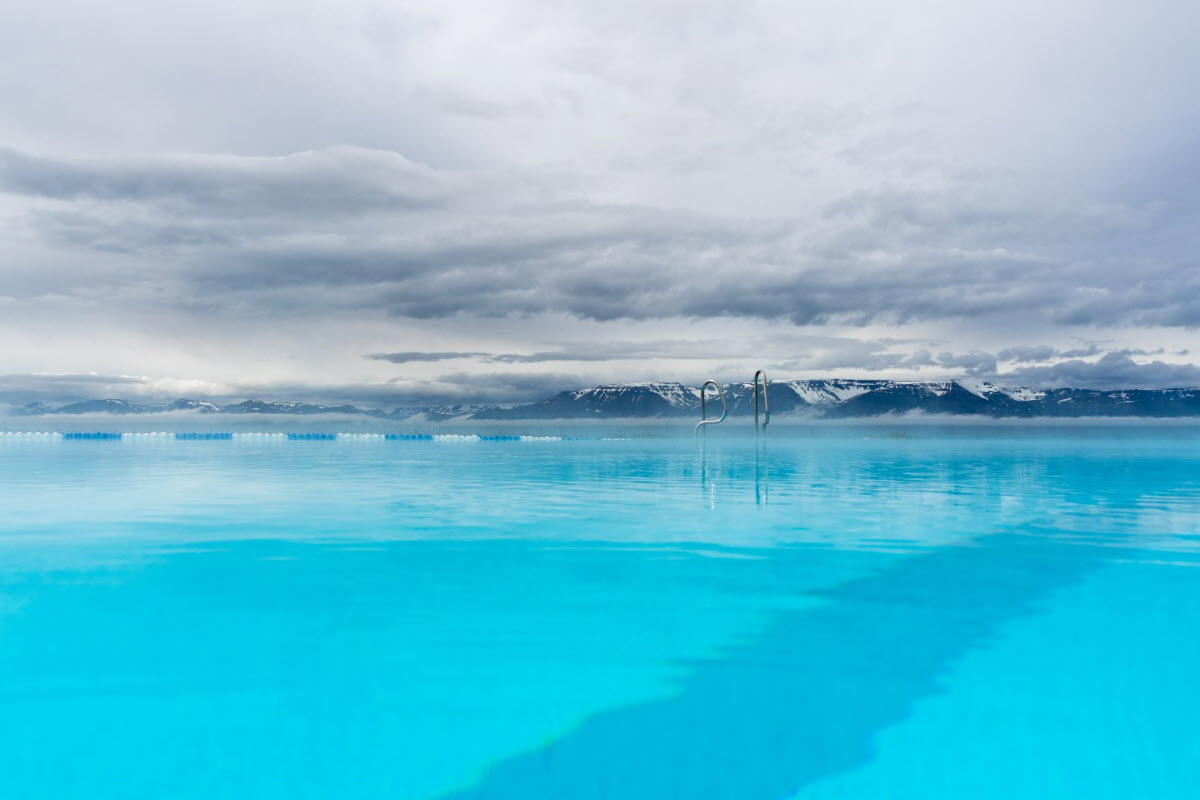 Hofsós is a small village in Skagafjörður fjord in the north part of Iceland, the village is one of the oldest trading port in Iceland, going back to the 16th century. The swimming pool in Hofsós is probably the most beautiful swimming pool in Iceland. It's a small pool built into the hillside above the sea, offering breathtaking views over the small island Drangey. There is one hot tub next to the pool. The pool is a must do if you're traveling in the area.
Westfjords
Drangsnes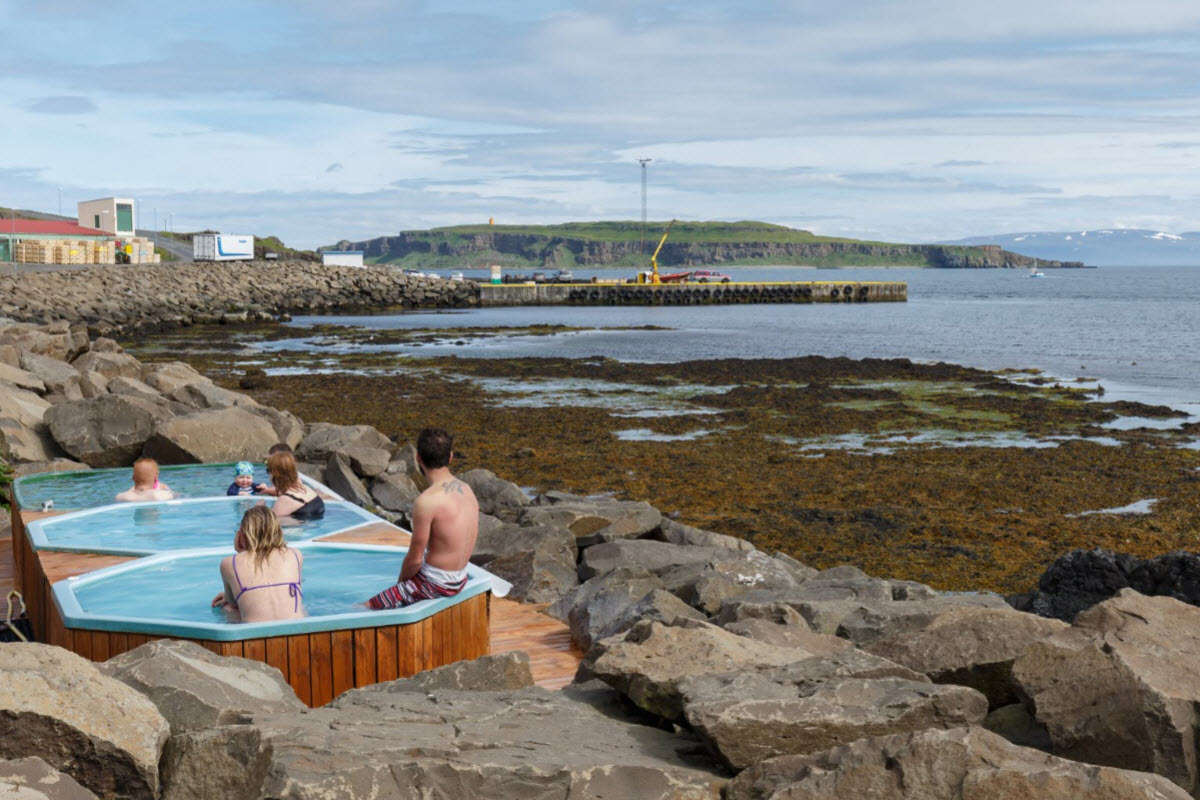 Drangsnes is a small fishing village in the western part of Iceland close to the small town Hólmavík. Even though the town has less than 100 inhabitants there is a good swimming pool in Drangsnes. There is a small swimming pool and a hot tub. Also, if you're in Drangsnes you must try the hot tubs located by the shore, where the locals relax after a busy day and enjoy the beautiful view over the ocean.
Patreksfjörður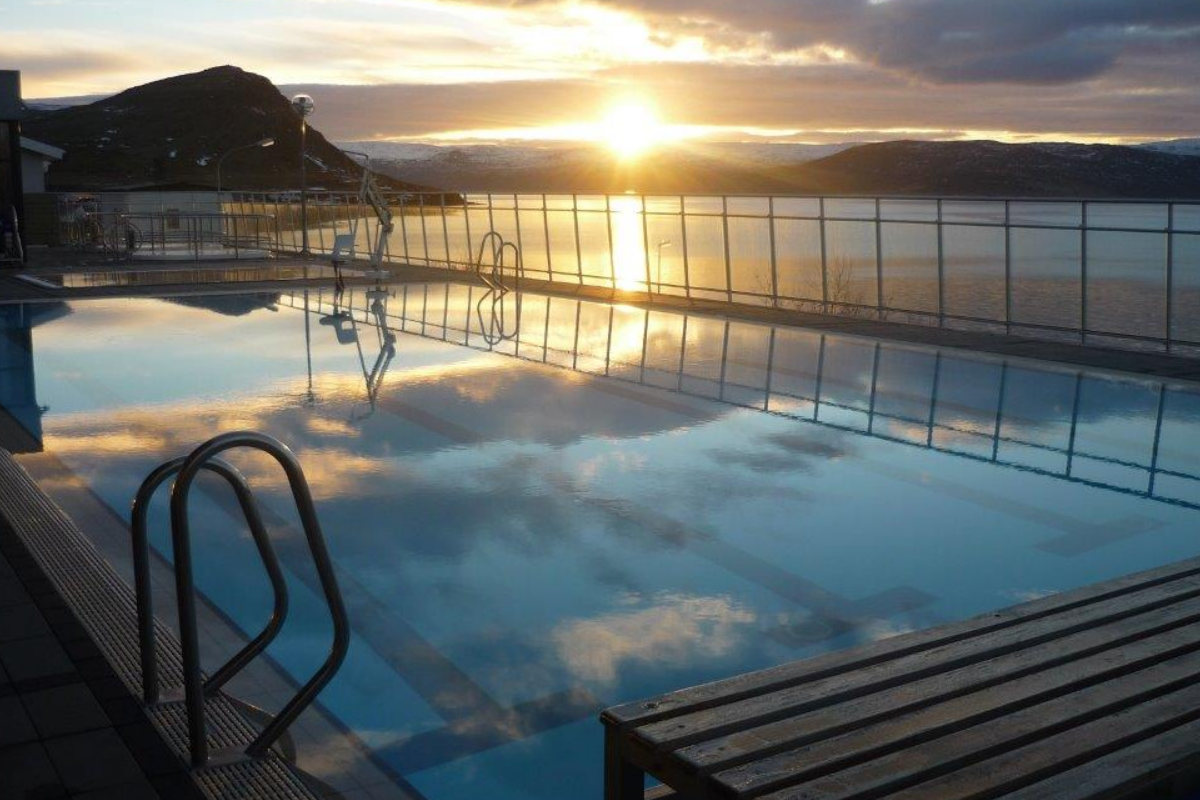 Photo from Sundlaugar.is
Patreksfjörður is the largest town in the southern part of the Westfjords and is located in a fjord witch has the same name as the town, Patreksfjord. The swimming pool in Patreksfjörður has a beautiful location, with a view over the fjord. The pool is small, with two hot tubs, a children's pool and sauna.
East
Neskaupstaður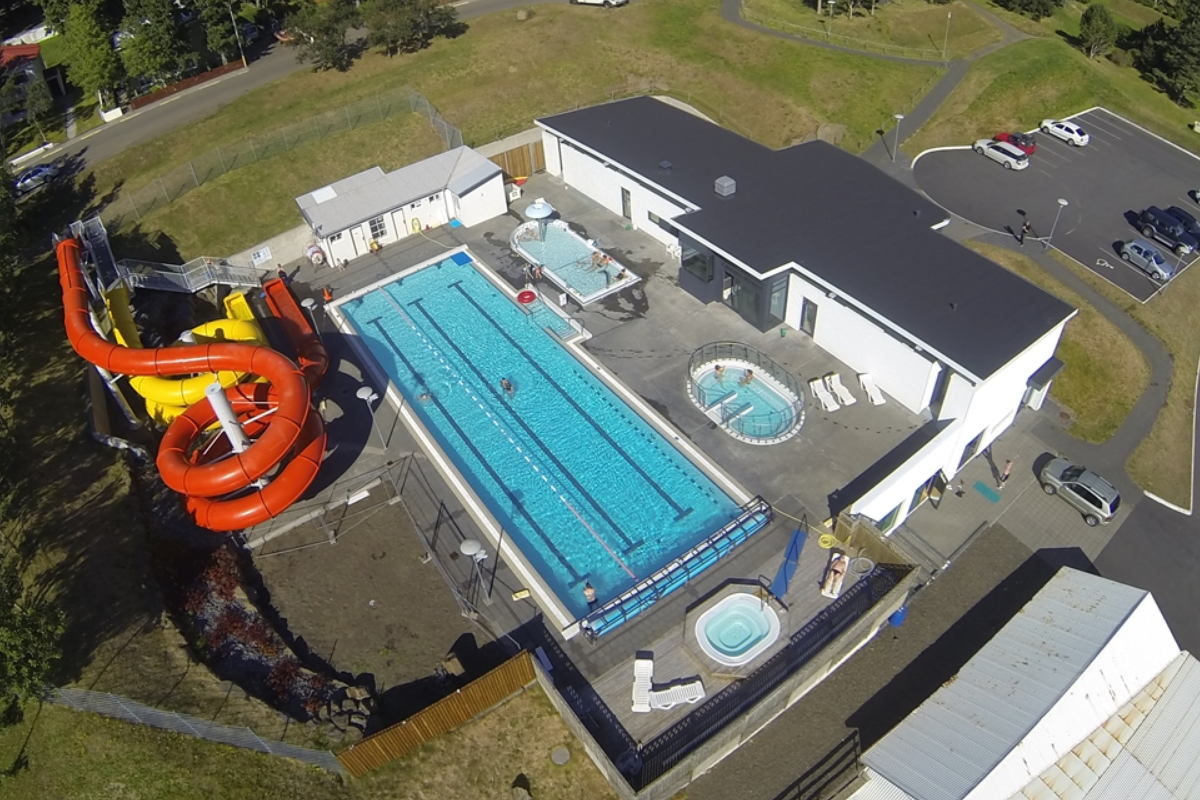 Photo from Sundlaugar.is
Neskaupstaður is located in Norðfjörður fjord between the Eskifjörður and Mjóifjörður fjords in East Iceland. The inhabitants are around 1500 people and it is the third largest town in East Iceland. The swimming pool in Neskaupstaður is located in the hills with great view from the pool over the mountains and is the perfect place for sunbathing (if the sun is out). There is a outdoor pool with hot tubs, two large water slides and a sauna.