Vatnsfjörður in the Westfjords of Iceland - the Viking Estate and Grettisvarða Cairn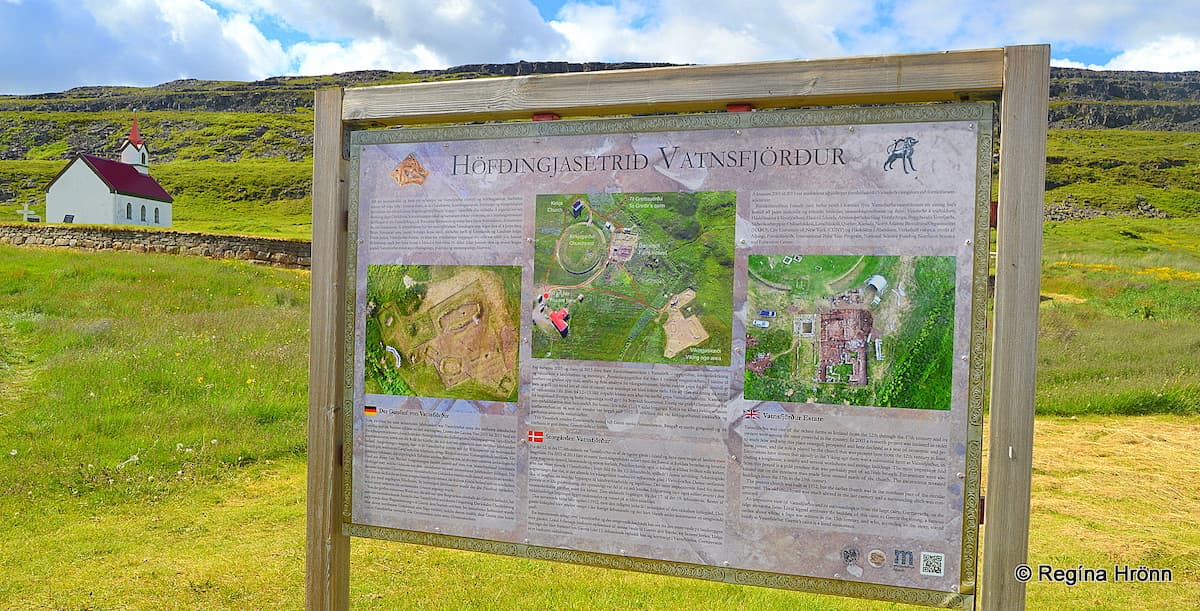 The information signs by the archaeological sign give you a good insight into the life of Icelanders in the olden times
Vatnsfjörður is an interesting fjord overlooked by many visitors to the Westfjords of Iceland. Here you will find Viking ruins, the huge Grettisvarða - the Cairn of Grettir the Strong, and one of the few remaining turf structures in Iceland.
In my last travel-blog I showed you the Reykjanes geothermal area by road 61, where you will find Reykjaneslaug geothermal swimming pool or what we Icelanders like to refer to as the biggest hot tub in Iceland.
Now, let's make just a small detour and drive to the archaeological site in Vatnsfjörður.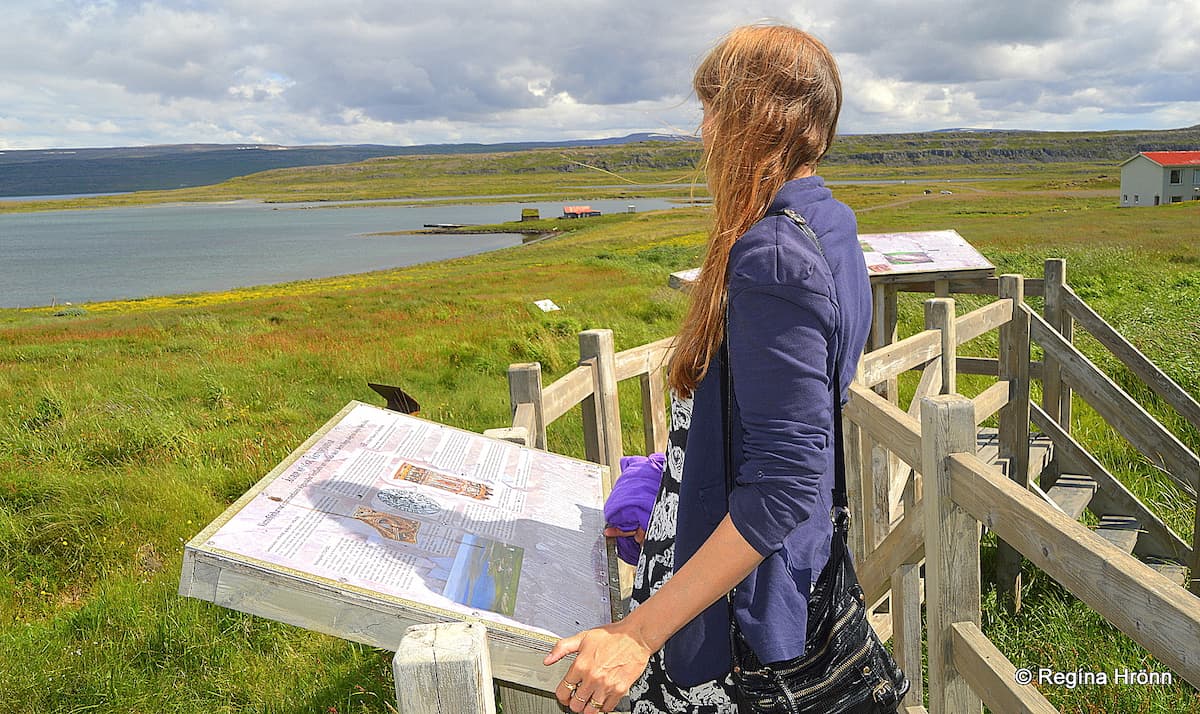 The archaeological site in Vatnsfjörður
In Vatnsfjörður extensive ruins of a Viking estate have been discovered. The Viking Snæbjörn, the son of Eyvindur austmaður, settled this land.
He was the brother of Helgi magri, the settler of Eyjafjörður fjord in North-Iceland. 
Here in Vatnsfjörður fjord one of the wealthiest manors in Iceland in the 12th - 17th century could be found, and many known characters from Iceland's history have lived at this location.
Here was the main hub for Vatnsfirðingar (The People of Vatnsfjörður), but they were one of the most powerful Viking clans back in the Saga age.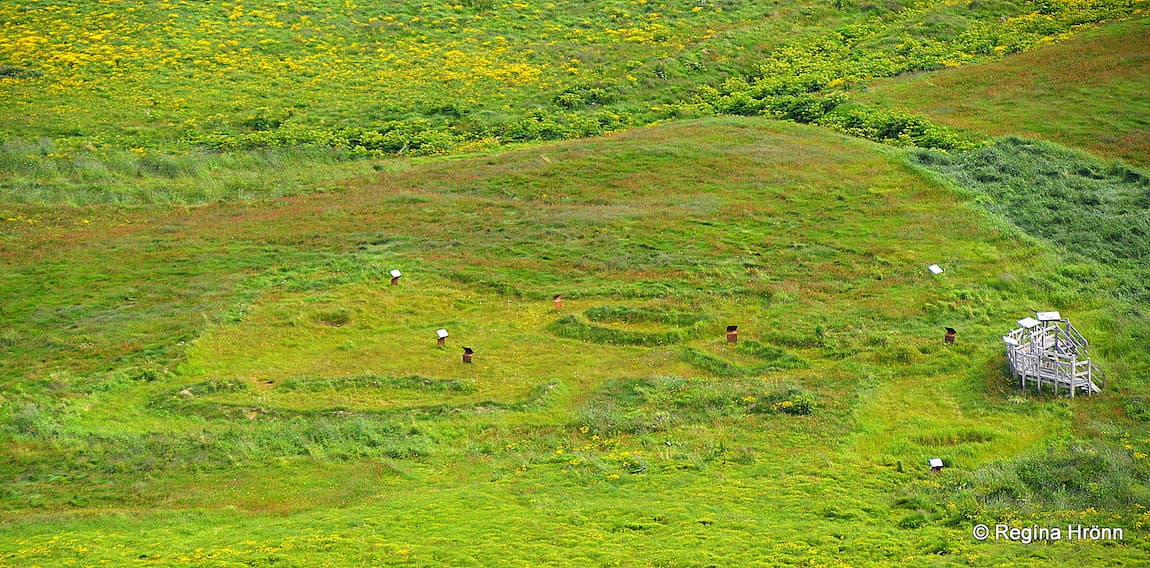 The archaeological site in Vatnsfjörður - as seen from Grettisvarða cairn
During archaeological excavations from 2003-2013, ruins of a Viking longhouse from the 10th century were discovered.
A smithy and several other smaller houses were also discovered, making this a large archaeological site.
I always find it interesting wandering around archaeological sites thinking about what life must have been like for the generations past here in Iceland. And wondering how many more objects there lie hidden from sight in the ground.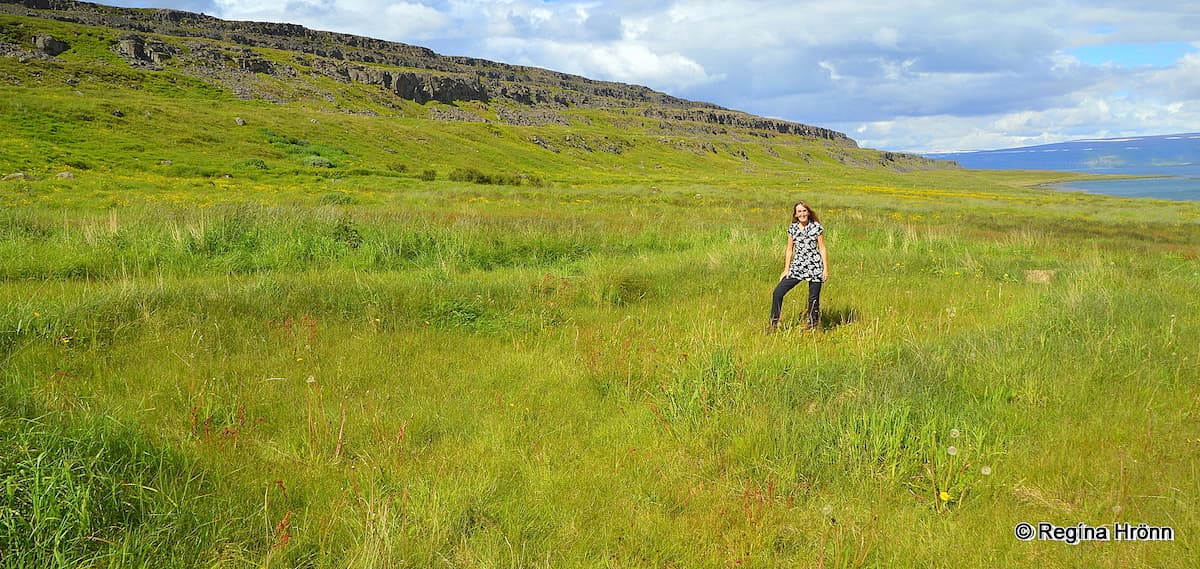 Standing inside the Viking longhouse
Several old objects were unearthed during the archaeological excavations, amongst them an exquisite gold pendant. There are speculations, that this gold pendant could have belonged to an Irish broach and been cut from that broach.
You will see a photo of the gold pendant on the information signs. Amongst other objects discovered was a water jug in the liking of a lion from the mainland of Europe.
This archaeological area is very well marked which makes it an interesting place to visit. Kudos to them for a job well done!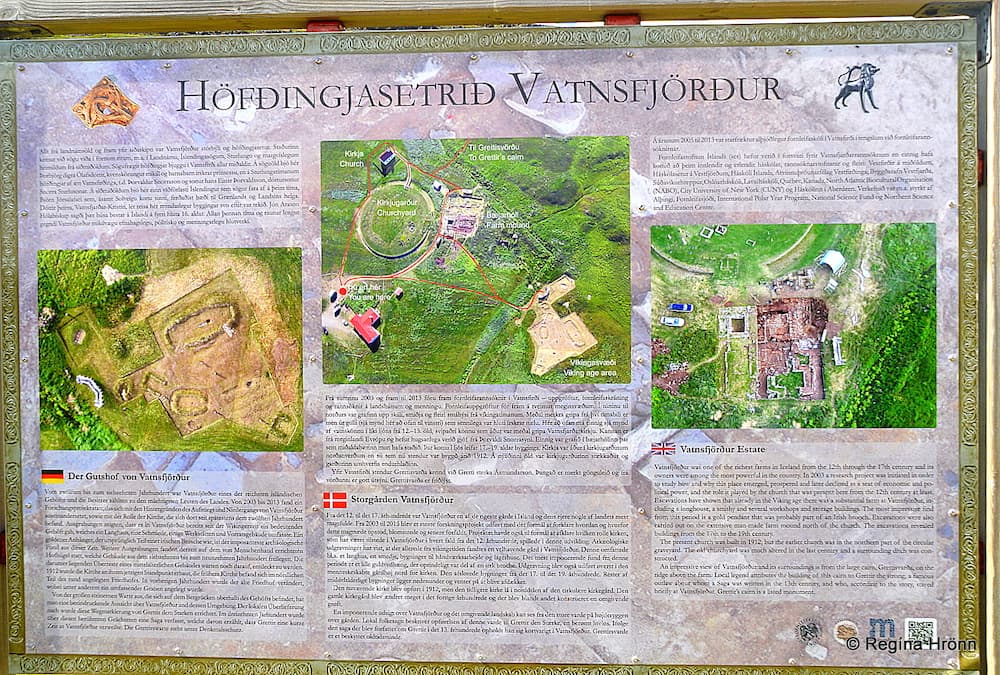 One of the many information signs by the archaeological site in Vatnsfjörður
This is a travel-blog about my visit to Vatnsfjörður, but if you want to read up on this archaeological site, then a comprehensive report has been written in English about the excavation site.
The church and the circular graveyard 
Vatnsfjarðarkirkja church and the circular graveyard
In the olden times, graveyards were circular and the churches were made of turf. At Vatnsnes you will see a circular graveyard.
Churches were inside this circular graveyard until the 20th century, but the stone church at Vatnsfjörður, Vatnsfjarðarkirkja, stands outside this graveyard. 
We had a look inside the Vatnsfjaðarkirkja church but had to ask the farmer for the key, as most churches in Iceland are now locked due to vandalism.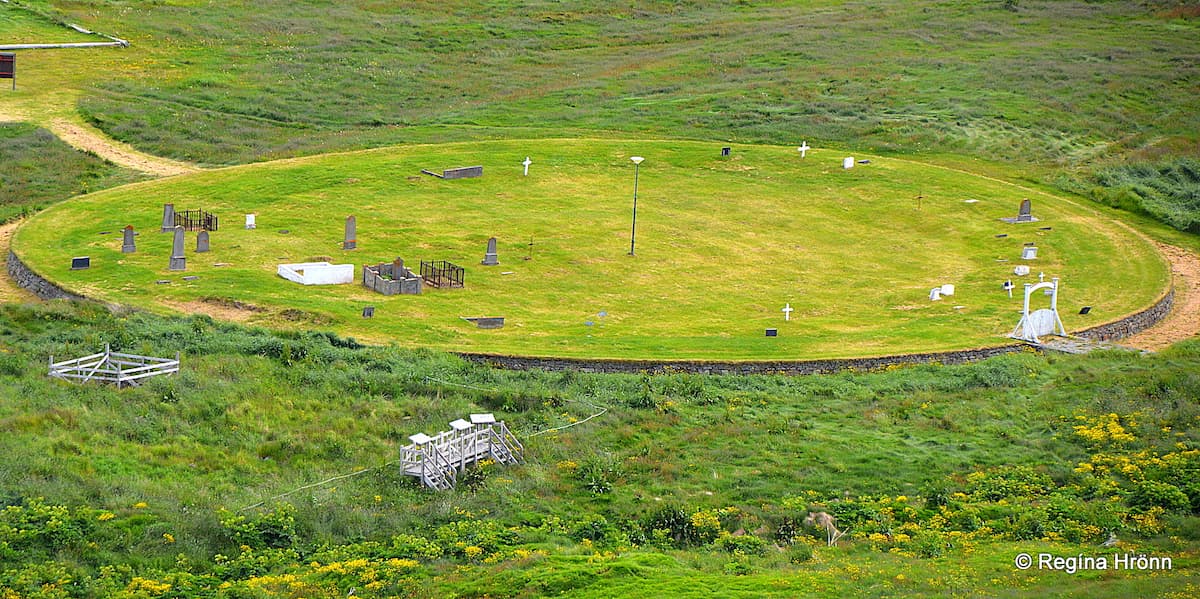 The circular graveyard in Vatnsfjörður
I love visiting churches and I have by now visited 93% of Iceland's churches. This means that I spend a lot of time during my travels in my country, searching for the church-key, so I can have a look inside. I love these churches, to me, they are a gem each and every one of them. 
From the Reformation in 1550 a deanery was located here at Vatnsfjörður.
The Vatnsfjarðarkirkja church dates back to 1911-1912 and the Danish altarpiece is from 1860. It shows the resurrection of Christ. Of interest inside the church is also a large crucifix.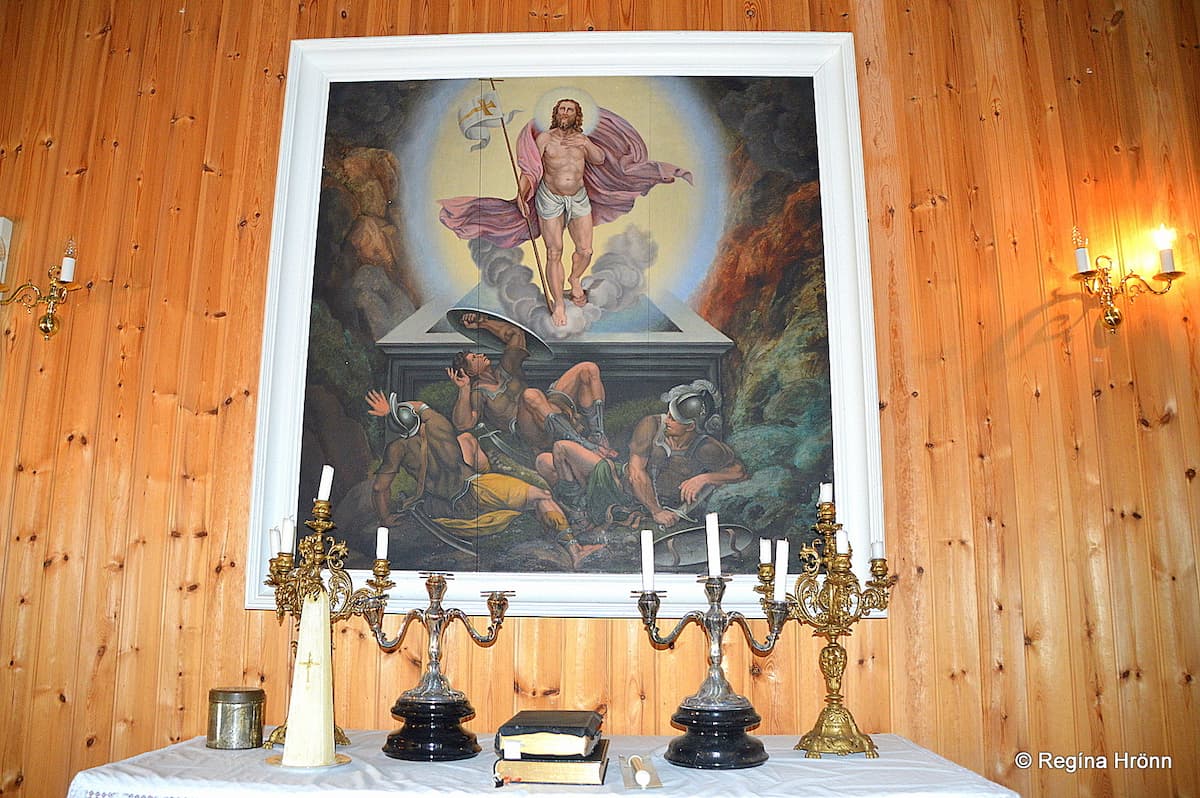 The altarpiece in Vatnsfjarðarkirkja church
Several old objects from Vatnsfjarðarkirkja church can be found in Þjóðminjasafnið - the National Museum of Iceland, which I recommend visiting during your Iceland visit.
Amongst them is a wooden statue of St. Olav King of Norway dating back to 1500-1550. On the wing-doors are paintings of  St. Peter, St. Paul, Archangel Michael, and Guðmundur góði - the Bishop Guðmundur the Good. You will find more information at Sarpur.
Grettisvarða - the Cairn of Grettir the Strong
Grettisvarða cairn
Above the Viking ruins in Vatnsfjörður an interesting cairn stands tall on Grettishjalli cliff - the Grettisvarða cairn, which also reminds us of the olden times of Iceland.
Did the Viking outlaw, Grettir Ásmundarson, a.k.a. Grettir the Strong, build this cairn? It is so huge and massive, that who else but Grettir could have erected such a huge cairn?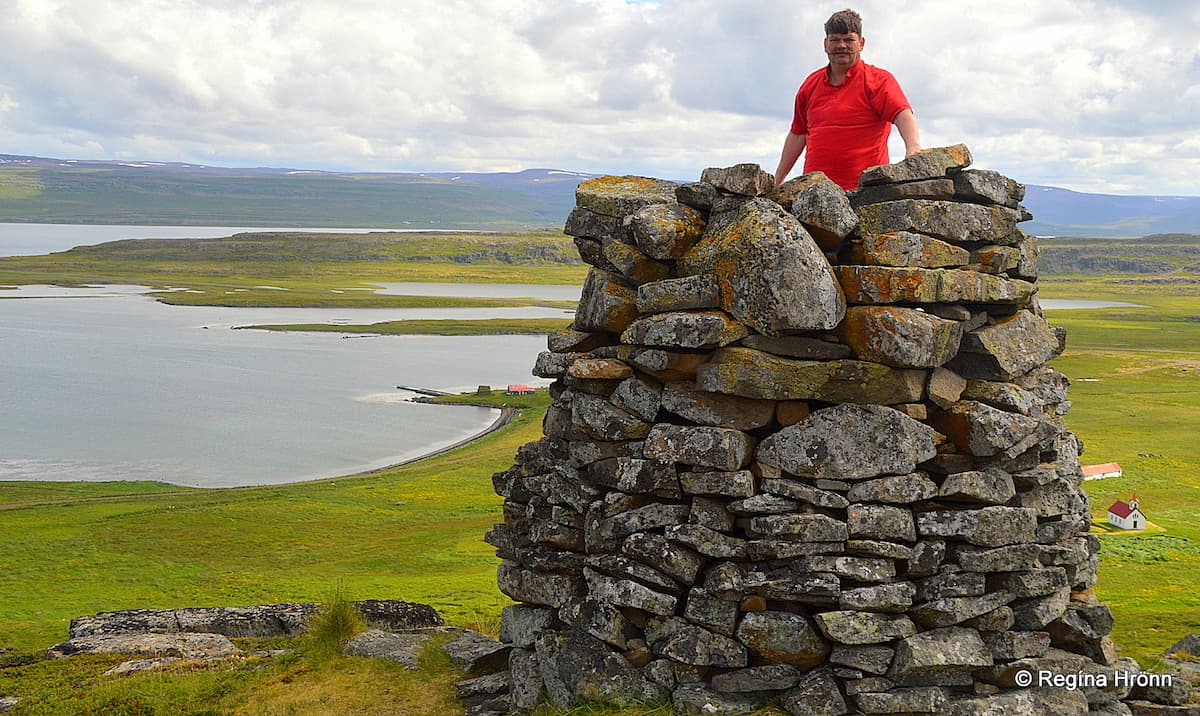 The cairn is huge and you can stand inside it
This huge cairn could also have marked the way or it could have been a watch-tower, we don't know. It is hollow from the middle up, so maybe it was used to lit a fire to warn the neighbours of enemies approaching.
But like those, who have read the old Viking Sagas know, then many of them tell us about battles and blood revenge in gory details.
You can see in the travel-blog I wrote about the Lair of Grettir in Axarfjörður fjord how massive the basalt columns are in Grettir's lair. Only an extremely strong man could have lifted such heavy columns.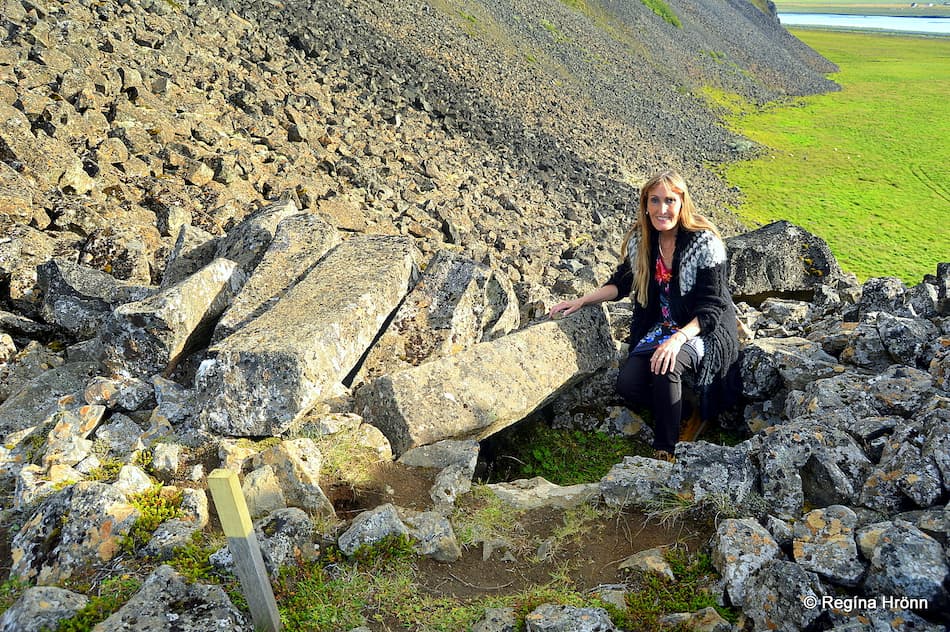 Here you can see how huge the basalt columns are in the Lair of Grettir in Mt. Öxarnúpur in Axarfjörður NE-Iceland
During his outlawry, Grettir (around 996-1040), the hero of the Saga of Grettir, stayed in Vatnsfjörður for some time.
Grettir was saved from hanging by Þorbjörg hin digra - Þorbjörg the portly, the lady of the Vatnsfjörður estate and the wife of Vermundur hinn mjóvi, after he had robbed the farmers and created havoc in this area. Nobody had wanted to take him in, and it was decided that he should hang.
Þorbjörg, who was on her way to hunt seals (of which there are plenty in this area) when she rode by the spot of the gallows at Grettistangi spit by Selvatn - the Lake of the Seals.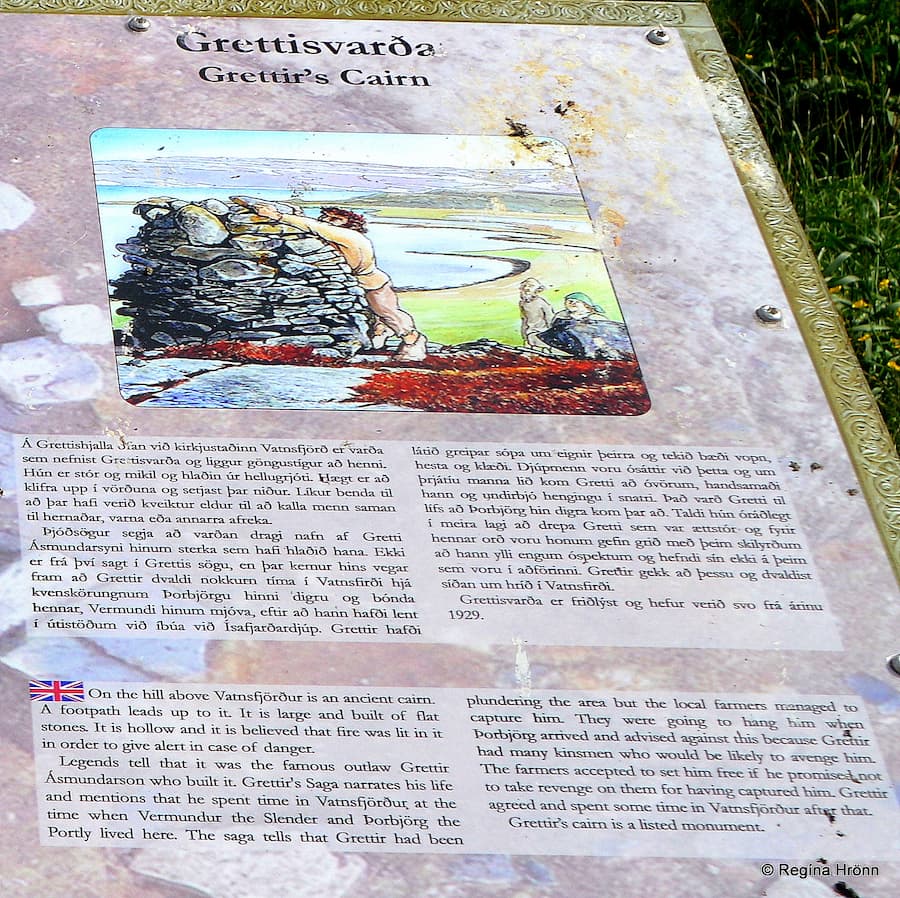 The information sign tells us about the story of Grettir and his stay in Vatnsfjörður fjord
She asked Grettir to make a vow that he would not cause any more uproar in this area of Ísafjörður fjord and take no revenge on the men who had captured him. Þorbjörg then brought Grettir home with her to Vatnsfjörður, where he stayed for a while.
You can read about Grettir sterki - Grettir the Strong in the Saga of Grettir. A very interesting read and you will find the account about Grettir and Þorbjörg in chapter 52. But I would recommend that you read the whole Saga of Grettir, it is one of my favourite Icelandic Sagas and I have written a couple of travel-blogs about the hiding places of Grettir the Strong.
Grettir's outlawry lasted for almost 20 years, which was the maximum penalty for an outlaw. Sadly he was then killed with sorcery on Drangey bird-cliff.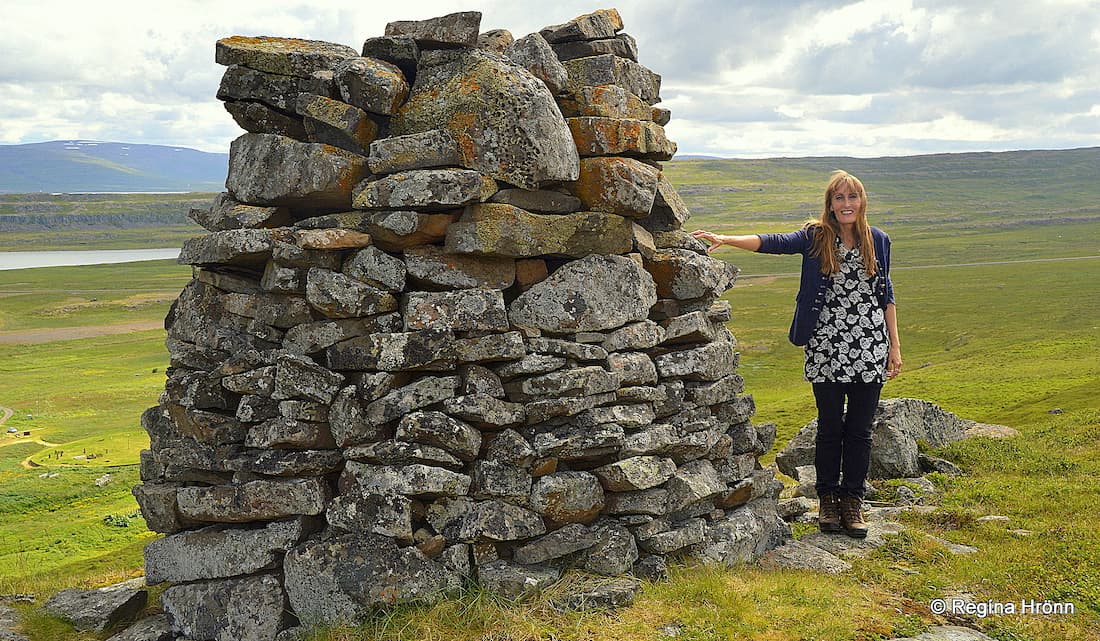 Grettisvarða cairn is huge compared to me
Þorbjörg digra was the daughter of Ólafur pá Höskuldsson about whom you can read in Laxdæla Saga. And Þorbjörg's mother was Þorgerður Egilsdóttir, the daughter of Egill Skallagrímsson, about whom you can read in Egil's Saga. These people were my ancestors.
Ólafur pá was, in turn, the half-brother of Hallgerður langbrók, who was married to Gunnar at Hlíðarendi, one of the main characters of the Saga of Njáll. So you see how the Sagas intertwine.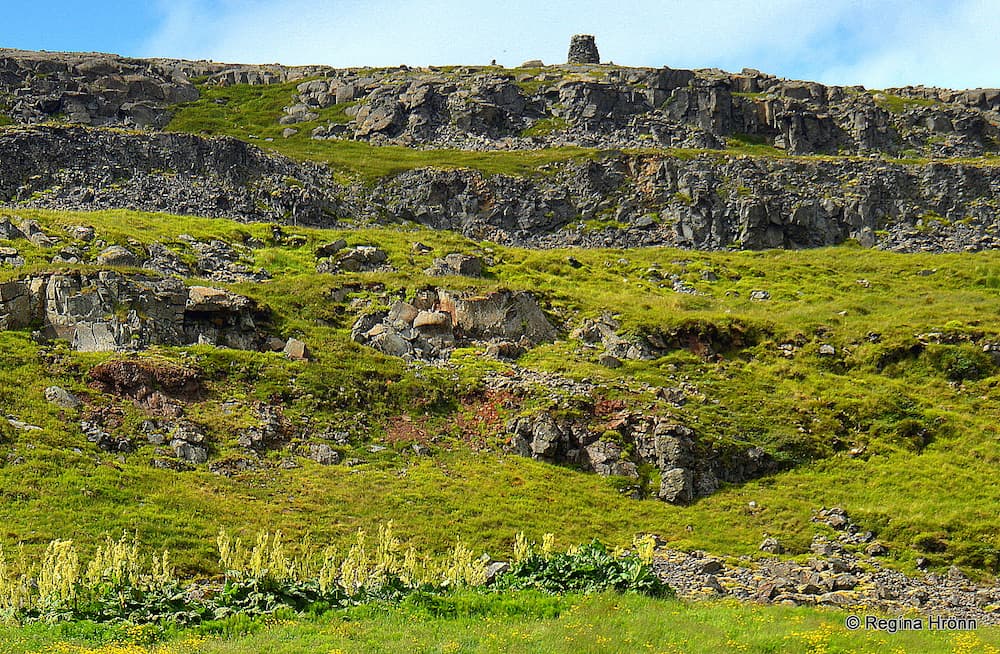 Grettisvarða cairn on Grettishjalli as seen from below
A path will take you up Grettishjalli to Grettisvarða cairn, an easy hike. Grettisvarða cairn was declared as protected in 1929, so it should never be tampered with.
And neither should any of the old cairns which can be found in Iceland as you never know how old they are and they served as an old GPS system of the old Iceland. And new ones should never be erected without permission.
See also my travel-blog about cairns in Iceland: The Old Tradition of Creating Stone Cairns in Iceland.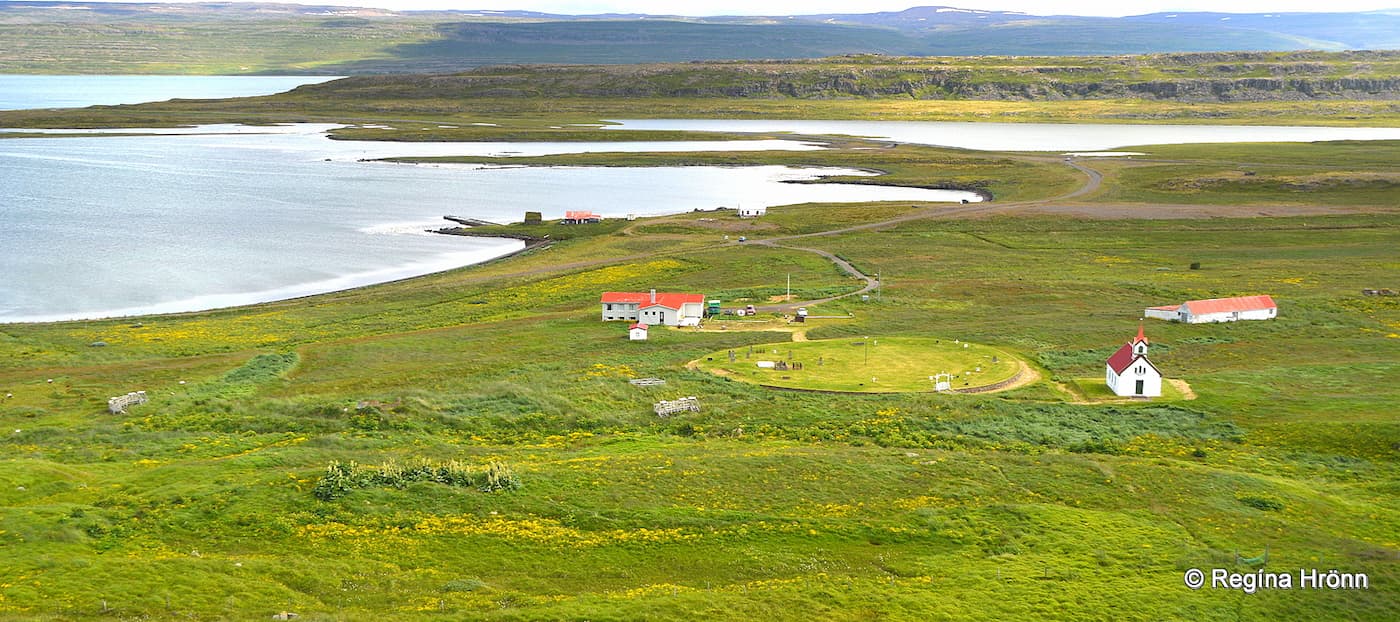 The view from Grettisvarða cairn
From the top of the hill by Grettisvarða, you will be rewarded with a fantastic view of the bay. From the top, you will see the protected hovel with the turf roof and the Viking archaeological area. 
Hjallur - the old turf fish shed
Hjallur - old turf fish shed in Vatnsfjörður
By the sea, you will find an old very picturesque turf fish shed. This fish-shed belongs to the Historical Buildings Collection of Þjóðminjasafnið - the National Museum of Iceland.
The fish-shed Hjallur - the Hovel Hjallur dates back to around 1880 and the building material is timber, rocks, and turf. Hjallur was restored in 1976 and preserved that same year.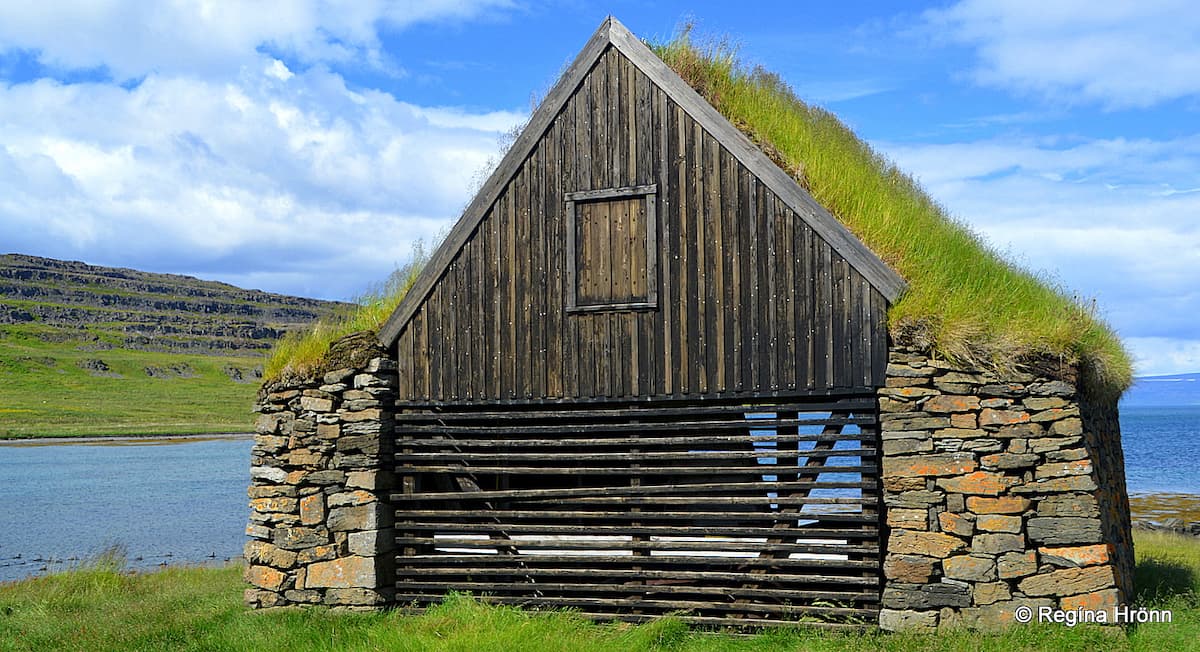 Hjallur fish shed
Ruins of many such old fish sheds can be found in the Westfjords. They were mainly used for drying fish and keeping fishing gear. I am so glad that Hjallur was preserved.
Hjallur is open to visitors from 8:00-18:00. Let's treat these old turf structures with the respect that they deserve, as as they are delicate gems, which we want to preserve for a long time.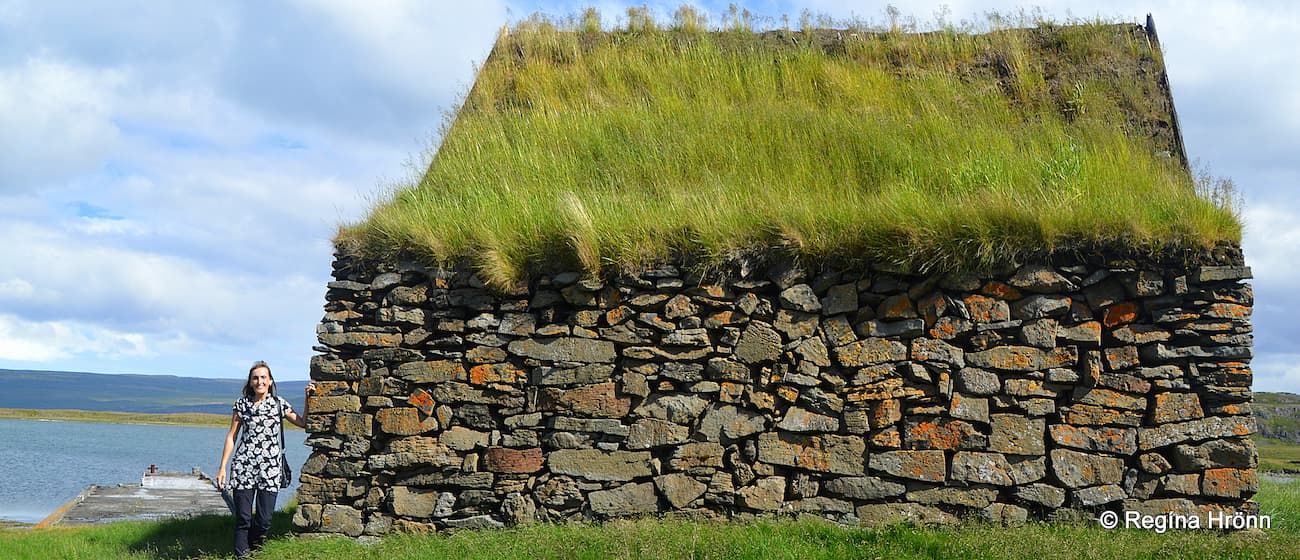 Hjallur turf fish shed
There are two Vatnsfjörður fjords in the Westfjords. This one is in the northern part, but other ruins, the ruins of Hrafna-Flóki, are located by Vatnsfjörður in the southern part of the Westfjords Region.
In my next travel-blog we will be continuing driving on road 61 and stop by a turf house café in Skötufjörður fjord - 
Litlibær Turf House on the Hvítanes Peninsula in the Westfjords - a Cute little Turf House Café
Here you can see the location of Vatnsfjörður fjord.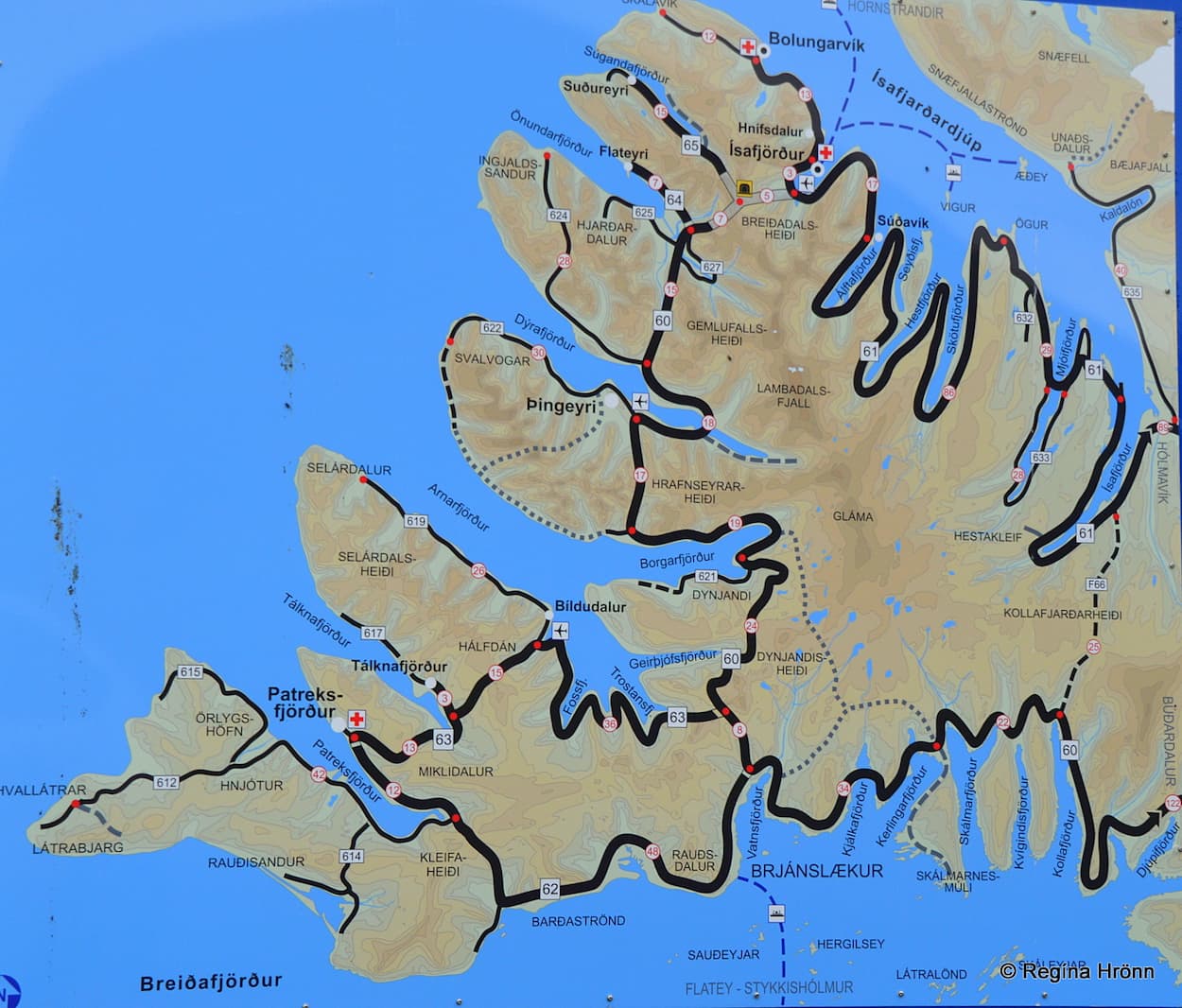 A map of the Westfjords
The travel-blogs I have written in chronological order about the northern part of the Westfjords are:
A lovely Visit to Reykjanes in the Westfjords 
Vatnsfjörður in the Westfjords - the Viking Estate and Grettisvarða Cairn
Litlibær Turf House on the Hvítanes Peninsula in the Westfjords - a Cute little Turf House Café
Watching the cute Seals at Hvítanes Peninsula in the Westfjords
Visiting Súðavík Village and Langeyri in Álftafjörður in the Westfjords 
A Delightful Visit to Ísafjörður - the Capital City of the Westfjords 
Hnífsdalur village in the Westfjords and the big Avalanche in 1910
Visiting Bolungarvík Village - the End of Road 61
Have a lovely time in the wonderful Westfjords of Iceland :)