Litlibær in the Westfjords of Iceland - a Cute little Turf House Café and Museum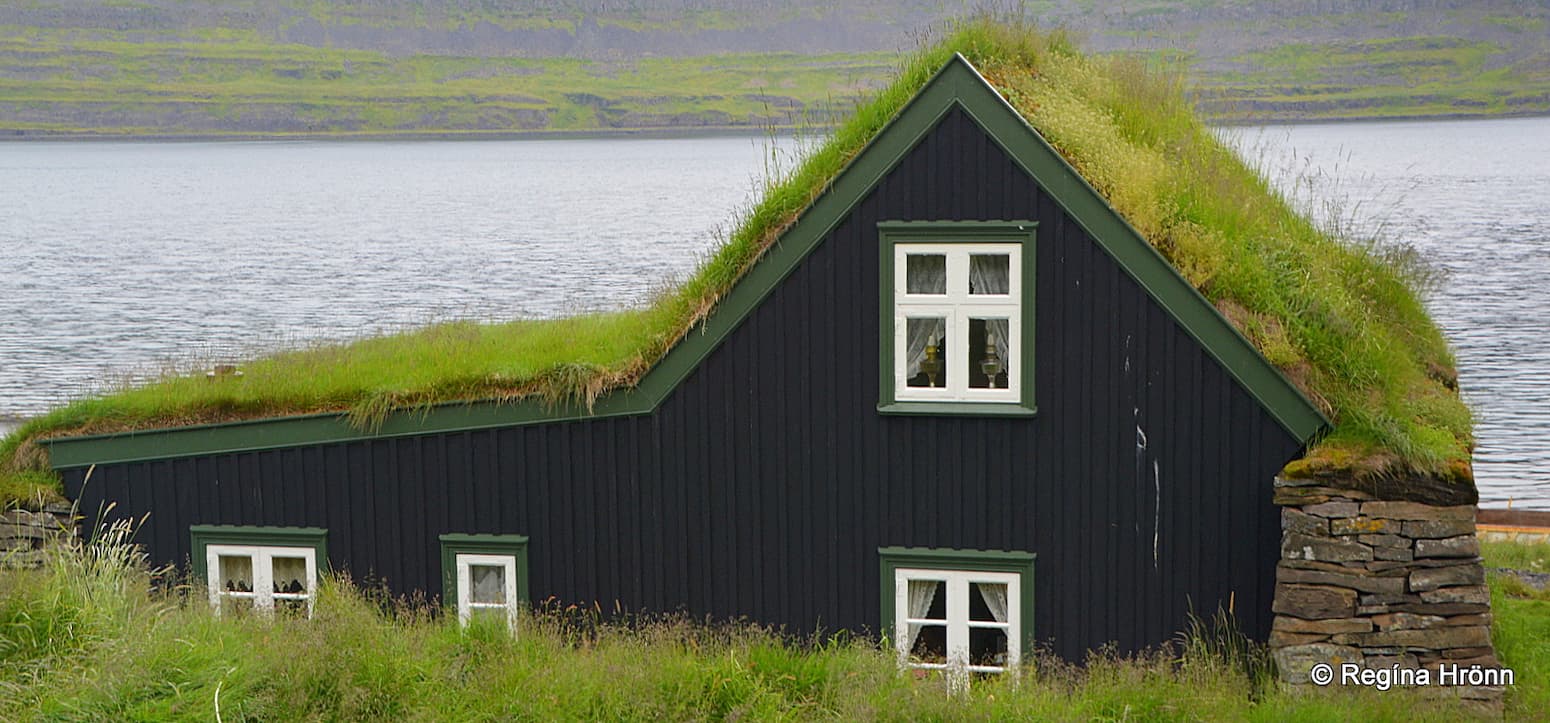 Litlibær turf house
In this series of travel-blogs about the northern part of the Westfjords of Iceland, I am showing you what there is to see and do by Djúpvegur road no 61. We have by now reached Skötufjörður fjord.
At Hvítanes peninsula in Skötufjörður fjord, you will find a cute little reconstructed turf house called Litlibær, or the Small farm.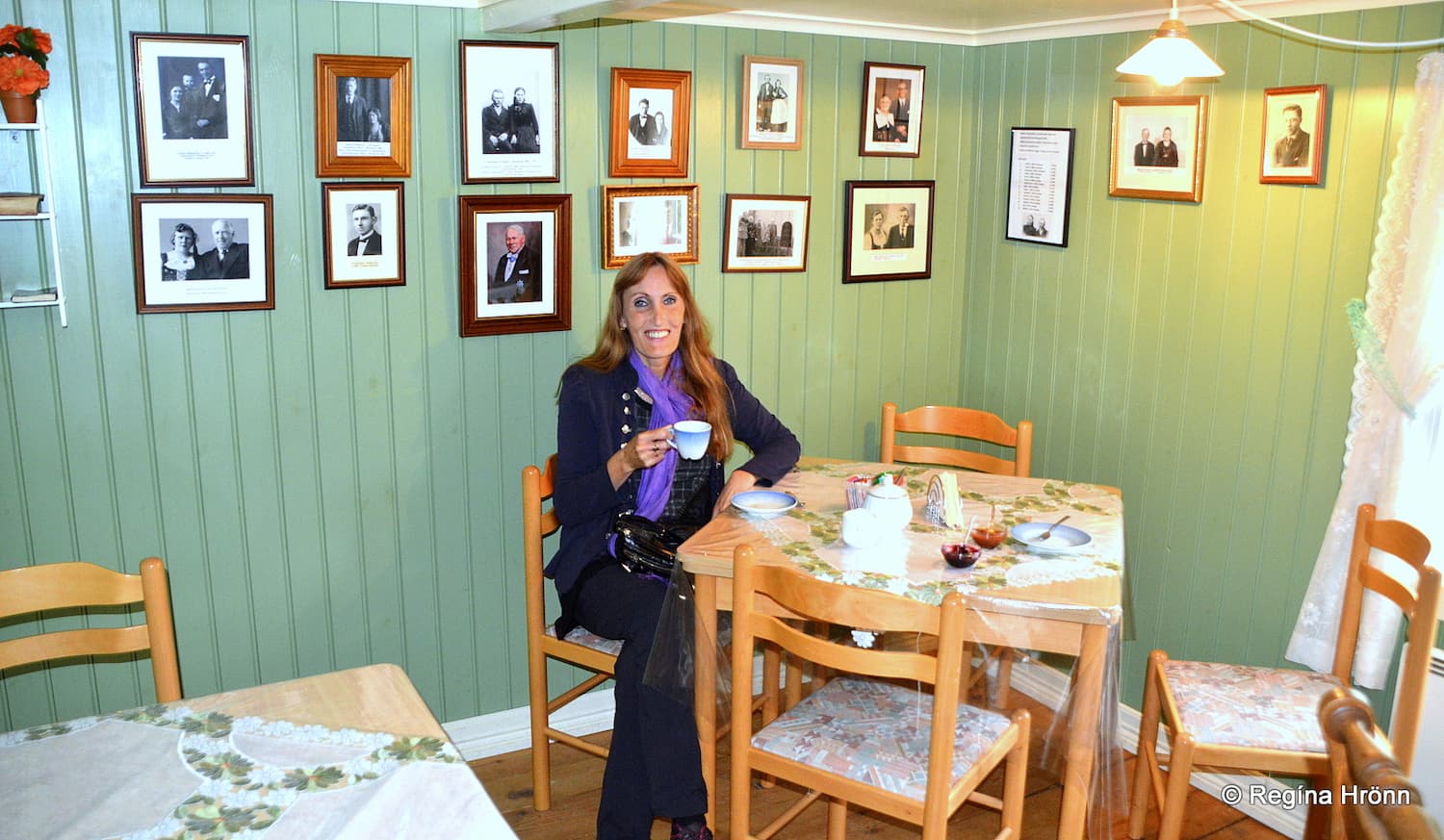 Enjoying a cup of coffee at the cute turf house café
There are not many places in the northern part of the Westfjords - from Hólmavík village to Súðavík village, where you can stop and have coffee, so it is lovely stopping by a turf house where you can both visit the museum (the turf house itself) and enjoy refreshments at their café.
Litlibær turf house is a reconstruction of a turf house that was erected in 1895.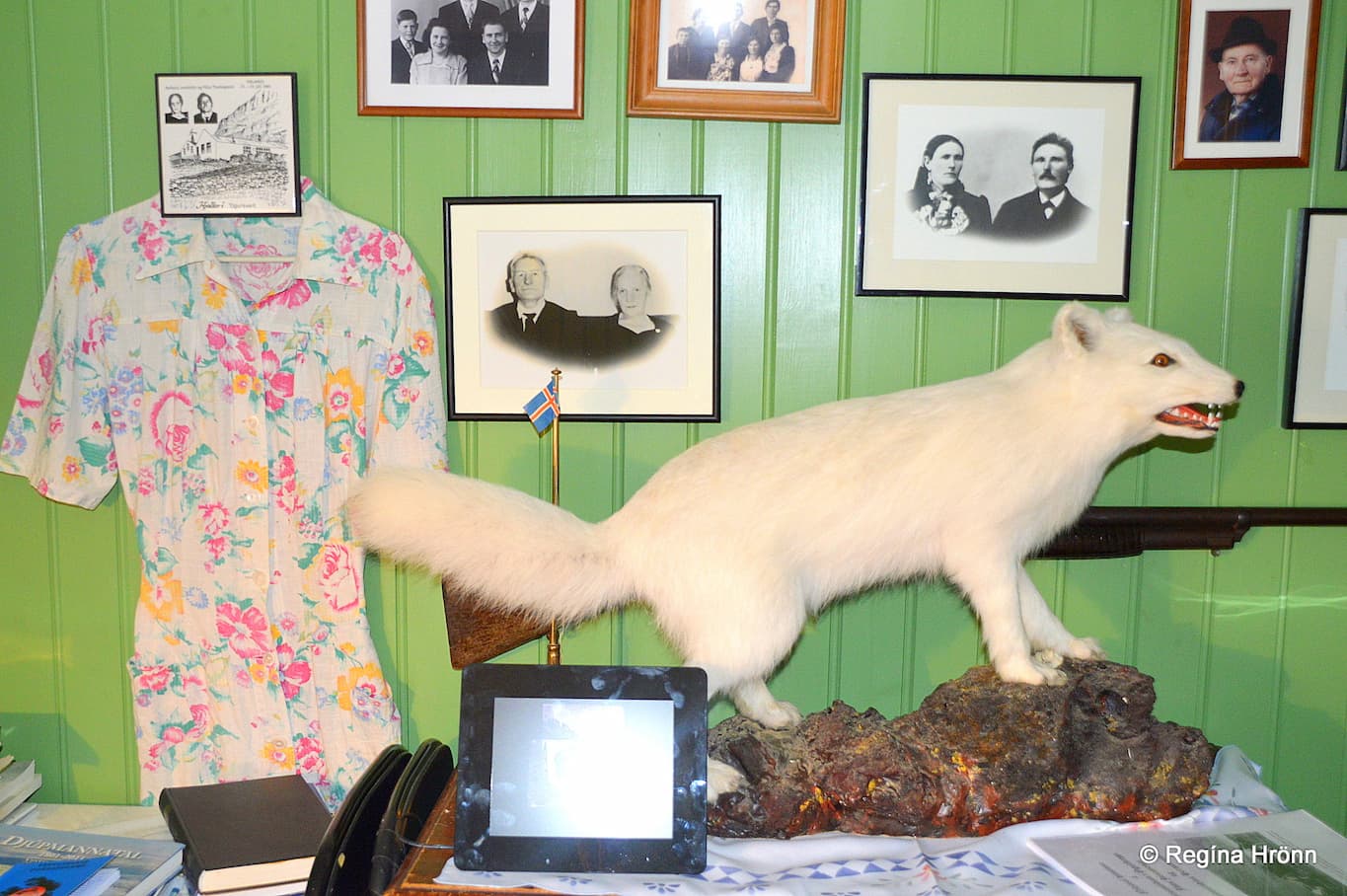 Inside Litlibær turf house
Two couples, who had been assigned this land here in Skötufjörður fjord, erected Litlibær turf house. They divided the house into two parts for each of their growing families.
The "baðstofa" - living room and a bedroom in the old turf houses - was upstairs.
Their 2 kitchens were outside in separate sheds. When Litlibær was reconstructed by the National Museum, the interior was changed to make it more fitting for its current use, i.e. a museum and a café, so the kitchen is inside now.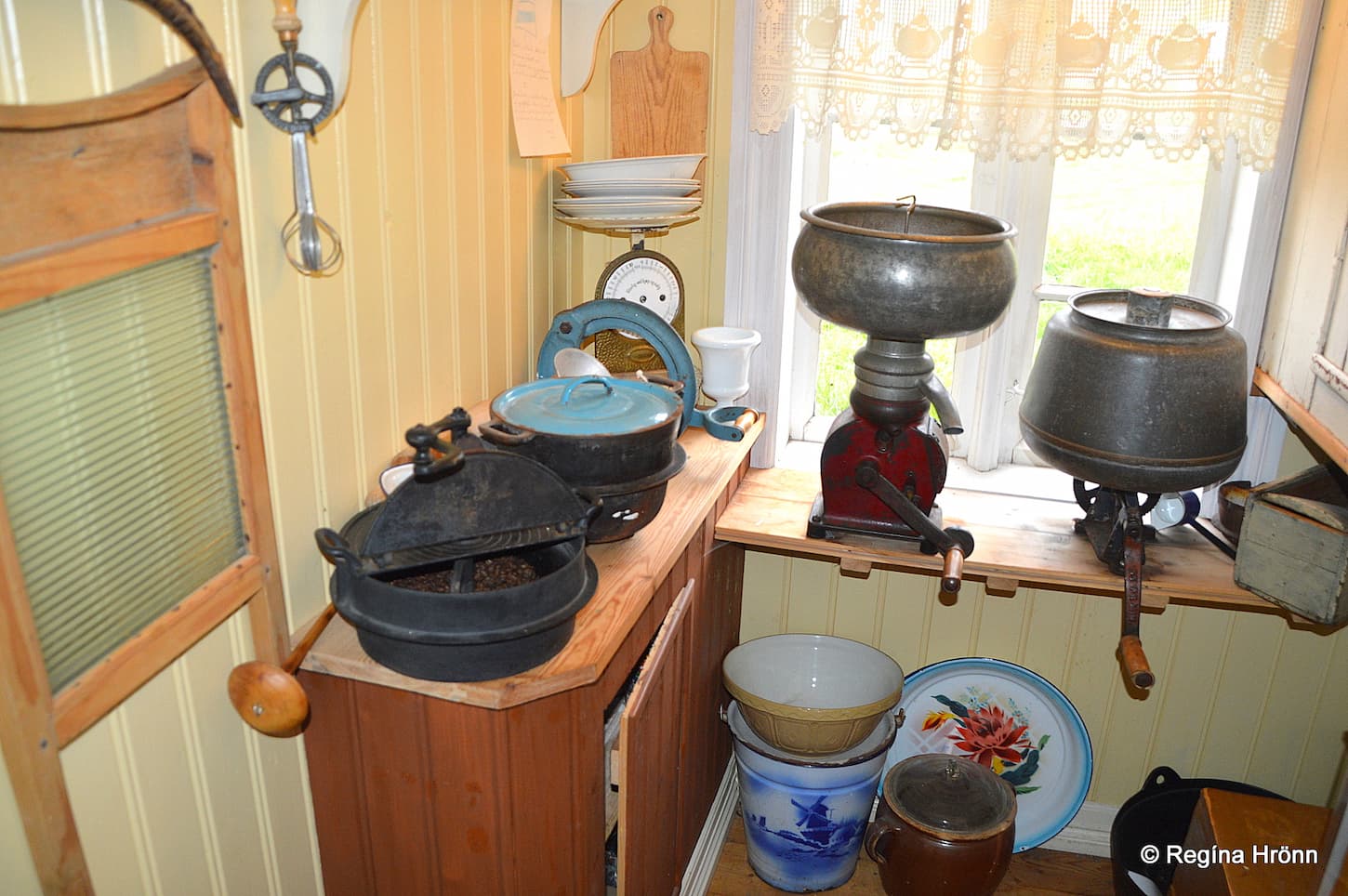 Inside Litlibær turf house 
Can you imagine that in 1910, 22 people were living in this small turf house! Icelanders used to live much more "closely together" than we are used to today.
In 1917 one of the families moved out and from then on "only" one family lived at Litlibær.
​​Litlibær was built with stone stowage and timber and the roof was made with turf.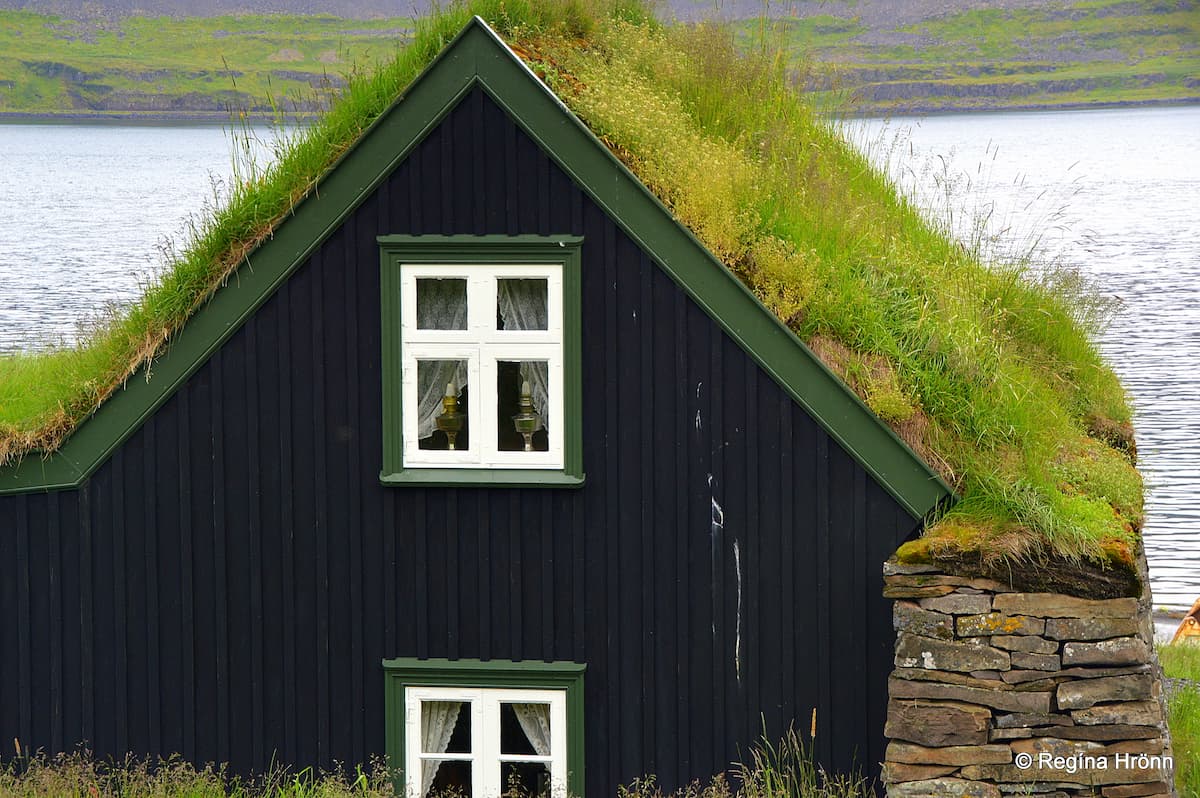 Litlibær turf house
The turf houses in the Westfjords were different from other turf houses as more stones were used and less turf, seeing that there was not so much turf to be had in this area.
But there are plenty of stones that break and turn into flakes, which can be stacked to make walls for turf houses.
You will also notice prominent fences made with the same stones on this land.
In volcanic areas with lava fields, f.ex. at Grenjaðarstaður in North-Iceland lava was used instead of rocks and more turf.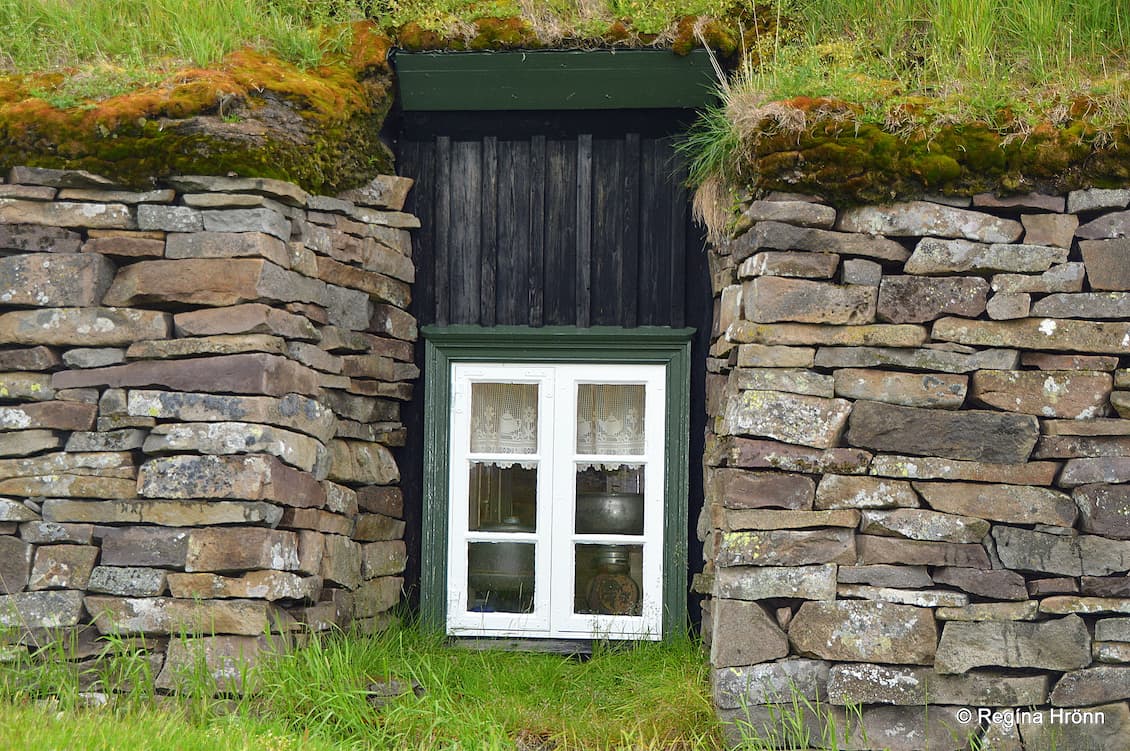 Litlibær turf house 
Around 1940 the turf house was enlarged and the smaller part was added and concrete and asbestos were taken into use - the more modern way of building houses back then.
And little by little Litlibær turf farm wasn't made of turf and stones anymore. Litlibær turf house was inhabited until 1969 and then stood abandoned.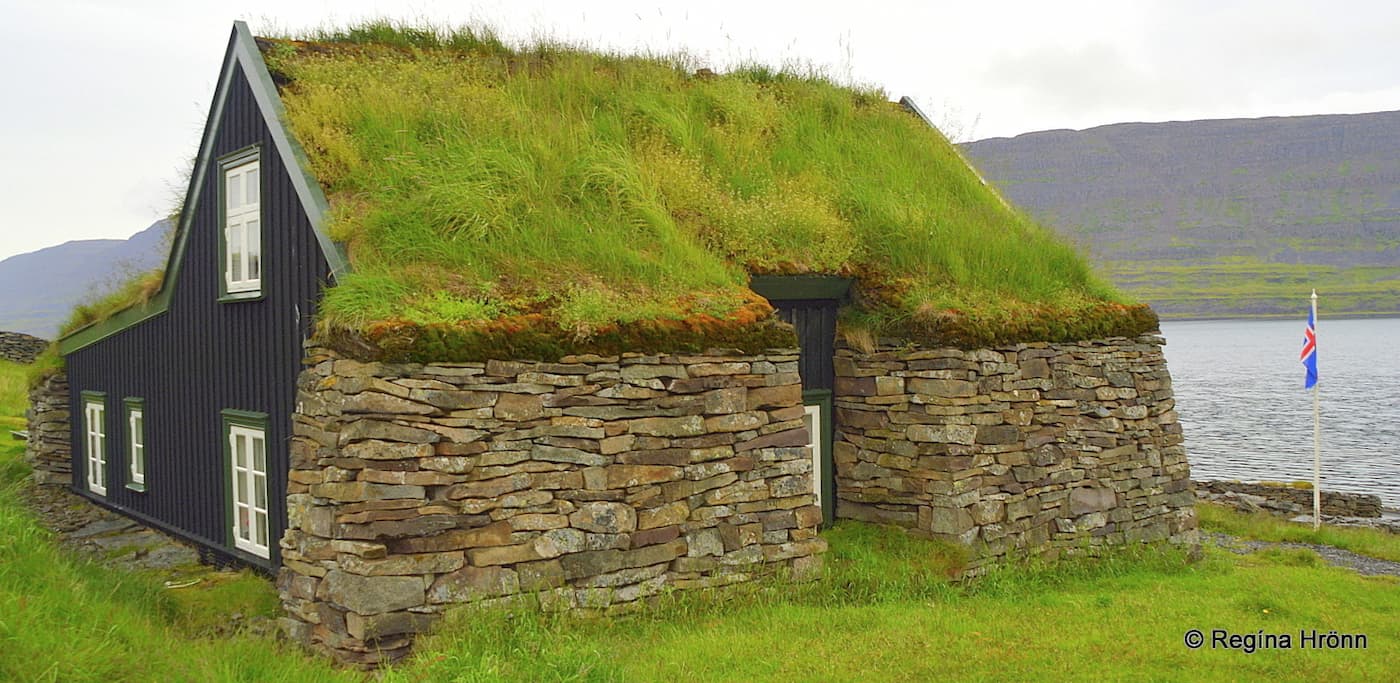 Litlibær turf house
The farmers of Hvítanes farm in the vicinity (only 1 km away), Kristján Kristjánsson and Sigríður Hafliðadóttir now run the café.
Kristján was the last child to be born and raised in Litlibær. And Sigríður lived there for one summer with her husband and parents-in-law.
When Litlibær was abandoned in 1969 Sigríður and Kristján took many of the items, which are now at the museum, and kept them in a safe place.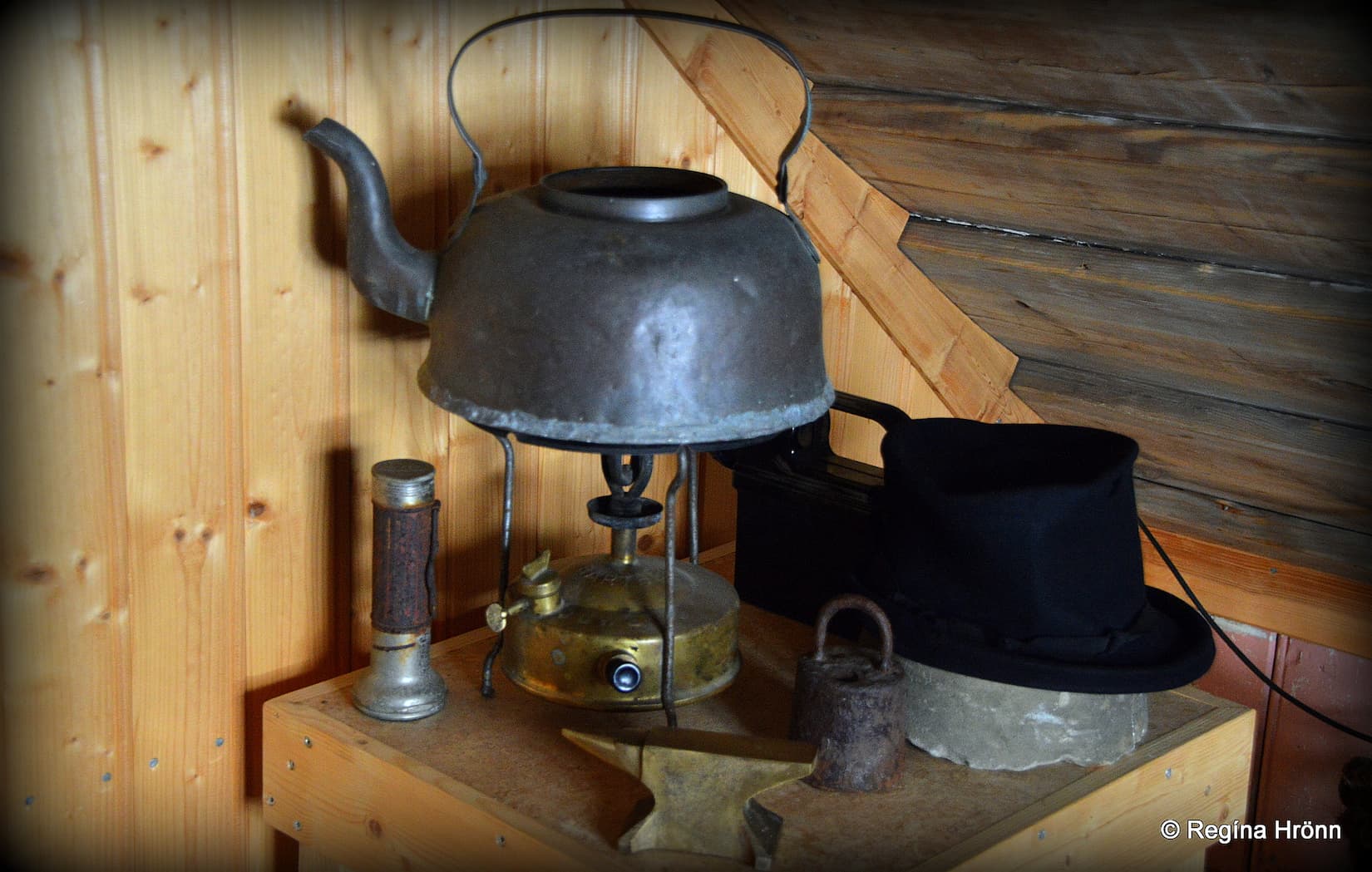 Inside Litlibær turf house in the Westfjords of Iceland
They then donated Litlibær to the National Museum of Iceland along with the household items they had kept. 
In 1999 - exactly 30 years after Litlibær was abandoned - Þjóðminjasafnið - our National Museum of Iceland - rebuilt Litlibær turf house in its original turf house form. 
Now Litlibær turf house serves as a good example of the turf houses in which the less affluent lived (the majority of Icelanders).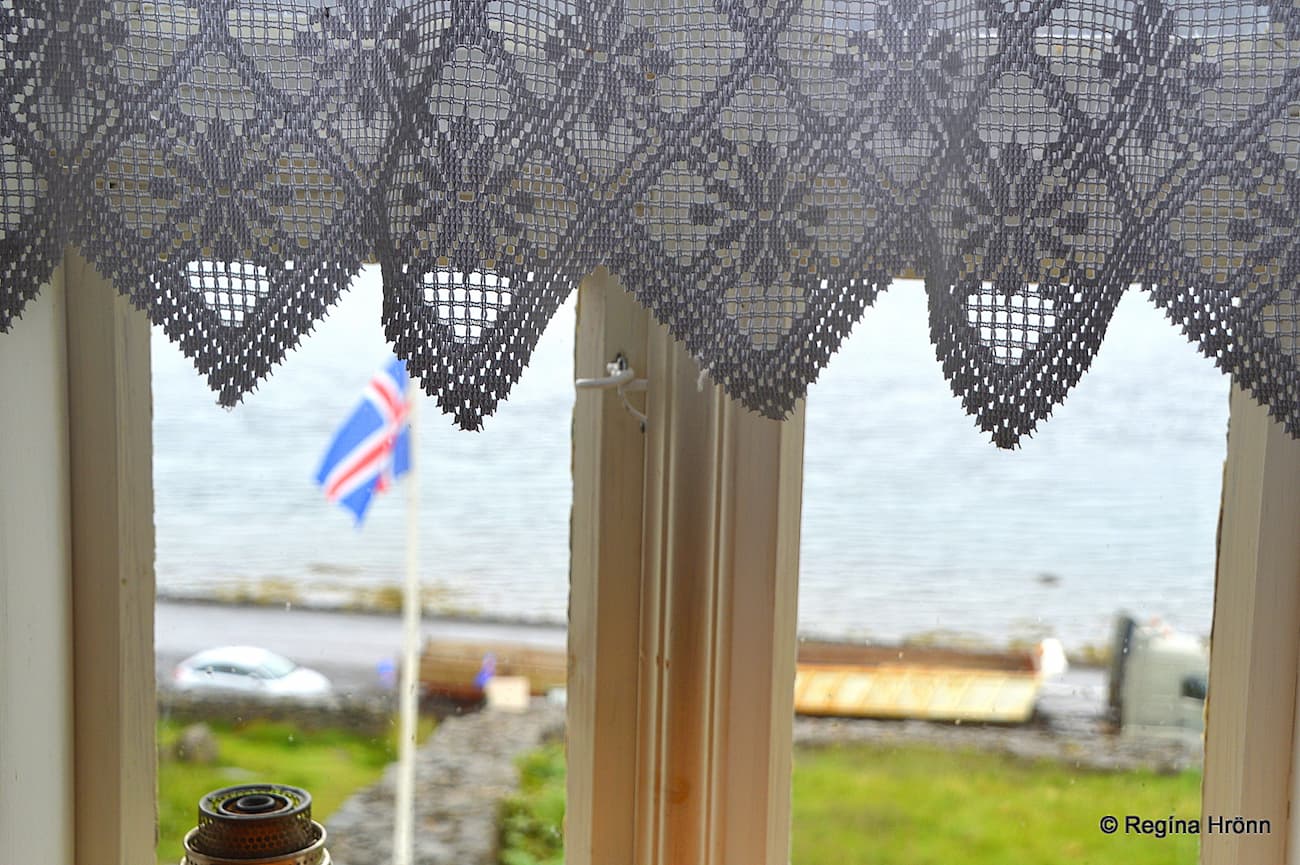 The view from Litlibær turf house
There are no relatively intact turf houses left in the Westfjords, as you will find in other parts of Iceland, so it is lovely that Litlibær turf house was reconstructed. When I say intact then I of course mean maintained as these turf houses need constant maintenance. 
There is one privately owned turf house, Barmar, in the Reykhólahreppur district in the southern part of the Westfjord region, but that turf house does not belong to the National Museum and cannot be visited.
Byggðasafn Vestfjarða - the District Museum of the Westfjords is in charge of the Litlibær turf house museum. Here you can see the ways of living of the farmers and fishermen in this area of the Westfjords in the first part of the 20th century.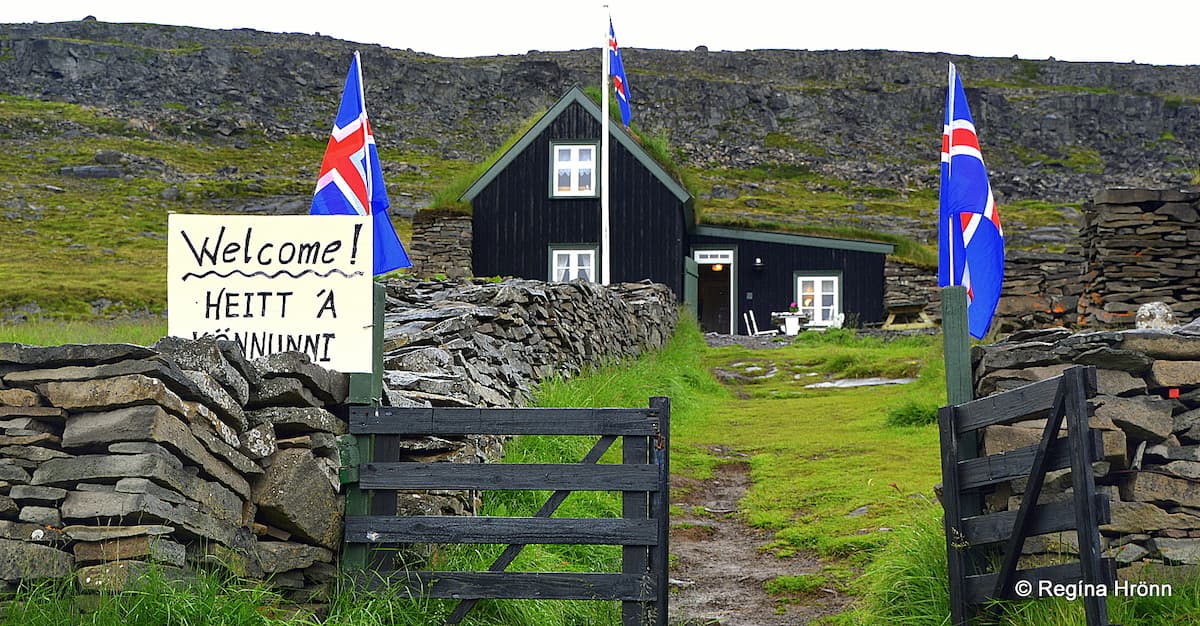 The entrance to Litlibær turf house - welcome inside for coffee :)
I never pass by Litlibær without having a look inside and buy some coffee, if only to show my appreciation for this lovely turf house, which is one of the very few places on this route where you can have coffee and use the facilities.
And buy some knitted woolen sweaters, socks, and caps made by Sigríður and Kristján :)
I am so glad that they rebuilt it as it is lovely seeing this little turf house while driving in the northern part of the Westfjords. And it is a privilege to be able to knock on the doors and go in and have a coffee and cakes in their lovely little café.
Do pay them a visit, it is quite a unique experience to be able to visit a turf house café :)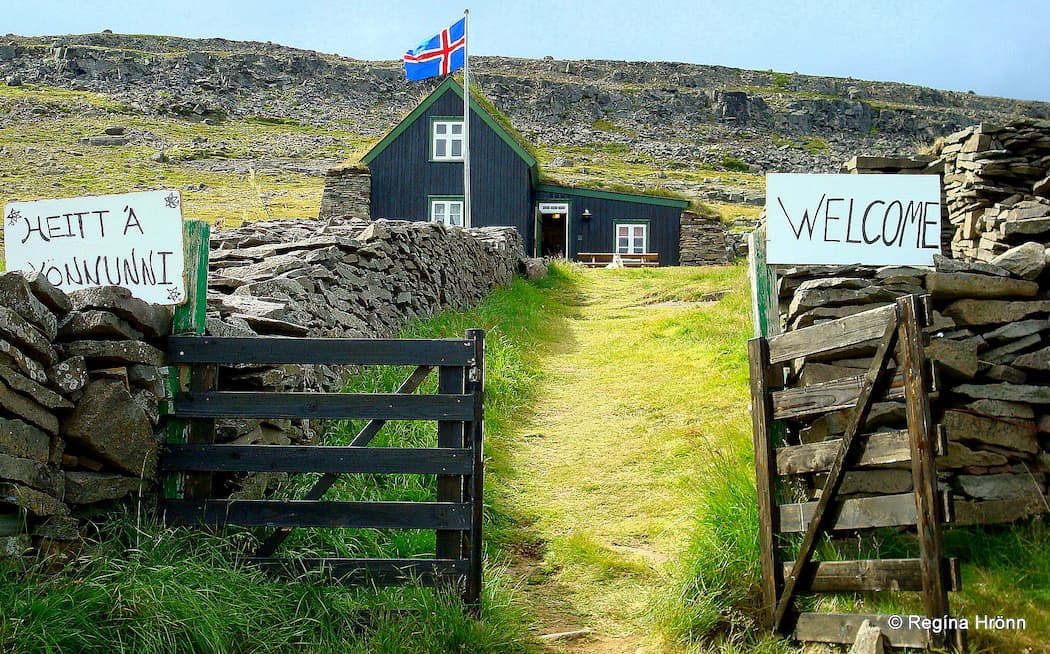 Litlibær turf house back in 2010
In 2010 was the first time a café was open here during the summer months and 3,800 people signed their guest-book.
I also signed their guestbook that year as I was driving back home via the northern part of the Westfjords after having joined a family reunion at Ingjaldssandur, where my maternal grandmother was born in a very remote fjord:
Ingjaldssandur in the Westfjords of Iceland - my Grandmother's Birthplace​
​In the photo above you will see what Litlibær looked like back in July 2010, when I first visited it :)
Check Litlibær out on Facebook for opening hours.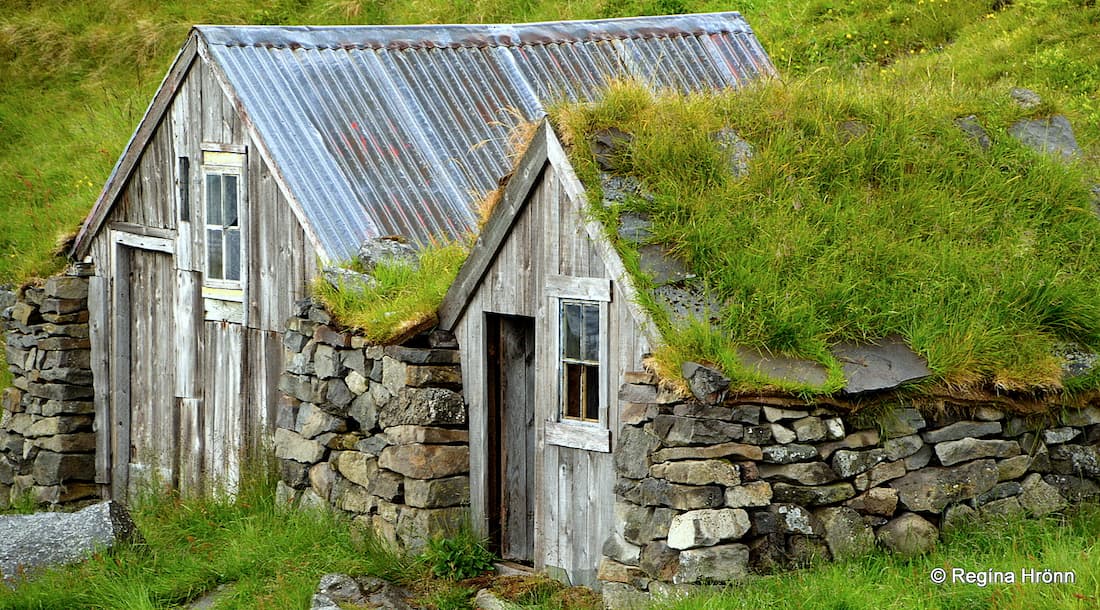 Outhouses by Litlibær turf house
​Other structures on this land were also rebuilt as you can see in the photo above, like the stable, a fish shed, a hen-house, a barn, a sheep barn, and more structures.
The farmers were fishermen and kept some livestock, thus all these outhouses were needed.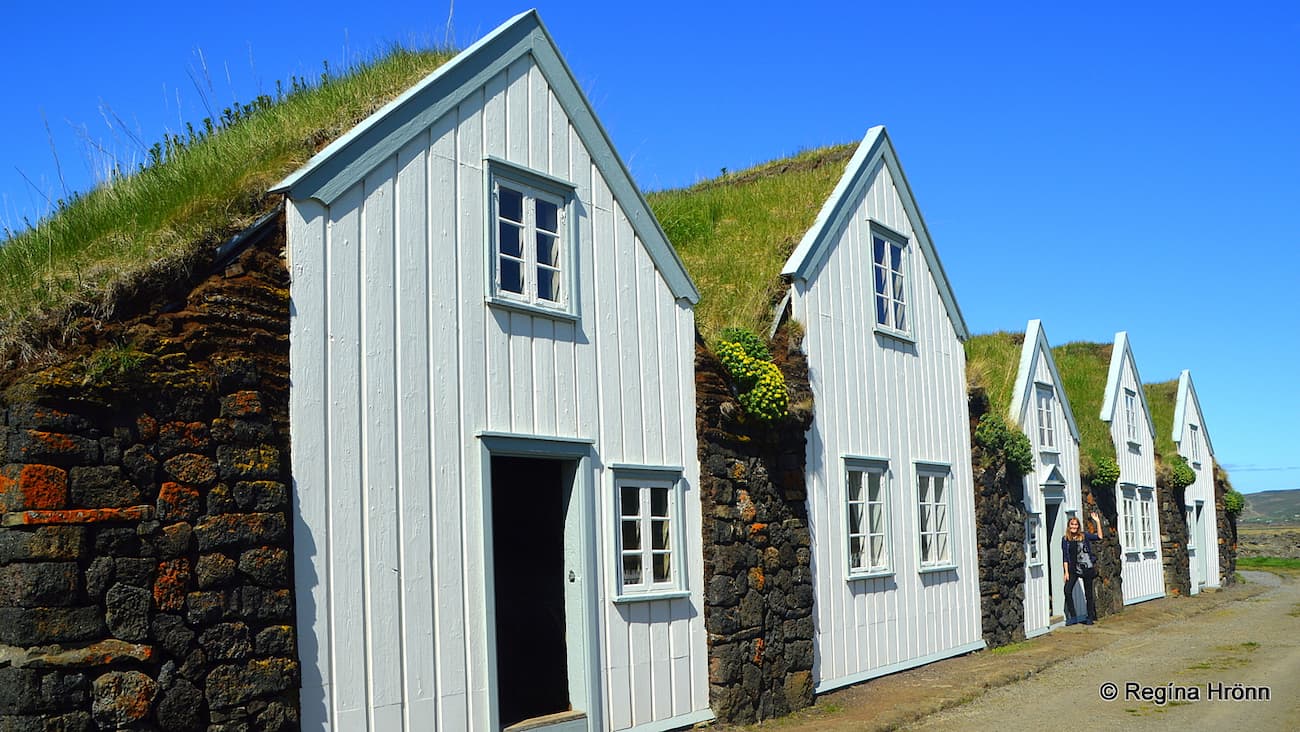 Grenjaðarstaður turf house in North-Iceland
I have shown you big turf house manors, up to 775 sq.m. like the one at Grenjaðarstaður in North-Iceland. So it is good to have this comparison to show us how the more common people lived.
The majority of the bigger turf houses are now museums.
Grjóthleðsluhringurinn - the Round Sheep Shelter
The round sheep shelter
Very close to Litlibær turf house you might notice a round stone structure by the road. We don't know exactly what this is or when it was built, but we know that it is older than the Litlibær turf house.
It most likely served as a sheep shelter. You can check it out and have a look inside.
At Litlibæ we were told that this round stone wall might even date back to the time when the Irish monks, Papar, lived here in Iceland.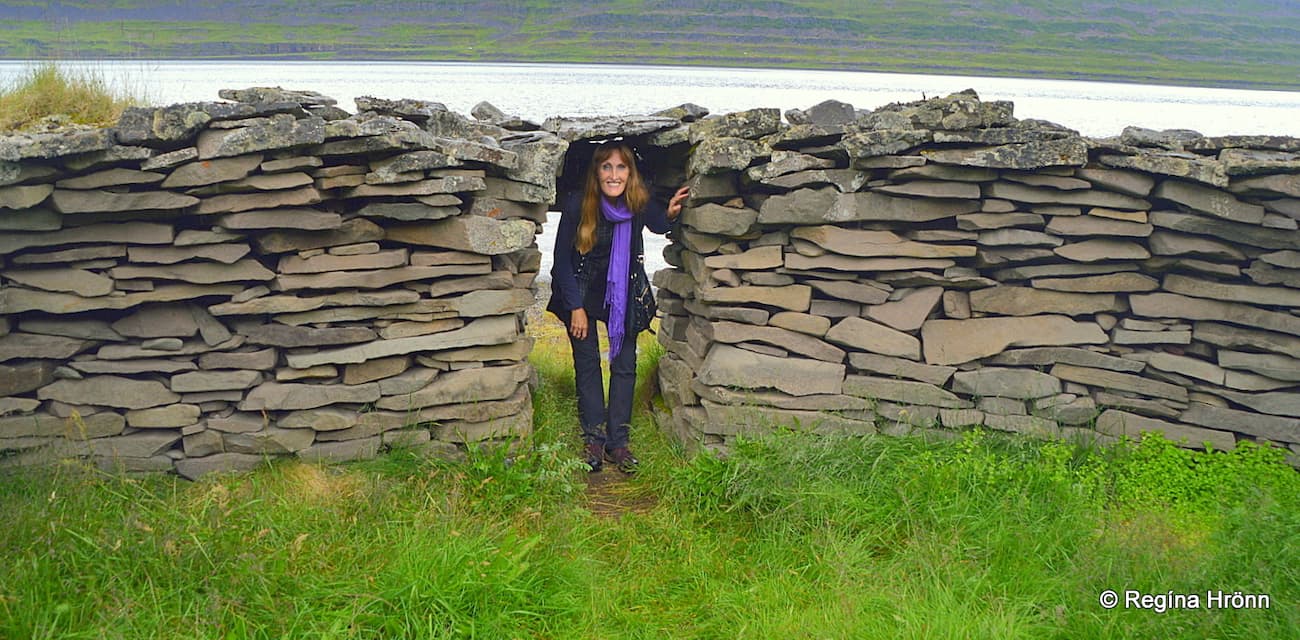 Going inside Grjóthleðsluhringurinn - the Round sheep shelter
They were here when the Vikings settled in Iceland and there is a theory that many Irish people inhabited Iceland before the Viking settlers arrived.
Further on, on the Hvítanes peninsula, there is an excellent spot for seal-watching, which I will be showing you in my next travel-blog - The Cute Seals at Hvítanes Peninsula in the Westfjords of Iceland.
Here is the location of Litlibær turf house on Google maps.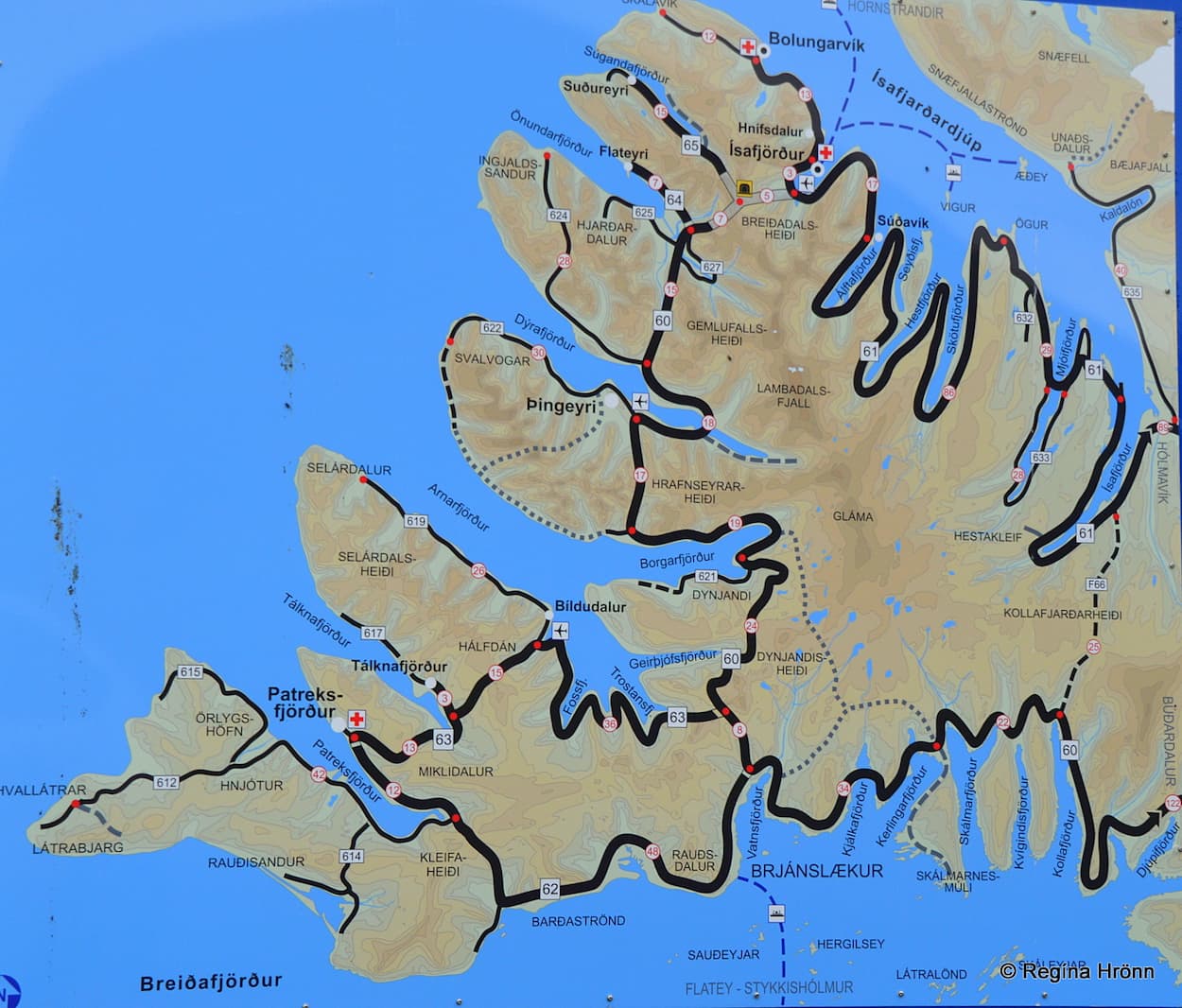 A map of the Westfjords
The travel-blogs I have written in chronological order about the northern part of the Westfjords are:
A lovely Visit to Reykjanes in the Westfjords 
Vatnsfjörður in the Westfjords - the Viking Estate and Grettisvarða Cairn
Litlibær Turf House on the Hvítanes Peninsula in the Westfjords - a Cute little Turf House Café
Watching the cute Seals at Hvítanes Peninsula in the Westfjords
Visiting Súðavík Village and Langeyri in Álftafjörður in the Westfjords 
A Delightful Visit to Ísafjörður - the Capital City of the Westfjords 
Hnífsdalur village in the Westfjords and the big Avalanche in 1910
Visiting Bolungarvík Village - the End of Road 61
Have a lovely time in the wonderful Westfjords of Iceland :)