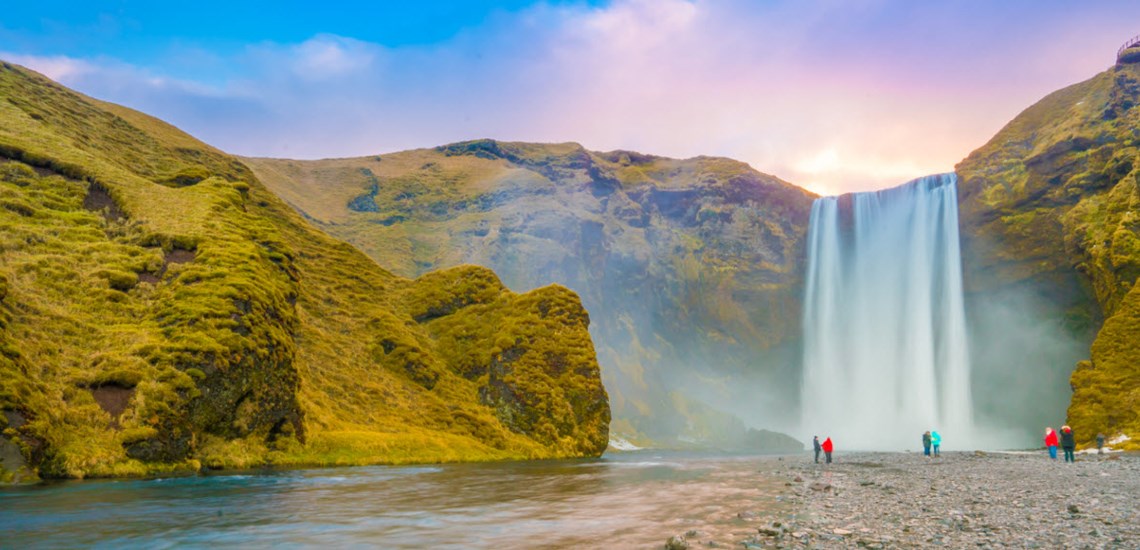 If you are traveling to Iceland and only have a limited amount of time there is no need to worry as you don't have to travel far from the capital Reykjavik to experience the beautiful Icelandic nature and popular sights. Iceland is a country of diverse and unique nature, everywhere you go you will see something interesting. Whether you are looking for some exciting adventure including, snowmobiling, hiking, ice caving or just want to enjoy the nature and relax you should be able to find what you are looking for in a short distance from the city.
To save you some time we have compiled a list of our favorite day trips from Reykjavik and hopefully that will ease the decision-making for your trip to Iceland. Most of those trips are available as an organized bus tour but you can also rent a car and drive yourself, it all depends on what you like.
Note: The trips can be done both during winter and summer in Iceland. Keep in mind though that the weather in Iceland is very unpredictable especially during winter and therefore it can sometimes take longer to drive or the roads are not accessible. Always check the weather forecast and road conditions before traveling in Iceland. Read more about driving in Iceland.
Golden Circle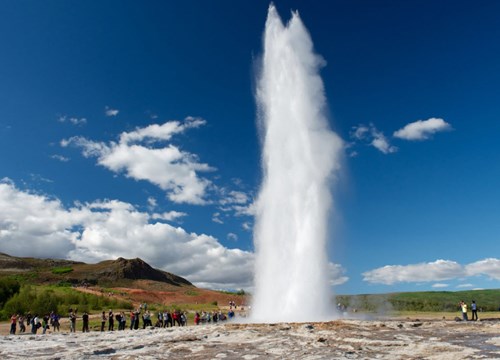 The Golden Circle is probably the most popular route in Iceland and for a reason. Not only is it located a short distance from Reykjavik but also all those amazing places can be found there like Þingvellir National Park, Gullfoss Waterfall and Geysir Hot Spring. Even though those are the most popular places in Iceland and you can expect many people there it is something that should not be missed.
If you have more time we also recommend these places on the way; Faxi Waterfall or Brúarfoss Waterfall, relax at Laugarvatn Fontana or The Secret Lagoon in Flúðir and check out Kerið Crater.
Average trip time: 5 - 8 hours.
Day tours from Reykjavik: Golden Circle Tour (Bus) - Golden Circle (Super Jeep)
Recommended activity: Snowmobiling, ATV, Diving, Snorkeling or Caving.
South Coast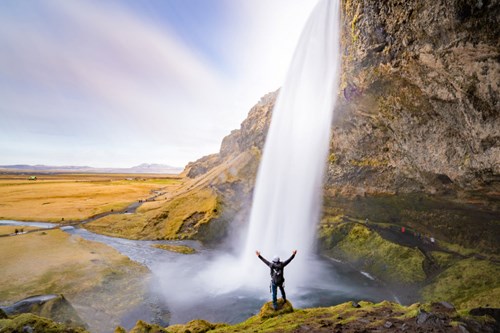 The South Coast of Iceland is the perfect day trip from Reykjavik and has so much to offer including, beautiful waterfalls, glaciers, majestic mountains, canyons, black sand beaches and many exciting activities. The drive to Vík takes approximately 2,5 hours (180 km) without stops. It can easily be done in one day but plan your trip ahead as there are so many places on the way so you might consider spending one night in the area. If you want to drive further than Vík to Jökulsárlón Glacier Lagoon we recommend two days or more.
Check out the blog about our Top 10 places on the South Coast.
Average trip time: 8 - 12 hours.
Day tours from Reykjavik: South Coast Tour (Bus) - South Coast Tour (Super Jeep).
Recommended activity: Snowmobiling, Glacier Hike, Ice Climbing, Ice Caving, ATV or Horse Riding
Snæfellsnes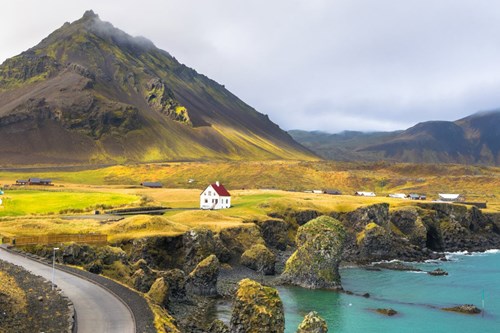 Snæfellsnes peninsula is located about 2 hours (150 km) drive from Reykjavik, a place you should not miss. The beautiful landscape of the peninsula has a lot to offer and so many things to see. There are many interesting hikes in the area, beautiful beaches, small friendly villages, picturesque mountains and Snæfellsnes National Park which includes Snæfellsjökull Glacier.
Don't miss; Vatnshellir Cave, Arnarstapi fishing village, Lóndrangar basalt rocks, Djupalonssandur beach and Dritvik, the famous Kirkjufell mountain and the friendly villages.
The Sæfellsnes peninsula can be done in one day but if you have more time we recommend spending at least one night there. It is also perfect to combine Borgarfjörður fjord (read below) to your trip to Snæfellsnes if you have time.
Average trip time: 8 - 10 hours
Day tours from Reykjavik: Wonders of Snæfellsnes (Bus) and Wonders of Snæfellsnes (Super Jeep)
Recommended activity: Caving or Glacier activity
Borgarfjörður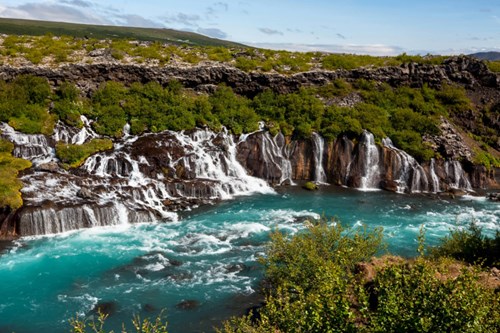 Borgarfjörður fjord is known for its beauty and diverse nature, covered with rough lava and many stunning waterfalls, hot springs and caves. Borgarfjörður can easily be done in one day from Reykjavik. Check out the most powerful hot spring in Europe or the beautiful waterfalls Barnafoss and Hraunfossar. Drive towards Langjökull Glacier, the second largest glacier in Iceland and take a tour Into the Glacier ice tunnels or go snowmobiling.
If you have more time we recommend combining Borgarfjörður with the Snæfellsnes peninsula and spend at least one night in the area. Also for those waterfalls lovers, on your way to Borgarfjörður take the Hvalfjörður route and hike to one of the highest waterfall in Iceland, Glymur. The hike takes about 3-4 hours and offers some great view over this beautiful fjord.
Average trip time: 8 - 10 hours
Day tours from Reykjavik: Essential Iceland and The Frozen West 
Recommended activity: Caving or Glacier activity
Reykjanes Peninsula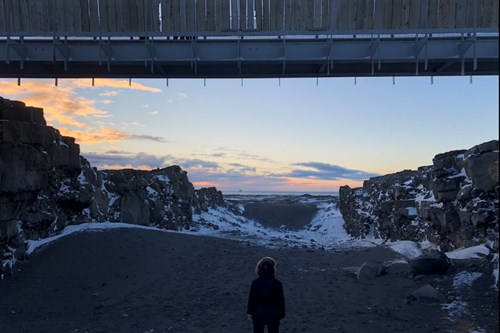 Traveling through lava fields, geothermal hot spots, rocky cliffs and lighthouses on the Reykjanes peninsula will really make you feel the life and power of the nature of Iceland. The peninsula is also home of the Keflavik Airport and the Blue Lagoon so it is the perfect day trip for those short on time. Check out the two different geothermal areas; Krýsuvík and Gunnuhver where you will find bubbling mud pools and hot springs, enjoy the magnificent coastline and Reykjanes lighthouse or try walking from Europe to North America on the Bridge Between the Continents where the tectonic plates meet. Then after a busy day it is ideal to relax at the Blue Lagoon.
Average trip time: 4 - 6 hours
Day trips from Reykjavik: The wonders of Reykjanes (bus) - Reykjanes Super Jeep Tour
Recommended activity: Blue Lagoon or ATV tour
Reykjadalur Valley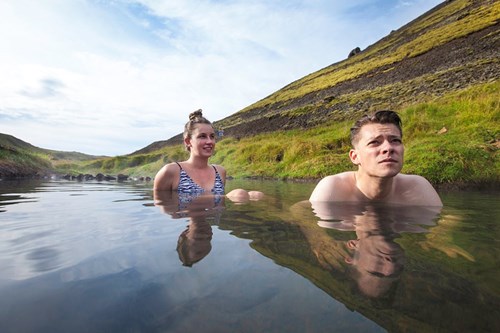 Reykjadalur or the Steam Valley is located about 40 minutes drive from Reykjavik in the south part of Iceland. Reykjadalur is a geothermal area with hot springs and mud pools. The hike up the valley takes about 40-70 minutes to the first hot pool (about 3 km). It is possible to dip in and relax in the river that runs down the valley, what a great way to spend the day and enjoy the beautiful nature!
The Valley is accessible all year round but in the winter time it sometimes snows in the mountains so the hike can be difficult but the river is still warm.
Average trip time: 4 - 5 hours
Day tours from Reykjavik: Hot springs and lava cave and Horses and hot spring